Last month, Payette hosted Boston Explorers Leaders in Training (LIT) program participants for the second year in a row. Boston Explorers is an urban camp for kids and teenagers around the city. The program's goal is to promote creative, spontaneous play and hands-on activities using Boston as their playground. These workshops have allowed for us to share our tools, resources and design processes with their Explorers, as well as provide the chance for them to share their ideas and problem-solving skills with us.
This year, we designed a workshop where the Explorers built their own three-legged camping stools. Each stool could be customized and taken home. The goal of the project was to get the Explorers working with their hands, while exposing them to using both analog and digital fabrication tools, and engaging them in design-oriented thinking.
It was critical for us to emphasize the importance of understanding how varied materials feel and react when cut or shaped, and how their behavior changes the way one thinks about building and designing with materials. It was refreshing to have the students partake in a discussion about how to solve design issues and see new possible solutions.
The Explorers built their camping stools during a two-day workshop. The first day was spent in Payette's FabLab, milling 5/4" solid wood legs on a 3-axis CNC router and assembling custom-made brass fittings, which allowed the legs to hold together and rotate down into position. The explorers were able to see how the digital files were set up, how they were translated to the CNC for cutting, and then work the material by hand for a final finish. We were also able to discuss the design thinking and tolerances necessary to bring disparate materials together, such as the CNC drilled hole with a brass bolt, or a solid wood leg with a brass washer.
During the second day of the workshop, we hosted the Explorers in our Model Shop, where they were split into several teams, each led by a different designer in our studio. This allowed some Explorers to use a laser cutter to create custom designs etched into their stool legs, while others used the studio's new Juki sewing machine to stitch the leather seats and straps together. They came together afterwards for the final assembly of the stools and for a discussion about the project and their thoughts.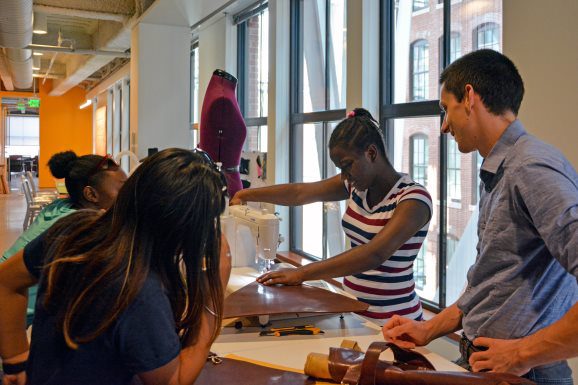 The stools were carefully designed to illuminate opportunities in uniting digital and analog fabrication techniques to foster a conversation about design processes and design-thinking.
Related Link:
An Introduction to Boston Explorers