With so many different creative minds under one roof, we all organize our work in different ways. I spoke with the co- chairs of our Young Designers Core (YDC), Megan Brown and Ngaire Stuart Gongora, about their workspace. At Payette, we have an open plan office with similar table/desk setups for everyone (including our Principals!). This setup facilitates communication, collaboration and a culture of learning. We can make our workstations mobile – moving to a new station is seamless with rolling filing cabinets (many equipped with cushion tops to make a quick stool), and the same resources are available at each station.
Megan Brown
Megan is currently working on Penn State West 1, a project for the College of Engineering at The Pennsylvania State University. On her desk are several study models for the project along with the requisite Penn State Nittany Lion fan gear. The building will house Architectural, Aerospace, Acoustic and Civil Engineering programs at Penn State and will feature highly visible labs and other program spaces–science on display. The building is currently in design development and is one of two projects, known as West 1 and West 2, that will define a new precinct for the engineering departments at Penn State.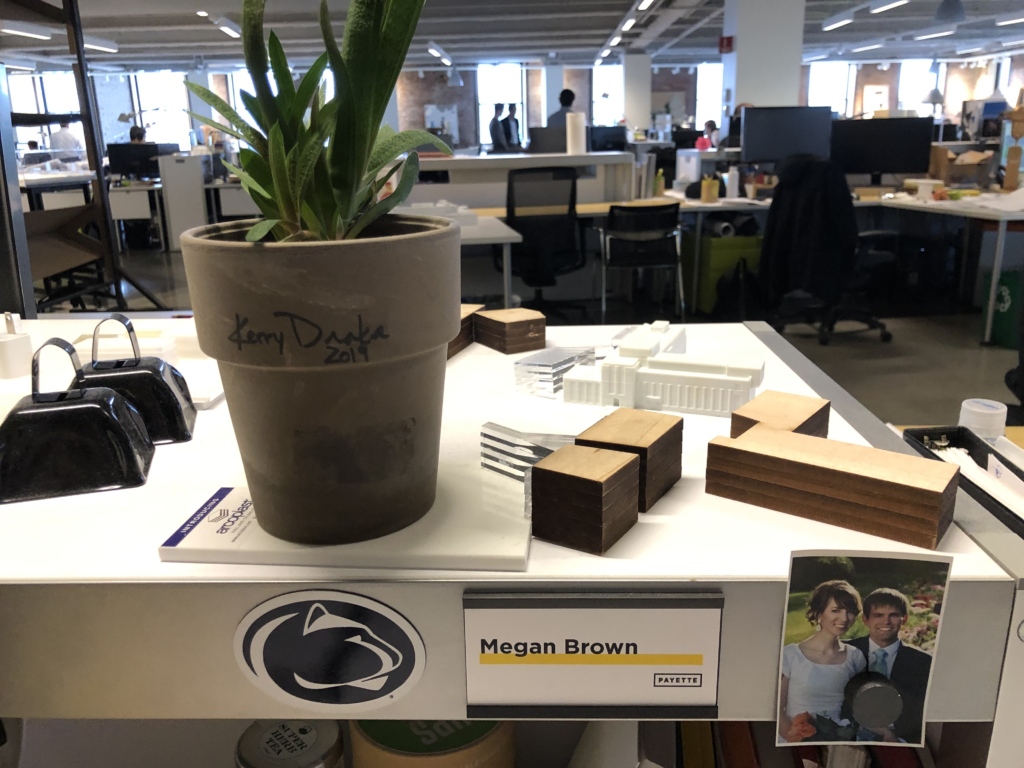 Other items on Megan's desk include a small pink elephant, a gift from her nine-year-old niece, and a cow bell. The cow bell was passed down to Megan from a former YDC chair and was used at past YDC events. The elephant was 3D printed by her niece. Megan explained that her niece is taking coding classes in school and has a 3D printer at home she loves to use. A fabricator in the making or perhaps she will follow in the footsteps of her aunt and become an architect?
Where will you find Megan on a Saturday Morning?
She will definitely be outdoors and moving, either on a hike at her local state park with her 8-month-old puppy, Rio, or on a run. Megan completed her first marathon a year ago, in Acadia National Park.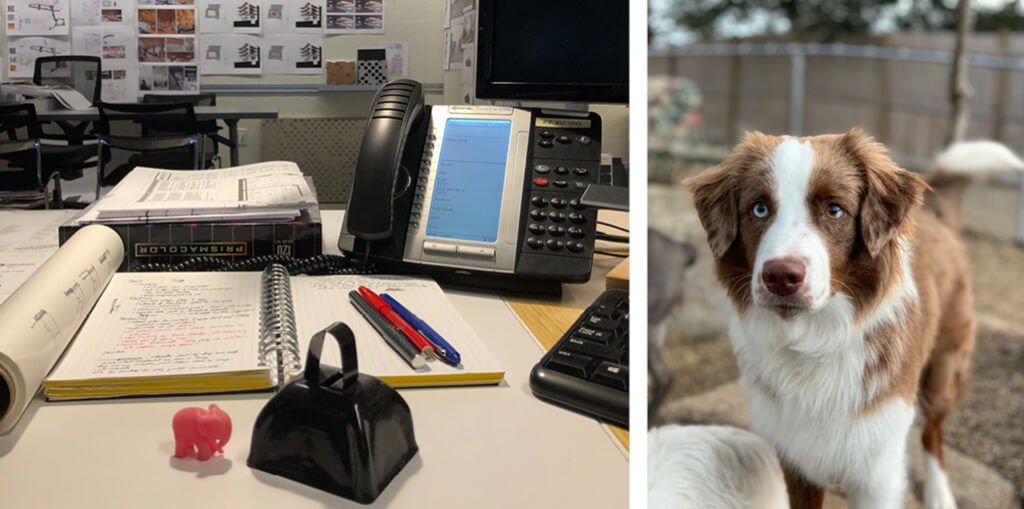 Ngaire Stuart Gongora
My next stop was to Ngaire's work station. Her desk held a mix of things related to her work on Wesleyan University's new Molecular and Life Sciences building, and a paper cut snowflake hung from her lamp. The snowflake was a remnant from the YDC's recent winter holiday party. The other items laying on her desk would seem to be an odd combination to anyone but an architect. A container of spackle was nestled among a stack of books and a hardhat. The books on her desk are sources for research on Wesleyan's campus architecture and include a McKim Mead and White monograph. The spackle is for quick patches and changes to a site model created to explore massing and concept iterations for the Wesleyan University project. The building will be the new home for Biology, Chemistry and Molecular Biology departments at Wesleyan and is currently in the programming and concept phase.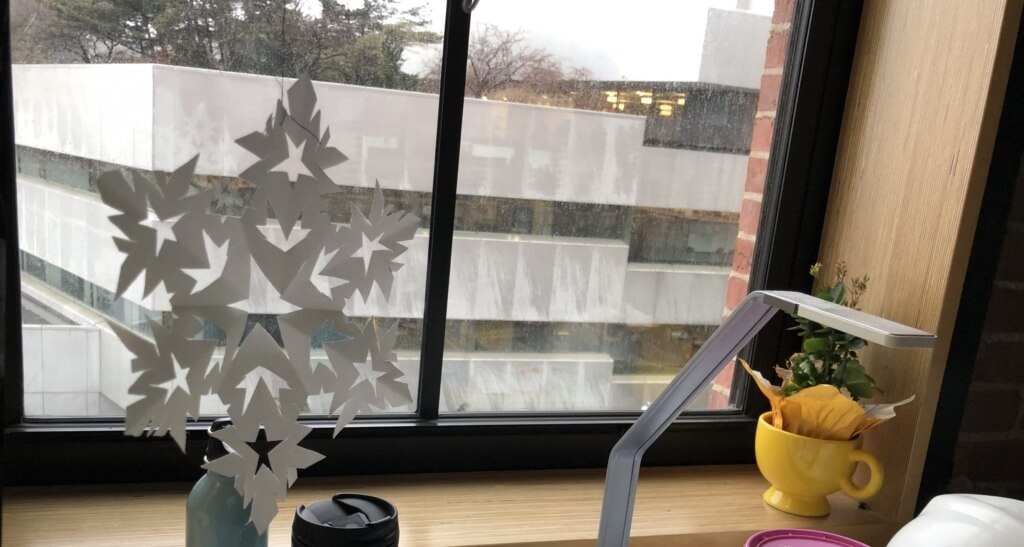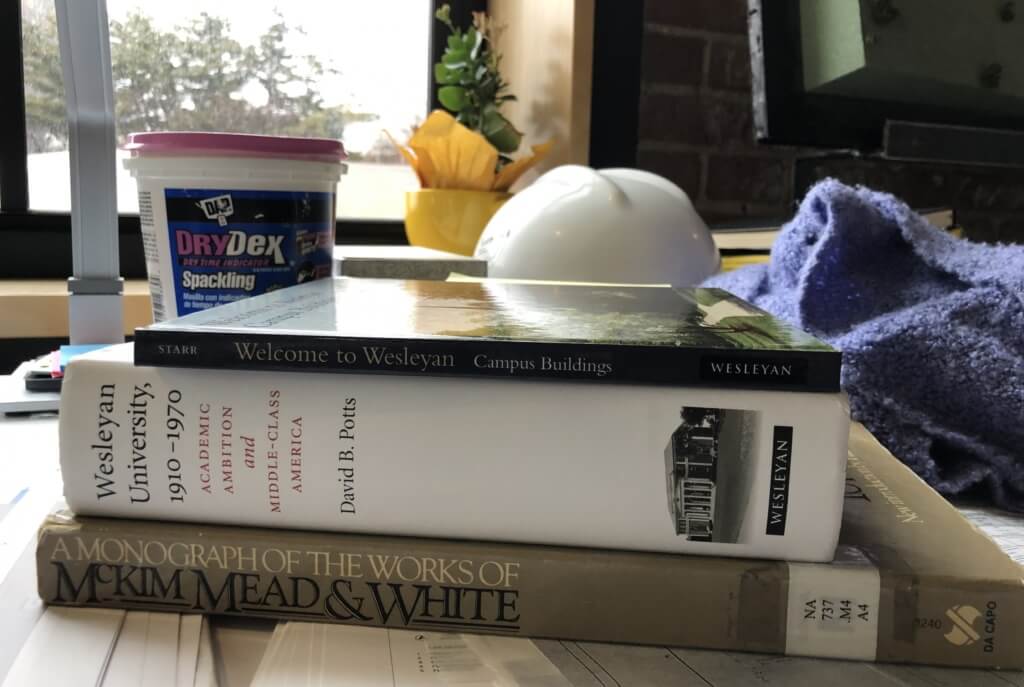 Where will you find Ngaire on a Saturday morning?
Ngaire is an avid cyclist, and the weekend means time for long bike rides through scenic Lexington, Concord and Carlisle.
Young Designers Core
Megan and Ngaire are the current co-chairs of the Young Designers Core (YDC) at Payette, a grassroots organization to promote the growth of emerging professionals with development opportunities supplemental to their project work in the firm. YDC was founded in 2000 by two young employees to support those pursuing licensure and it continues to flourish today as a ground-up initiative to put young designers in positions of leadership. It also works to support professional growth of all employees and promote community-building of the firm at large.
This month, fostering mentorship, the YDC is holding "Lunch with the President". The lunch is an opportunity for young designers to ask questions about professional development or any other topic, ranging from big picture to specific concerns and to get know the firm's President, Kevin Sullivan.
The YDC also organizes unique educational opportunities that supplement a designer's daily project work, hosting a range of activities that include specialized presentations, workshops and construction tours. This month, they organized a presentation on Coordinating MEP/FP Systems in Open Ceiling Spaces run by Nicholas LaVita, an associate at Payette. The talk explored the basics of mechanical, electrical, plumbing, fire protection, and device coordination during design and during contract administration.
And of course, there are the many popular social events hosted by the YDC. Coming up soon is Payette's own form of March Madness run by the YDC, the annual ping pong tournament, which is always a riveting, competitive and entertaining firm-wide event.
What's on your desk? Where do you find inspiration in the workplace?