At Payette, we believe in contributing to our broader communities, and we believe in making design accessible to everyone. We regularly volunteer for public events put on by the Boston Society of Architects and this year hosted high school students for an Architecture Design and Thinking Day, an event in partnership with the BSA Foundation. Others contribute to enrichment programs for low-income communities or participate in industry-related career discovery organizations such as the ACE Mentor Program. This year we were involved in projects that spanned from working with local high school students in our fabrication space, to working with a community to re-energize forgotten downtown spaces, to working with a non-profit to envision, design, and raise funds for a project promoting local food security and nutrition.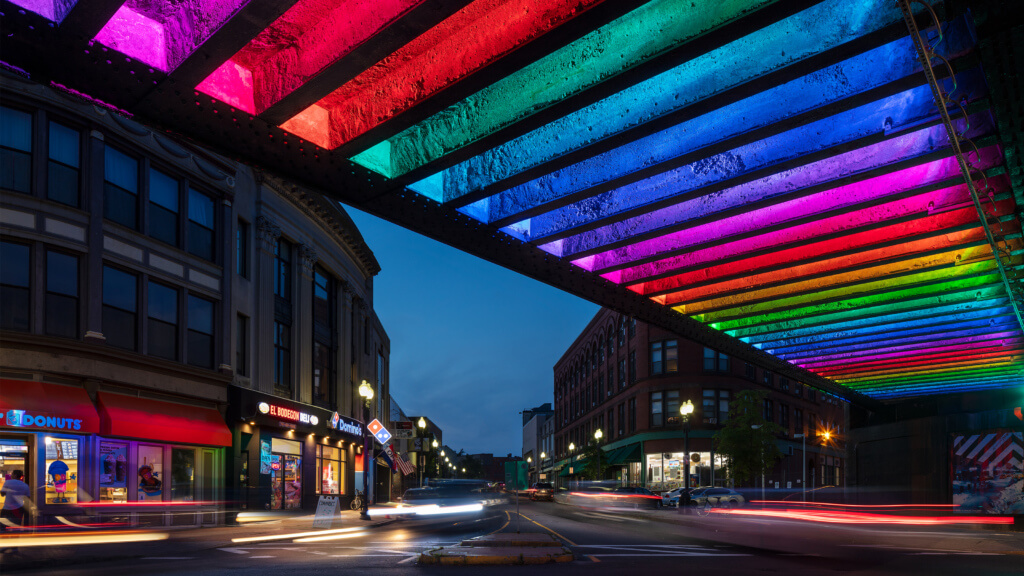 Beyond Walls, Lynn, MA
In 2016, we participated in Design Museum Boston's "Urban Innovation Hackathon" to revitalize a dilapidated area under the I-93 overpass, where four diverse Boston neighborhoods intersect. After this experience, we joined forces with MassDevelopment, Patronicity and Beyond Walls to tackle Lynn's underpass lighting challenge. In late 2017, work got underway to brighten and activate the shadowy, crime- and accident-ridden underpasses of Central Square, Washington Street and Market Street with dynamic, colorful and programmable LED lighting installations. These once-avoided areas have become vibrant landmarks in downtown Lynn, where people feel safe and welcome any time of day or night.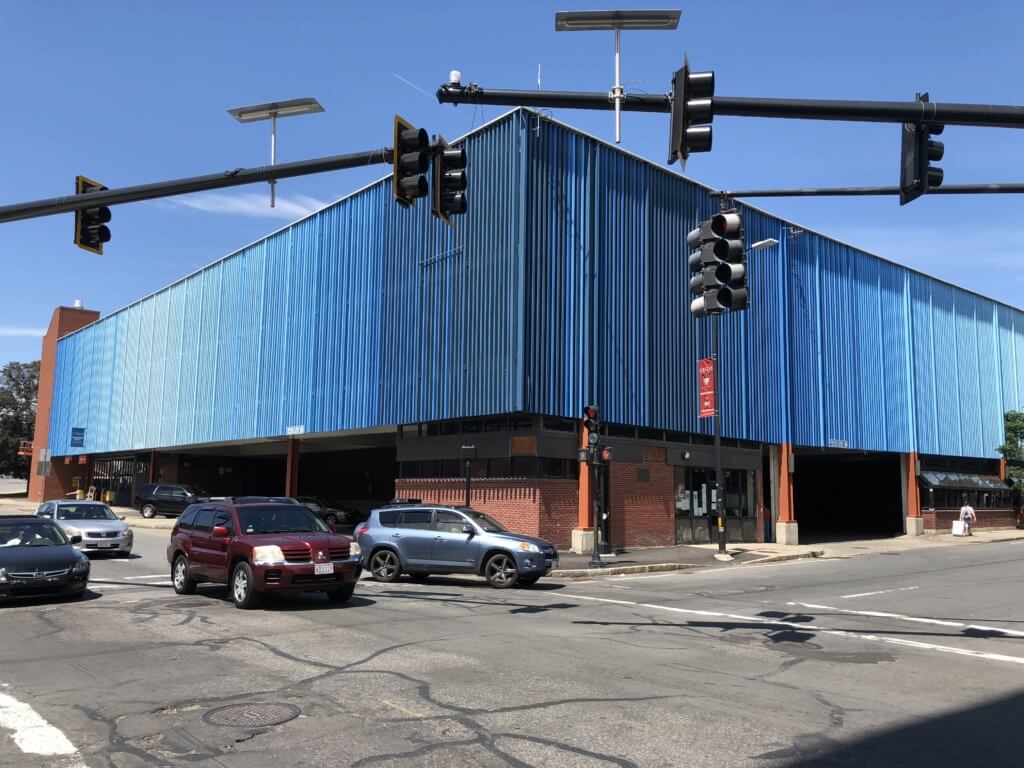 Transforming Buckley Transportation Center, Lawrence, MA
Last year, MassDevelopment and the City of Lawrence announced a new campaign to help repair and improve the Buckley Transportation Center. The campaign was run through the civic crowdfunding platform Patronicity and the Commonwealth Places initiative and the funds from this campaign will assist Partnership for the Buckley, a group led by art and social justice organization Elevated Thought, the Lawrence Partnership and Groundwork Lawrence to help transform the Buckley Transportation Center into a public art landmark for downtown Lawrence, Massachusetts.
A small team of Payette staff came together to help with the design to transform the station from a drab bus depot to a local landmark representing the emerging vitality of the city of Lawrence. Together, with teams from Elevated Thought and the City of Lawrence they settled on a design which includes a brightly colored façade and repaired and made updates to the waiting areas to increase safety for those using the area and nearby amenities.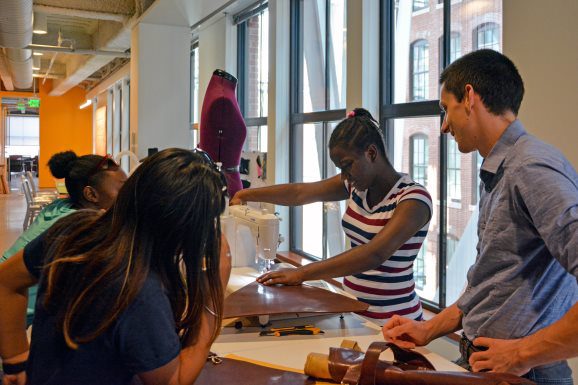 Boston Explorers
This past fall, Payette hosted Boston Explorers Leaders in Training (LIT) program participants for the second year in a row. Boston Explorers is an urban camp for kids and teenagers around the city. The program's goal is to promote creative, spontaneous play and hands-on activities using Boston as their playground. These workshops have allowed for us to share our tools, resources and design processes with their Explorers, as well as provide the chance for them to share their ideas and problem-solving skills with us.
This year, we designed a workshop where the Explorers built their own three-legged camping stools. Each stool could be customized and taken home. The goal of the project was to get the Explorers working with their hands, while exposing them to using both analog and digital fabrication tools and engaging them in design-oriented thinking.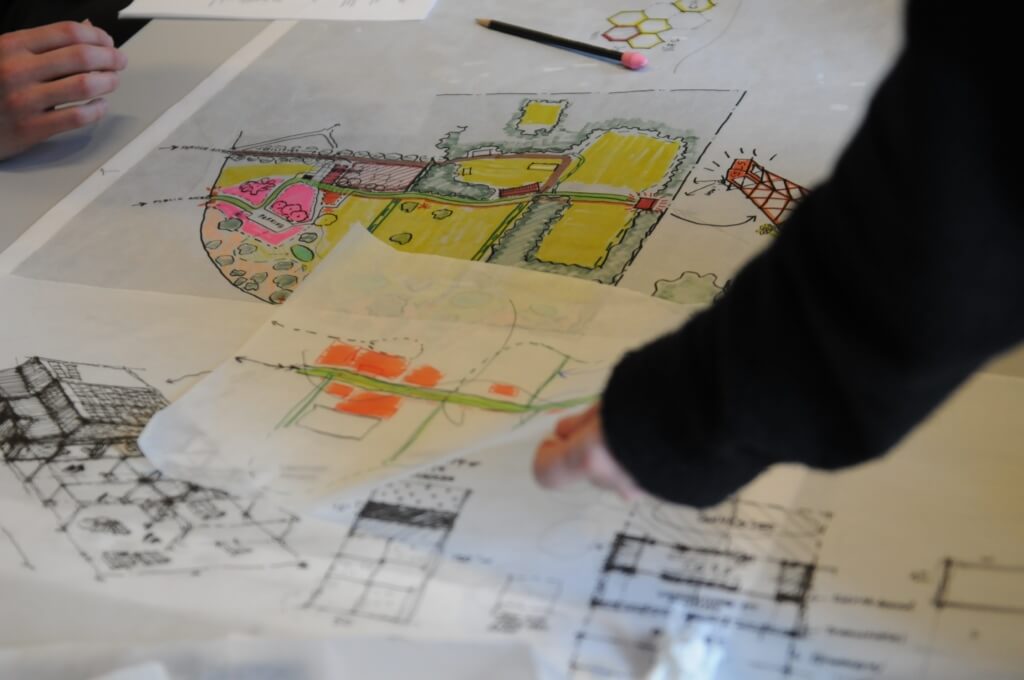 Martin Luther King Jr. Day of Service
As part of Payette's commitment to community engagement, the firm will implement its first annual, skills-based service program to benefit organizations in the Boston-area in January 2019. This program seeks to connect our practice to the Greater Boston community by supporting a variety of efforts to make a positive impact through design excellence. On the Day of Service our firm will donate the time of one-third of the staff for the day, to community focused initiatives. During the day-long event, stakeholders from the selected proposals will work with the Payette staff in a collaborative design process tailored to their organization's mission. This exchange of knowledge benefits both Payette and the community partners by constructing a deeper understanding of our city through thoughtful conversations, in-depth explorations and tangible deliverables completed by design professionals.