The AIA has begun an initiative in which they encourage members to become "Citizen Architects," who actively participate in civic engagement projects, embed themselves into local leadership and lend their talents and expertise to the general public.
At Payette, we place a strong emphasis on community engagement, specifically through pro-bono work . Our staff is encouraged by senior leadership to get involved in their communities. We recently held an office-wide discussion regarding two methods for engaging with our cities. This discussion was hosted by the Young Designers Core (YDC) and focused on opportunities to attend town meetings and to serve on local planning boards, building committees and historic district commissions.

We invited six panelists from across the firm who spoke about their experiences serving on committees in their towns. They represented a broad range of committee typologies; such as planning boards and school building committees, and were able to speak to the process of getting involved, the time commitment required and the ways in which they have had an influence on their town. Each experience was unique, but the common takeaway was the importance of and need for architects' involvement in these committees and boards.
When architects participate in their local communities, it creates opportunities for individuals to share their voice on important issues and advocate for thoughtful, site-specific design. We, as architects, have the potential to influence the built environment and future growth of cities and towns. Architects are specifically qualified and trained for the work performed on building committees; and while it is important to have a range of community members on these boards, an architect can lend a unique viewpoint and experience. For example, being able to quickly read and understand drawing sets is an incredible asset. Design professionals can work through potential issues or concerns in proposed building designs, encourage best practices or educate others on the value of certain architectural decisions.
The majority of our panelists are the sole architect serving on their respective board. Historic commissions often require that an architect sits on the Commission. Commissions from across the Boston area would benefit from architect involvement, however those positions are often a struggle to fill, as noted by Payette Principal Peter Vieira who has served on the Chestnut Hill Historic District Commission in Newton, MA for over 10 years. There is a great need for more design professionals to get involved. Payette's senior leaders have found ways to volunteer on local boards and strongly encourage the rest of the firm to do so when possible. Principal Bob Schaeffner noted that over the course of his tenure with the town of Marblehead, he has become better at his tasks and made more valuable contributions, emphasizing how long-term involvement can have a great impact. He is now serving as the Chair for Marblehead's Planning Board.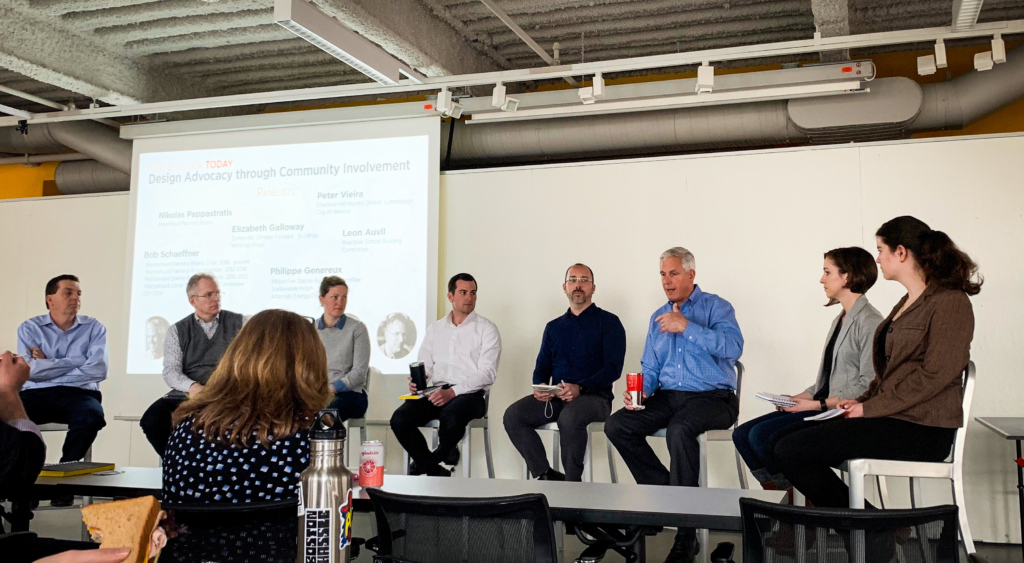 Our panelists also discussed the time commitment that goes into serving on a board. Payette Building Scientist, Elizabeth Galloway is part of Somerville's Climate Forward Buildings Working Group which meets once per quarter, while other boards meet once per month or every week. While the time commitment of serving on a board or committee is not always feasible, our panelists encouraged those in the audience to stay apprised of town meetings and attend whenever possible for the chance to lend their professional voice to the town by asking questions or offering suggestions. There may even be opportunities to recommend changes to town meetings to ensure they are accessible to more community members, including minorities.
Those at Payette who are actively involved in civic groups shared that their viewpoint of their community has broadened. They've gotten an up-close look at residential government structures and have played a major role in future development of their communities. Their service has enhanced their professional career as well, by gaining a better understanding of the local approval process and the key aspects town members look for in design presentations.
The involvement of architects in local committees has a great influence on both the profession and the cities in which we live and work. At its core, architecture is for people and it impacts people at all stages of life. Civic engagement is a critical aspect of our role as design professionals that should continue to be encouraged and celebrated.
Comments
Great blog post – and I am sure it was an amazing session! I can't reiterate the importance of serving in your community, on non-profits or in professional organizations. It can be time consuming, but you can have major impact. Architects have great insight and thoughtful perspectives to add! Kudos to all involved!

Heather Taylor, May 11, 2019