Promoting diversity, equity and inclusion through our designs is an increasingly important topic for many of our projects, and we hope to establish a framework for how it can be addressed. Early in the SD phase for Wesleyan University, we were challenged to be more rigorous and explicit of how we would incorporate this issue into our design. One of the project's six primary goals agreed upon by the University leadership and Trustees was to "Embrace Equity and Inclusion in planning, process and outcomes."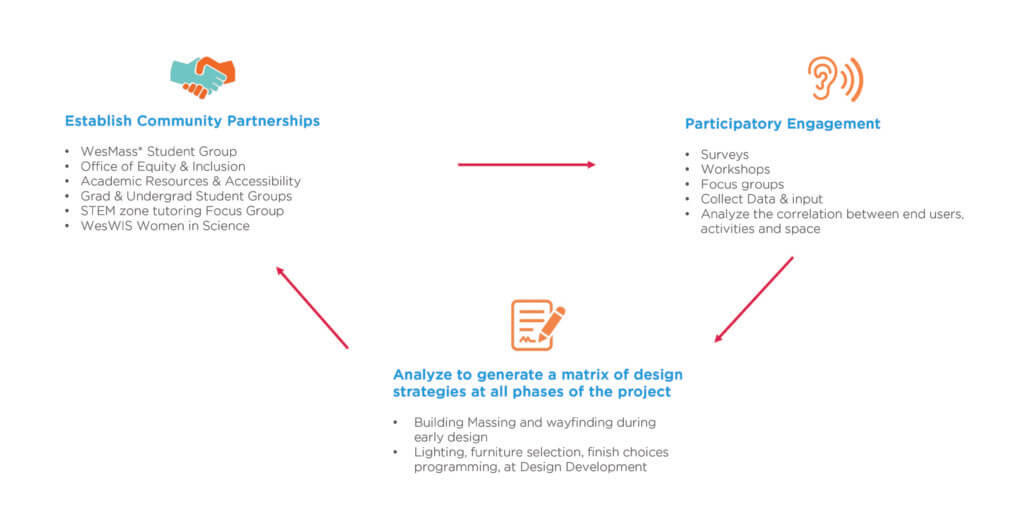 As a result, we formalized our process early and engaged with the Wesleyan community at multiple scales. We designed our EDI process, strategies and goals as a timeline to run congruently with our design timeline and incorporate feedback loops and check-ins at every design milestone on the project. We believe this framework incorporates issues surrounding Equity, Diversity and Inclusion into a typical design process that is relevant to many projects in the office.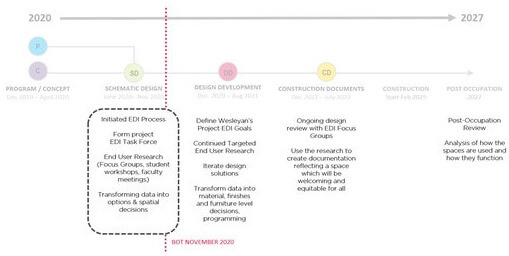 1. Identify a diverse group of community members who are willing to engage in iterative and focused discussions. For Wesleyan this meant students from a range of organizations on campus, Wesleyan's Vice President of Equity and Inclusion, the Dean from Academic Advancement, faculty members and people from Wesleyan's Administration and Facilities.
2. Have regular, informed conversations where the goal is not to reach specific known outcomes but instead, through dialogue and engagement, to discover/uncover preferences and possibilities that could guide design decisions, programming, and end user engagement. Some examples of design decisions that have been informed by our EDI discussions are building circulation, wayfinding, site planning, scales of communal spaces and bathrooms.
3. Iterate design solutions that integrate feedback and inform an end user experience by better reflecting an equitable consciousness consistent with the University's broader ambitions.
4. Quantify improvements with a pre/post occupancy survey that moves beyond a uniform "checklist" to measure success. It instead creates a project specific benchmark that is then reflective of community specific needs and demonstrates how the design addressed them.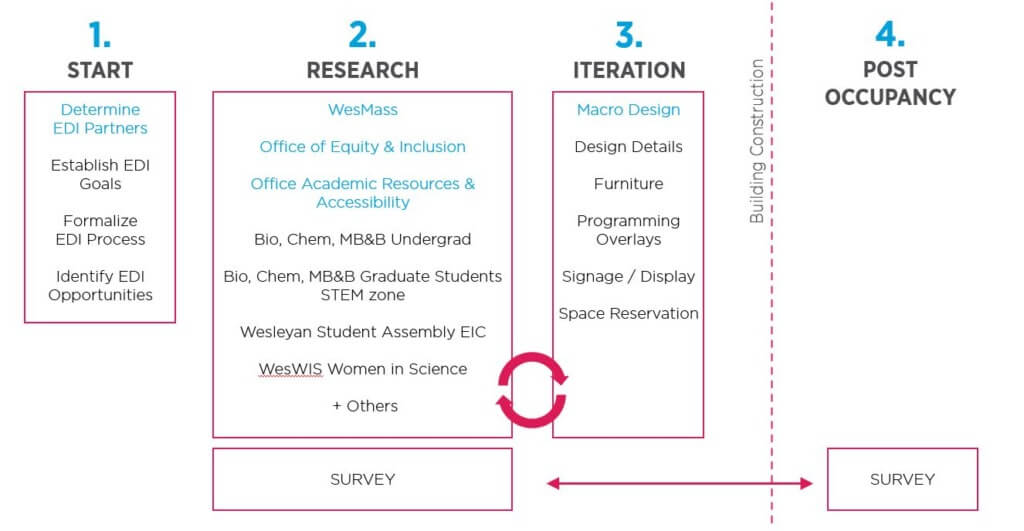 The process itself is simple but it requires diligence from both designers and the community members. The iterative nature of this process and the ability to make larger plan changes due to the early phase of the Wesleyan project, allowed for a robust EDI integration that is ongoing and will continue to inform and evolve the design through CDs.
It is important to acknowledge that this process requires a mental shift away from the outcome driven design criteria our industry has become accustomed too. Our conclusion is that there is no "silver bullet" or single answer of how a building is either equitable or not. Measuring the "success" of EDI efforts is less about known targets and expected outcomes that can measured with a checklist. It is instead a strategy rooted in an EDI commitment within the design process that focuses first and foremost on diligent, engaged community participation in a focused and iterative manner throughout the design process. We have determined that the best way to measure these efforts is through a pre and post occupancy survey.
The pre-occupancy survey not only sets a benchmark for the project to evolve from, it also allows community members to reflect and reframe EDI priorities into a design setting. In our first meeting with the Wesleyan EDI Task Force, we created a ranked list of issues with the highest design impact as well as a word cloud. Both were incorporated into the issues we tackled and were used to establish a common vocabulary for the duration of the project.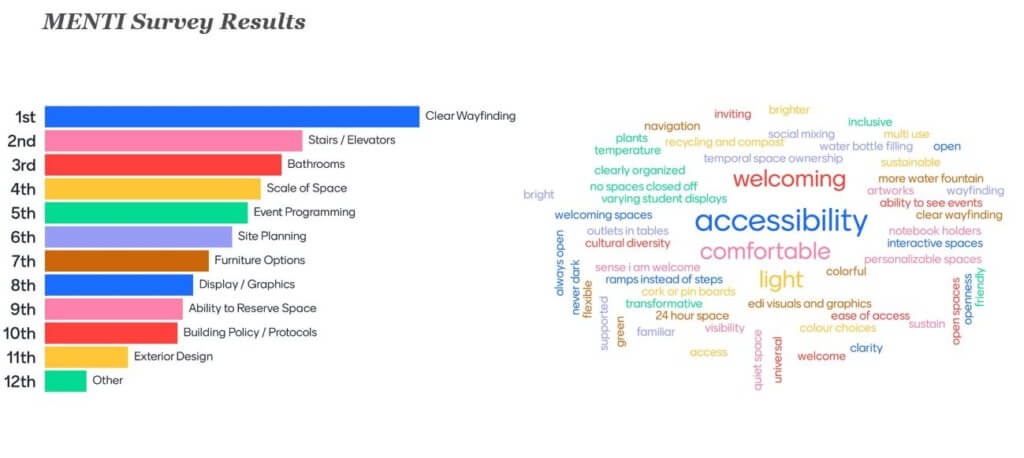 The process developed for Wesleyan of establishing community partners, having design discussions throughout project milestones and integrating the feedback into the overall design is applicable to all projects with the goal of creating an equitable space for the community it serves.
It is the design team's commitment and Wesleyan University's continued engagement and dedication to creating the best possible space for their community that have made this process a success.