The soul of our practice resides in its people, and we are always looking for ways to cultivate emerging talent and professionals. We enjoy an active internship program year round with students joining our team for a semester during the academic year and along with a group of interns who join during the summer. Today, we introduce the interns who we will be working alongside us this spring.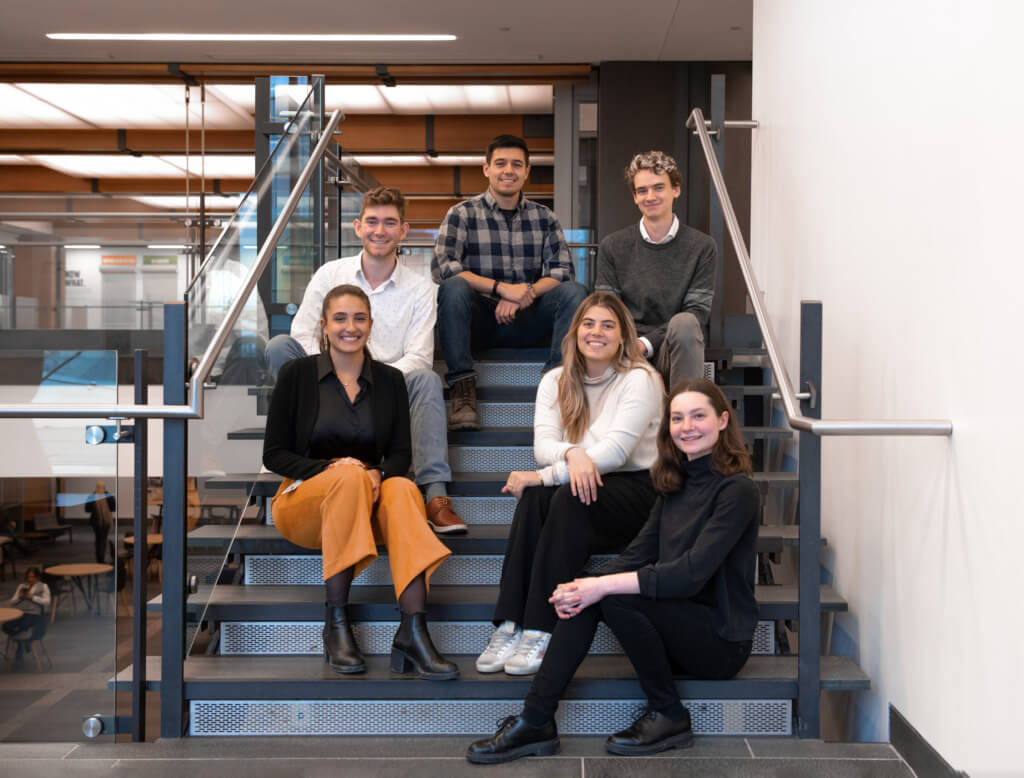 Joshua Ajayi
I am a fifth-year Master of Architecture student at Howard University. I am currently pursuing a two-part thesis on the inefficacy of green building programs and a sustainable building design approach that takes net-zero and biophilic strategies into account. In my free time I enjoy watching soccer, listening to music, and speedcubing.
Daniel Dudziak
I am a fifth-year Architecture major at Northeastern University and have been working since June on the EXP project currently being constructed on my local campus. While I began my collegiate career studying Chemical Engineering, I have found Architecture to be a profoundly impactful concentration as it is the system through which we can celebrate our cultural values, promote social connectivity, and define our built environment. Outside of architecture I enjoy snowboarding and Jiu Jitsu and have a fascination with history, particularly in the ancient world.
Moises Fernandes
I am a third-year Computer Engineering Student at Wentworth Institute of Technology. I chose to study Computer Engineering because I have always had a strong interest in computer languages and software. The most interesting classes I took were Object Orientated Programming and Computer Architecture; both these classes were very interesting and fun while also being very challenging. Object Orientated Programming taught us how to use Microsoft Visual Studio (specifically C++ and Python Languages) to problem solve and create various codes to do many things. Computer Architecture is a class that teaches you all the important things about computer hardware, and we learned the basics of ARM and LEGv8, which is the machine language that all computers use. Outside of school, I spend a lot of my time playing video games and streaming and 2-3 times a month I go to Balance Patch, a video game café in Boston where they host all types of games and tournaments. I have been an active member there for 5 years now and plan to continue supporting the establishment.
Marlena Fleck
I am a preceptee (fifth-year) at Rice University. The most engaging architecture course I have taken was Pliable, a seminar by Dawn Finley at Rice. It is an experimental fabrication seminar thinking about space making and manipulation through rolled goods. I took the course the semester that COVID hit but in the first few months we created sculptural garments and participated in a weekend workshop designing a wearable enclosure for two. Outside of architecture, I love to listen to and read about music, crochet, and try new coffee shops!
Miranda Hazoury
I am a rising fifth-year at Northeastern University pursuing a Bachelor of Science in Architecture and a minor in Sociology. I have always loved architecture in general but more than anything, I am fascinated by the possibility of designing in a modern society. I chose Architecture because I have a passion for the way humans interact through space and the role architects take in shaping these movements and interactions. This profession can embark so many fields, and I have taken an interest in practicing architecture through the sociological perspective. In my free-time I like to run and currently am training to run a half-marathon!
Sharmeen Khan
I am a fourth-year architecture student at Northeastern University. The reason I chose architecture is actually a funny story; I was applying to college and did not know what to put down for my major, so I asked my dad for advice. He asked me a series of questions ranging from "what type of house do you want to live in" to "what car do you want to drive" to "how much creativity do you need in your life," and after he gathered all my answers, he responded by saying, "hmm… architecture". That is why I chose architecture and haven't regretted it once! In my free time I like to cook, read, watch Netflix TV shows, do photography, and go skiing as much as I can.
Ethan Matthews
I am a third-year at Northeastern University pursuing a Bachelor of Science in Architecture. I was initially drawn to architecture as an artist/maker and have become increasingly dedicated to the field the more I learn about its role in shaping how we experience our environments. I believe that thoughtfully designed and interesting spaces can make a tremendous positive impact on our lives. Outside of architecture, I enjoy listening to music, going to museums, and am an editor for a student-run music and design publication at Northeastern.
Dorsa Naimi
I am a rising fifth-year student studying Architecture at Virginia Tech. I was a part of the OpenLab: Boston program that Payette hosted for the 2021 fall semester. My first-hand experience learning from the firm influenced my interest in the fabrication aspect of architecture. I find fabricating a new and exciting realm of architectural expression, and I am excited to be a part of the team. My interests outside of architecture include cooking and exploring different places to eat. I also enjoy spending my free time at art museums and galleries.
Nik Romano
I am a third-year architecture student at Northeastern University's Bachelor of Science in Architecture program. I am currently working at Payette as a co-op intern, and will be here for six months working on a higher education project. I am particularly interested in sustainability, especially its affordable, casual and realistic implementations. I am excited by the industry's movement in a greener direction, and I want to help take it further. As a board member of Northeastern's AIAS chapter, I am pushing for a more sustainable education and environment for our student body. In my free time, you can probably find me outside backpacking, playing tennis, or taking sketching walks.
Comments
As a former Payette employee and NEU alumni, I am am proud of my fellow Huskies!
Good luck and make NEU proud!

Dennis Grudkowski

Dennis Grudkowski, March 16, 2022