Meticulous craft, layered transparency and academic connectivity are the driving forces behind the New Science Center at Amherst College. Anchoring the eastern edge of the campus, the Science Center is a collection of five distinct building components, organized around a central daylit Commons and unified by a dramatic roof canopy. The Commons serves as the building's social heart, welcoming the entire academic community through a campus scaled gesture — an ultra-transparent window into science.
The project was recently featured in The Architect's Newspaper, detailing the makeup of the facade and its role in the overall performance of the building. The collaboration process between the architect, engineers, builder and client utilized an intensely iterative design approach, leveraging finely-tuned performance modeling to guide integrated design and engineering decisions. Specifically, early-stage energy modeling targeted winter/ nighttime heat loss as a key driver for the Commons' glass wall.
The New Science Center is a high-intensity laboratory designed to perform with an EUI of 91 kBtu/yr/SF, reporting a 76% reduction in energy use compared to a typical research building. Its architectural form and social geometry are intrinsically linked to reducing its environmental impact through parametric design, energy modeling and conservation systems. You can read more about the project in the article.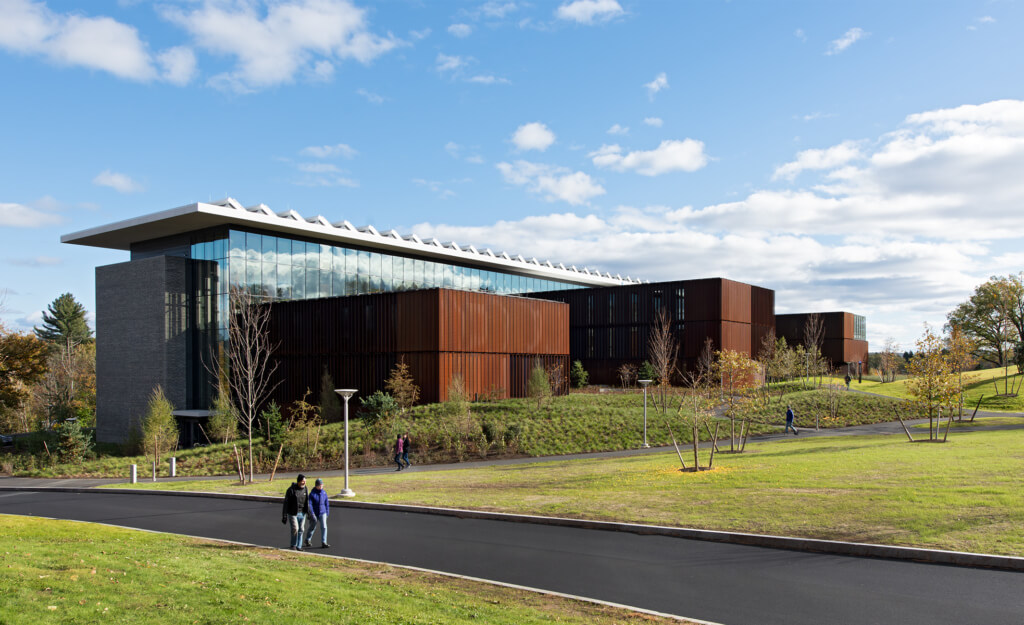 Catch Payette's Andrea Love discuss designing high performing facades, like the ones at Amherst College's New Science Center, through data-driven investigation at this year's Facades+AM Minneapolis on July 24, 2019. The conference series is a dialogue encompassing all things building skin—bridging the profession, industry, academia, operations and ownership. This conference covers issues unique to the Minneapolis region, including innovative building skins, high performance facades and the future face of the city.
Speakers:
Lee Durston, Principal, Senior Building Science Consultant, Morrison Hershfield
Andrea Love, Principal, Director of Building Science, Payette
Details:
Wednesday, July 24, 2019 | 11:35AM – 12:35PM
Conference:
Facades+AM Minneapolis
July 24, 2019
The Hilton at Minneapolis, Minneapolis, MN
Register here.
Comments
This is such a beautiful design! so uplifting and modern. I have always loved the architecture in the MA area for colleges..

Liz, July 12, 2019