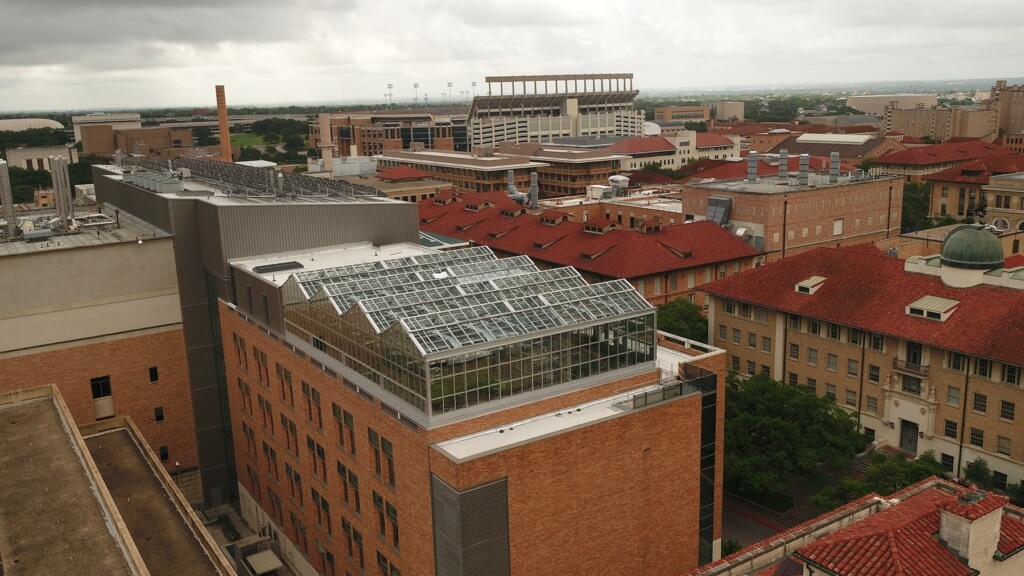 The new rooftop Norman Hackerman Building (NHB) Greenhouse Addition expands the College of Natural Sciences greenhouse facilities, providing unconstrained access to the sun and excellent views of UT Austin's campus. Research crops and exotic cacti collections were permanently moved from Welch Hall, allowing Welch to undergo extensive renovations. The greenhouse is setback from the street edge on the south to reduce its perceived height while also working with the rooftop-penthouse architecture of the NHB.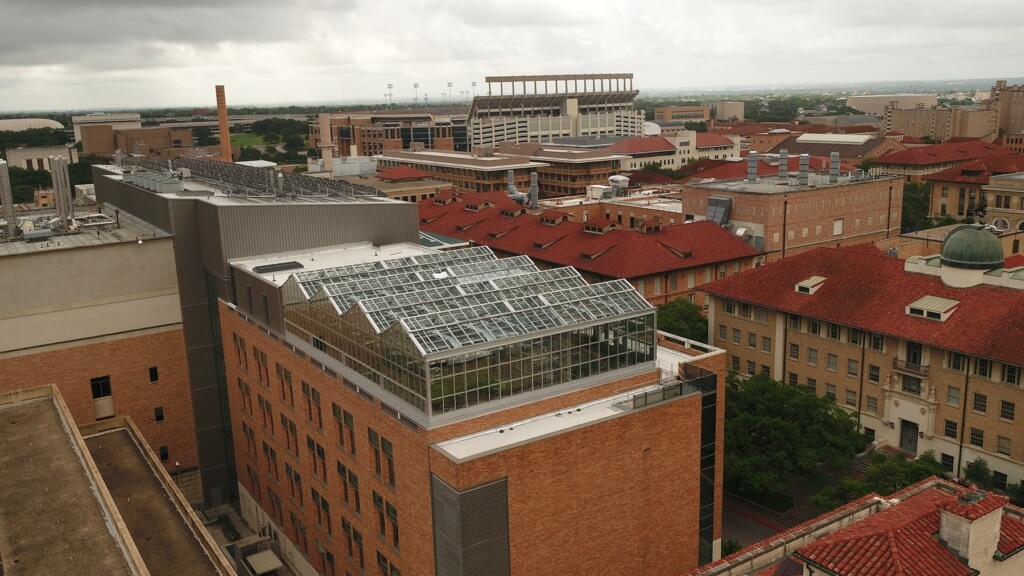 University of Texas at Austin
Norman Hackerman Building Greenhouse Addition
Project Statistics
LOCATION
Austin, TX / United States
COMPLETED
2017
TOTAL SQUARE FOOTAGE
8,500 SF
PROGRAM COMPONENTS
Plant and Crop Research Facility, Headhouse, Laboratory and Prep Space
PLANT RESEARCH
The new greenhouse is primarily used for crop research, with seven of the eight compartments—walk-in glass pods—dedicated to research. Its primary purpose is to study climate change in plants at the molecular and genetic levels. Each compartment is highly flexible with its own adjustable temperature, humidity and lighting controls, allowing researchers the ability to modify each space for specific experiments. The climate can be set within a wide temperature range, creating unique settings for experimentation. This feature also allows customization for the various research crop types including arabidopsis, cotton, corn, cacti and grasses.
Additional experimentation space will be provided by three walk-in growth chambers and six smaller reach-in growth chambers in the headhouse. The growth chambers provide highly controlled environments with moderated lighting, additive CO2 levels, humidity and temperature control for precise testing. The remainder of the headhouse, which is nearly enclosed, includes large window and skylight openings bringing natural light to the open lab space for mixing soils and transplanting experiments.
DESIGNING A HIGH PERFORMANCE GREENHOUSE
The new greenhouse systems include an environmental control system, roof and sidewall vent operators and machines, retractable shade/heat retentions shades, positive pressure fans, horizontal air flow (recirculating) fans, grow lighting fixtures, high pressure fog system, under bench fan coil units for partial cooling of compartments and over door fan coil units for full cooling of compartments. In all, there are six stages of cooling using both passive and active systems.
Photography: © Warren Jagger Photography