The new addition to the Family Parking Garage at Boston Children's Hospital – in conjunction with the new pedestrian bridge – truly transforms the way in which visitors and patients arrive at the hospital. From a civic point of view, the completed project has reduced pedestrian foot traffic across Longwood Avenue and has established a new architectural identity for the hospital. Above all, this project has created a safer, more cohesive experience for those families that must be there. This is a major step into the future for Boston Children's Hospital.
The Addition to the Family and Patient Parking Garage increases overall parking capacity, reduces lobby congestion, creates a connection across Longwood Avenue and enhances the visual relationship between the parking garage and the main hospital building. The new pedestrian bridge, in collaboration with Elkus Manfredi, provides a safe crossing over busy Longwood Avenue for patients and their families.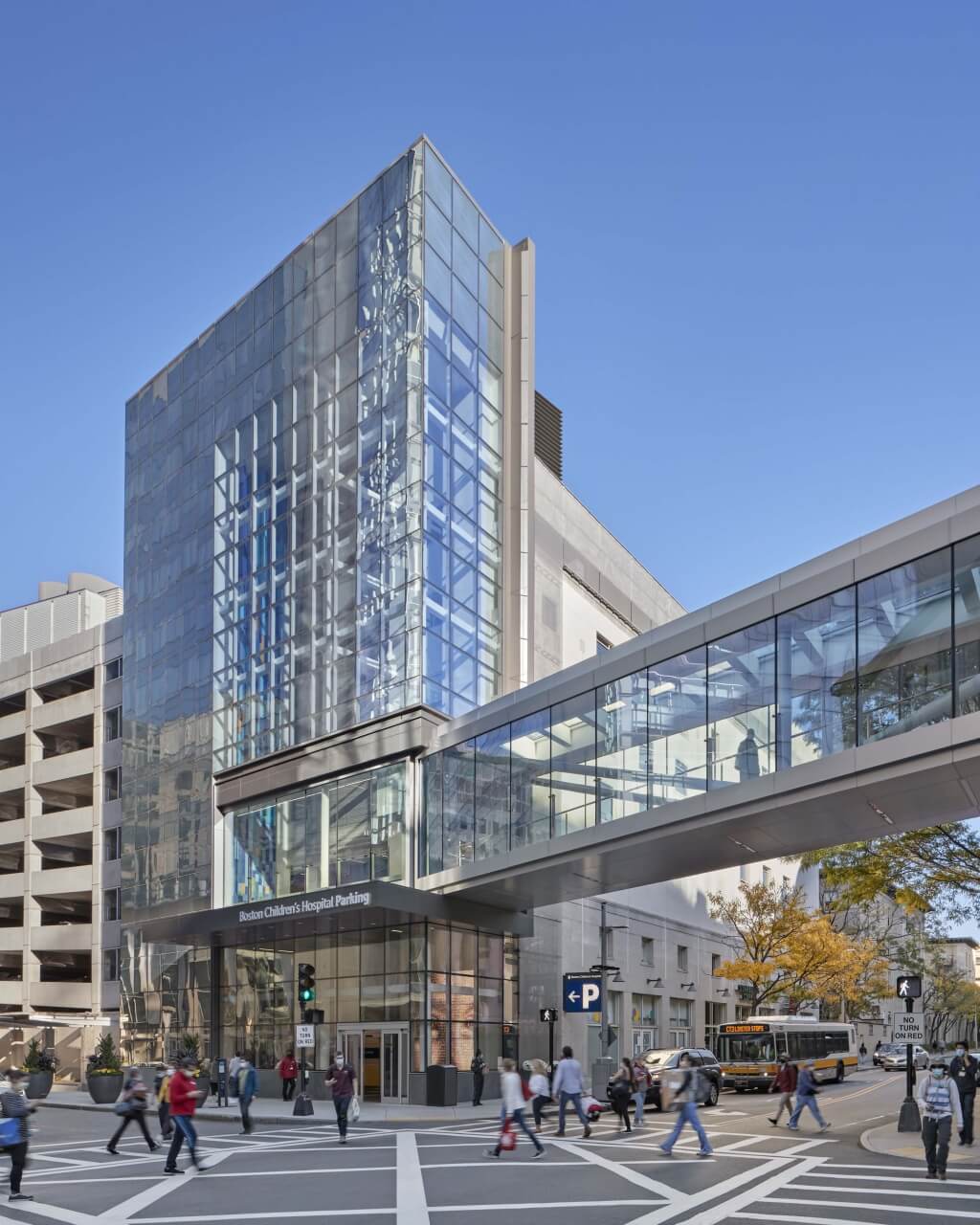 A New Symbolic "Front Door"
The vertical garage addition and skybridge establish a new gateway for the hospital, creating a clear, welcoming sense of arrival, while eliminating the stress and challenge of finding the main entrance. The new glass tower not only serves as a distinctive visual marker for visitors, but also provides a place for additional hospital signage. The pedestrian bridge provides a safe connection across Longwood Avenue for young patients and their caregivers, and enhances the relationship between the two buildings. Visitors are greeted by a beautiful and colorful mosaic graphic when they enter the garage from the street level. Back-illumination provides a glowing beacon for the hospital's new symbolic front door.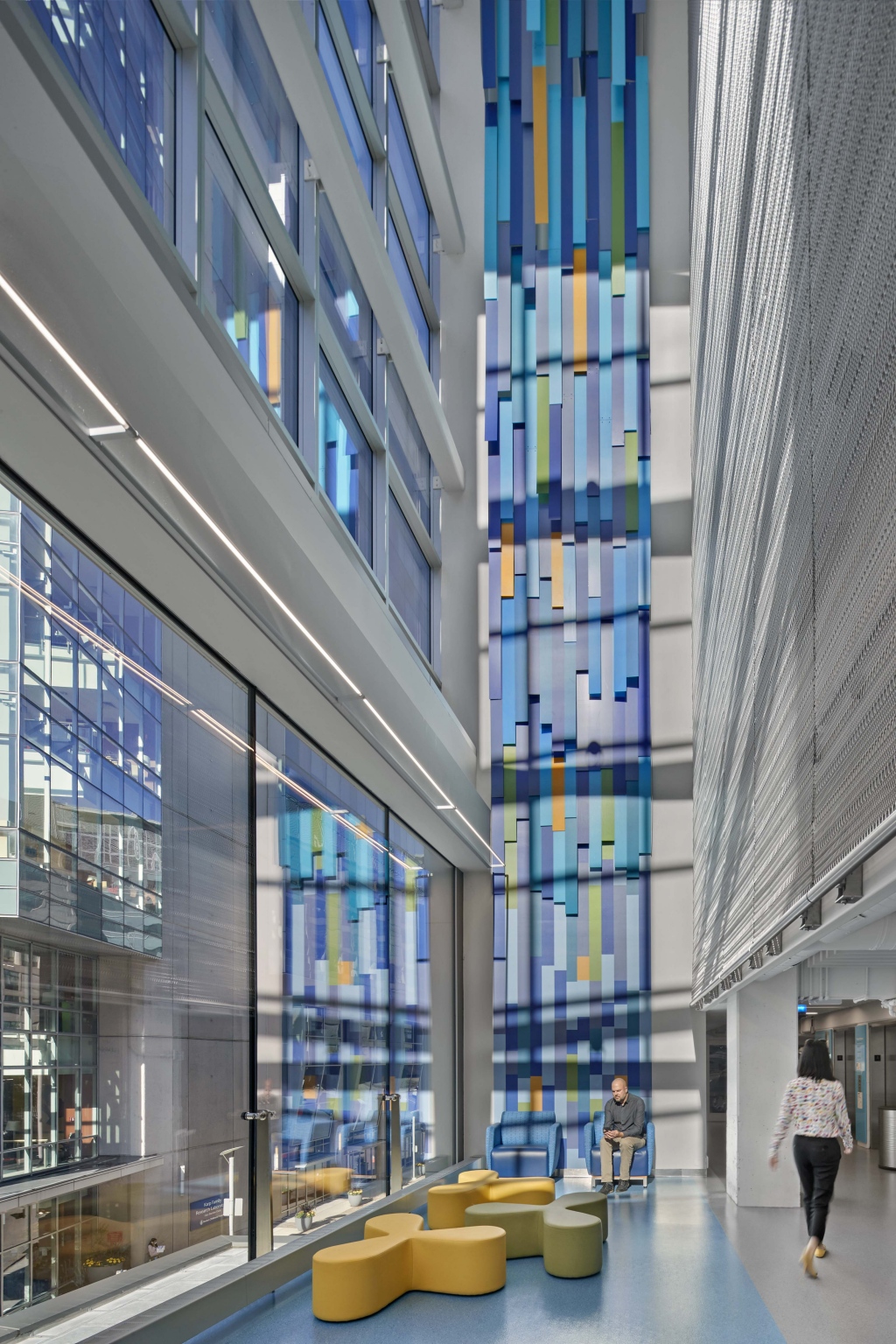 Bridge Level Lobby
While there is a street level lobby upon entering the garage, the major focal point is the lobby at level 4 where the pedestrian bridge connects the garage to the hospital. This new lobby functions as an extension of the patient waiting areas in the main hospital, and it is there that patients and their families can wait to be greeted by hospital staff upon arrival or escorted across the pedestrian bridge after their visit. The space is multi-story, behind a curtain wall façade that provides a generous amount of natural daylight. There is also a graphic art installation that spans from floor to ceiling, and is a visual highlight seen from the exterior of the building. Temperature controlled, enclosed lobbies on each floor provide additional comfort for arriving patients.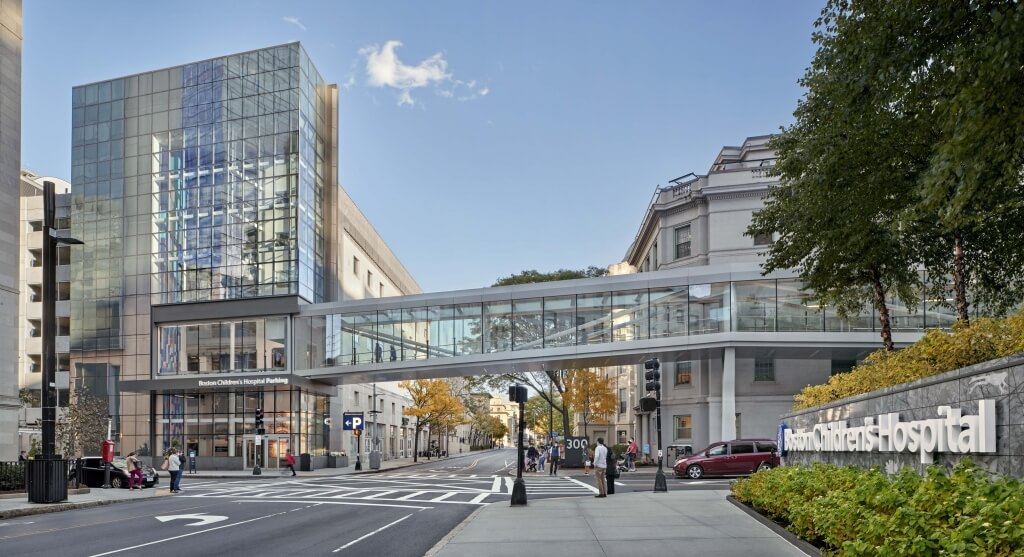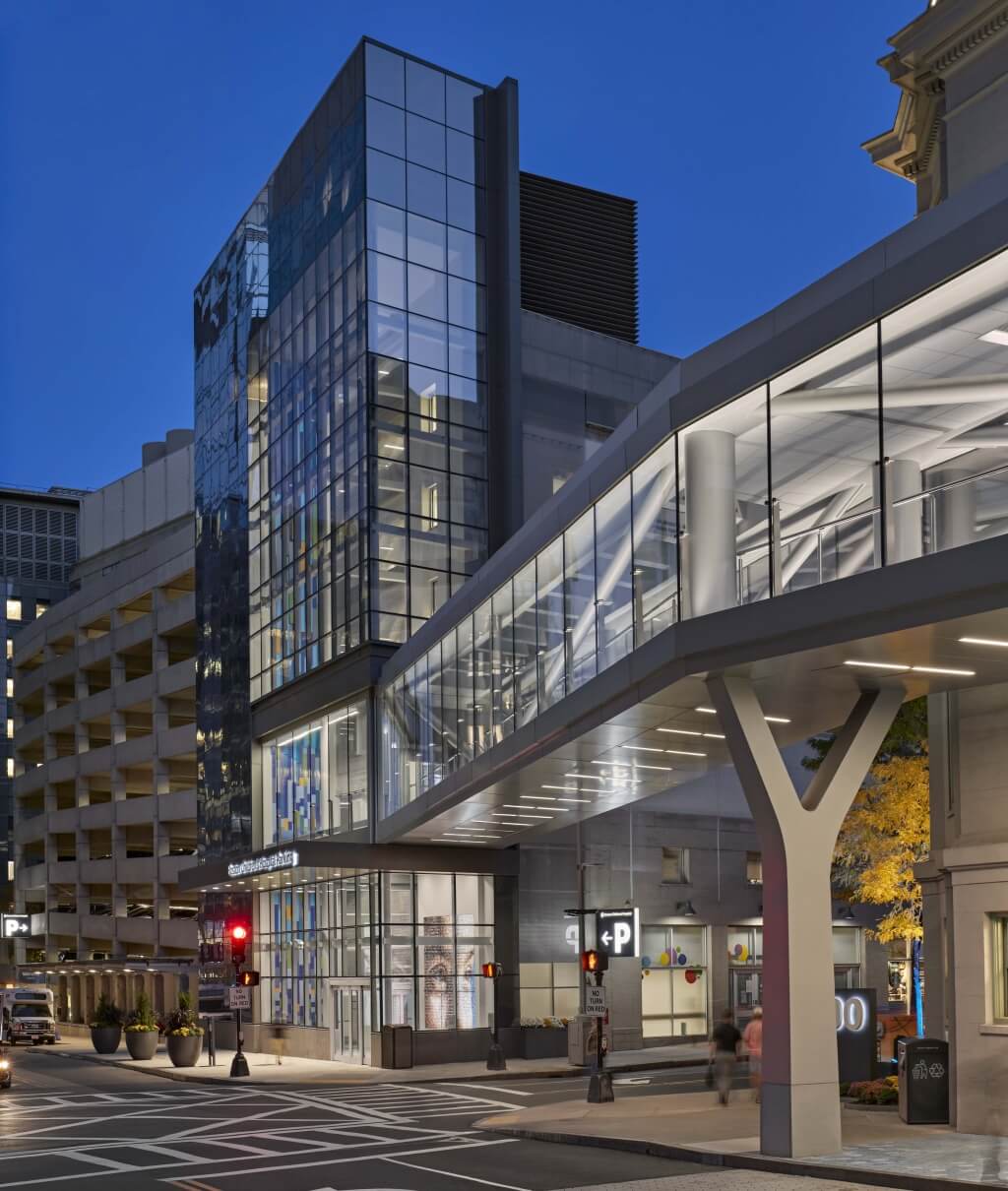 Functional Improvements
Functional and programmatic improvements further enhance the overall experience of parking, waiting and arriving at the hospital. An additional level to the deck structure created 73 new parking spaces and eases parking congestion in a challenging area of the city. Two new passenger elevators reduce bottlenecks and improve access to the parking structure. New public restrooms at street level and the bridge connector level provide added convenience. In parallel with all of the new visitor amenities, the project also includes new Security and Parking Offices, a new emergency generator, shuttle bus driver facilities, staff lounges and locker areas.
Comments
Excellent design and aesthetics in an urban setting.

James Anderson, May 14, 2021
Gordon… Excited to see this happen/in person!!
Congratulations!

Heather Taylor, May 15, 2021