An essential component of the Beth Israel Deaconess Medical Center New Inpatient Building project is the expansion of the inpatient perioperative platform of the existing third floor of the Rosenberg Building. The operating rooms in Rosenberg were designed in the 1990s when the hospital was a much smaller private hospital. Today, Beth Israel is part of a medical system Beth Israel Lahey and has a significant educational and research presence in Boston. The acuity of the patients has increased as has the technology present in the operating rooms. The new project aims to expand access to ORs and reconfigure storage and improve the overall efficiency of perioperative operations.
The original Rosenberg Building had nineteen operating rooms, three of which are relatively new hybrid ORs. Of the rest of the rooms, the average size was 470 square feet, which has proven to be very tight for the type of procedures that are typical to Beth Israel. Surgical services include General Surgery, Cardiac, Structural Heart, Endo Vascular and Vascular, Transplant, Neuro and Spine, Ortho Trauma and ENT/ Plastics Bariatrics and Thoracic. The patients are primarily inpatient, with the outpatient surgery located on a different part of the campus.
The new Inpatient Building adds seven operating rooms, four cardiac procedure rooms and one hybrid OR in order to meet present and future patient care needs. The clinical services utilizing these rooms include Cardiac, Neuro and a Minimally Invasive Surgery (MIS) Room with a Robot. The four Cardiac Rooms with the hybrid OR form a Cardiac core area that will share prep and recovery areas with surgery.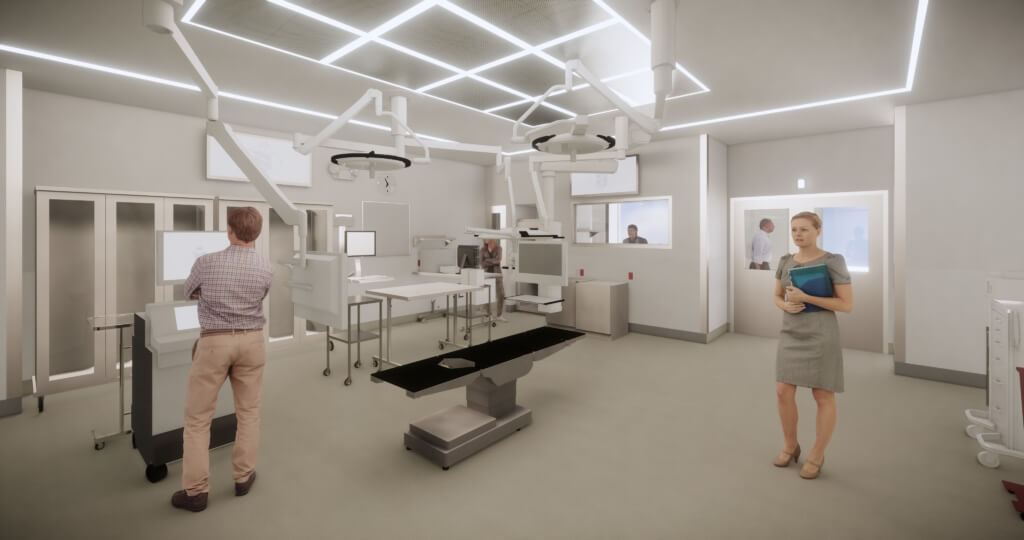 The existing Prep/ Recovery area is also inadequate to meet present patient demand. There are currently nine prep cubicles and twenty-four recovery cubicles. Expanding in place was deemed logistically impossible, so the new building adds another prep/recovery area nearby. Both areas will be general use universal rooms for prep and recovery, and both meet the 2018 FGI Guidelines using the new formula of two bays or cubicles per OR/Procedure Room.
The primary challenge for this project was determining how to double the size of the perioperative platform while improving the overall operational issues. The specific improvements that the new design allows include:
• A new Family Waiting area and concierge
• A new Clean Core for the ORs, locating storage centrally to the new ORs.
• Improving access to a new Central Processing Department, with direct elevator access to the ORs
• Improving the accommodations at the central Control Station, adding meeting area and office space to support operations at the desk.
• Supplement staff support areas with new locker rooms
• Improve technology in the ORs, providing fully integrated rooms.
These improvements will provide a reset for the surgical department bringing much needed improvements for staff and families. The additional perioperative program space will provide the hospital with the facilities required to meet the patient care demands of today and the foreseeable future. Beth Israel will be able to provide clinical care in a manner aligned with its mission "to provide extraordinary care, where the patient comes first, supported by world-class education and research."
Related Links:
Groundbreaking Ceremony: BIDMC New Inpatient Building
New Inpatient Building