There is a noticeable trend over the last decade of buildings designed with more and more glass. The allure of a highly glazed façade with its abundance of light, views and transparency can be seductive. But while glass is an amazing building material, using a lot of it on a façade creates significant challenges for energy performance and occupant well-being.
In cold climates, too much glass creates thermal discomfort from downdrafts and cold radiant surfaces as demonstrated by Payette's Glazing and Winter Comfort Tool. Its relatively poor thermal performance also increases energy use and emissions associated with fossil fuel heating systems. In warm climates, occupants can get uncomfortably hot when exposed to direct sunlight, not to mention the increased cooling loads required from solar gain. Direct sunlight can also cause visual discomfort from excessive glare. Here in Boston, we have both cold winters and hot summers, so a large amount of glass is problematic year-round for building performance.
Payette has created the Solar Comfort Tool to enable practitioners to explore the impacts of façade design on occupant thermal and visual comfort when exposed to direct sun. Users can experiment with the effects of orientation, glazing ratio, Solar Heat Gain Coefficient, shading and other factors to help them meet the ASHRAE 55 thermal comfort standard and the LEED v4.1 glare criteria. This easy-to-use tool leverages the calculation engine of the CBE thermal comfort tool and provides an intuitive interface that accounts for the factors of façade and room geometry. Practitioners can quickly and easily evaluate façade options early in the design process to mitigate the effects of exposure to direct sun.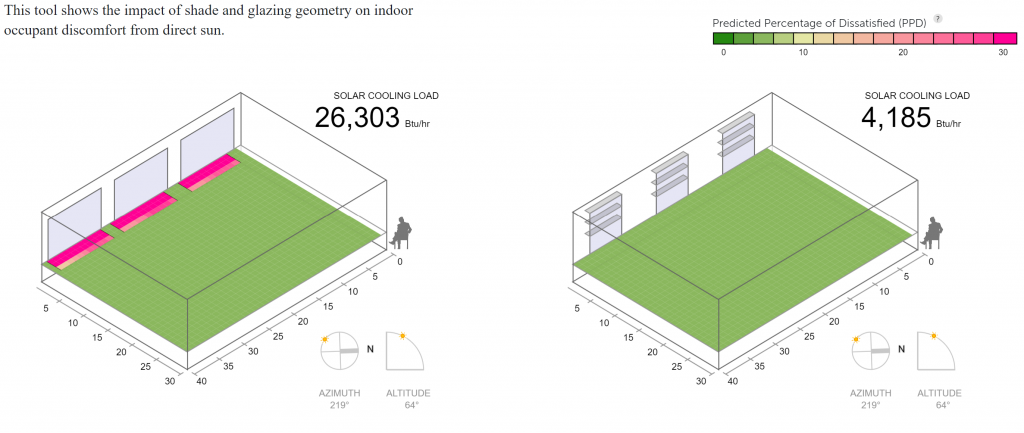 Cooling load and thermal comfort for a single hour on a Boston afternoon in July with 50% glazing ratio (left) and 30% glazing ratio with shading (right).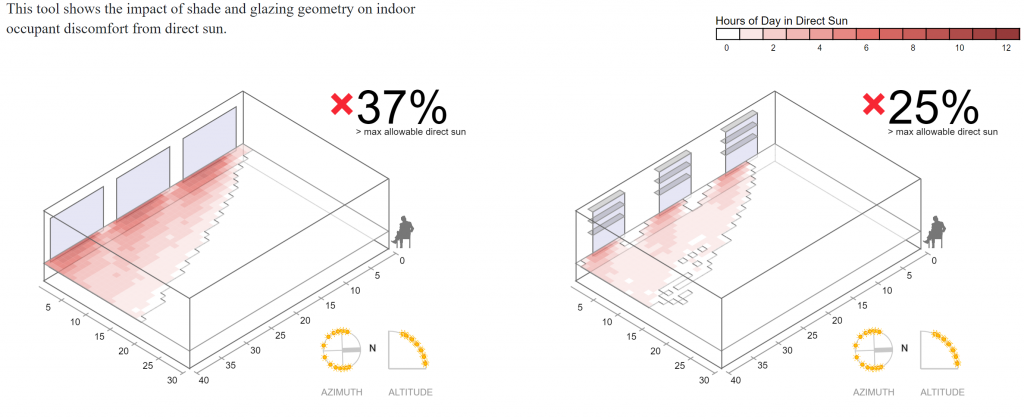 Percent of floor area with excessive glare over a day in Boston in July with 50% glazing ratio (left) and 30% glazing ratio with shading (right).
Comments
We are designing office buildings and hotels in scandinavia and south Europe, mainly Greece. Often have we wondered how we can evaluate facade options in terms of performance within the architecture design stage

Kostas poulopoulos, May 3, 2023