We are pleased to announce that Dana Farber Cancer Institute, Chestnut Hill and the Williams College Wachenheim Science Center are the recipients of 2022 AIA New England Merit Awards. The New England Design Awards program celebrates architects from, and architecture in, New England.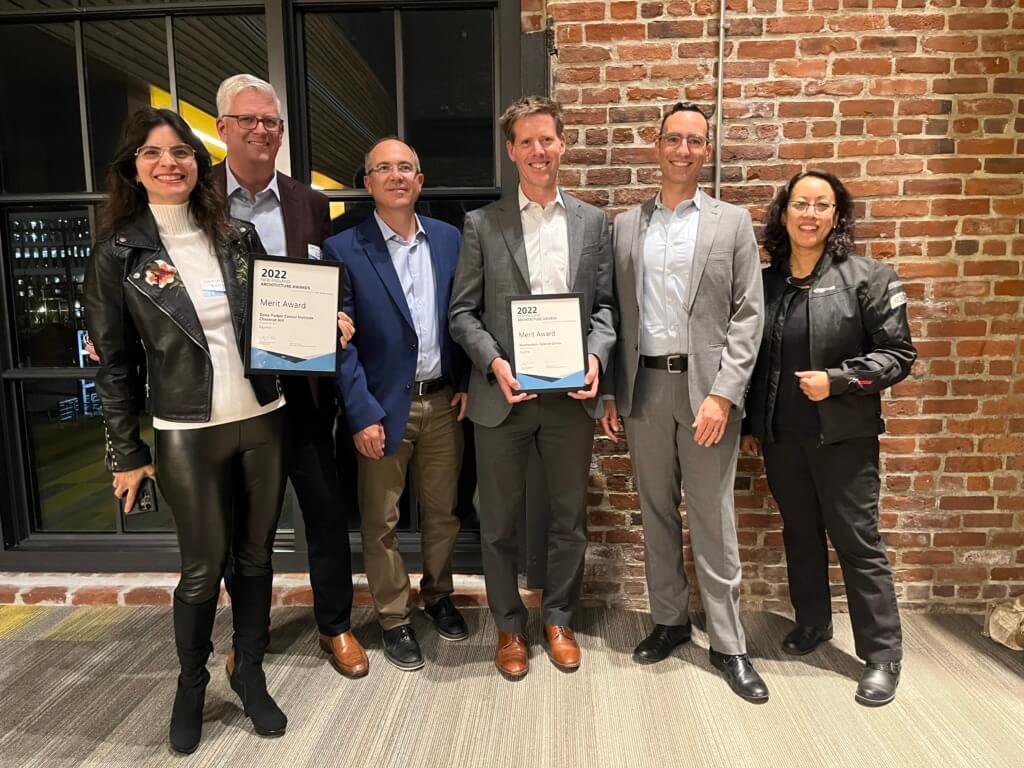 Dana-Farber Cancer Institute, Chestnut Hill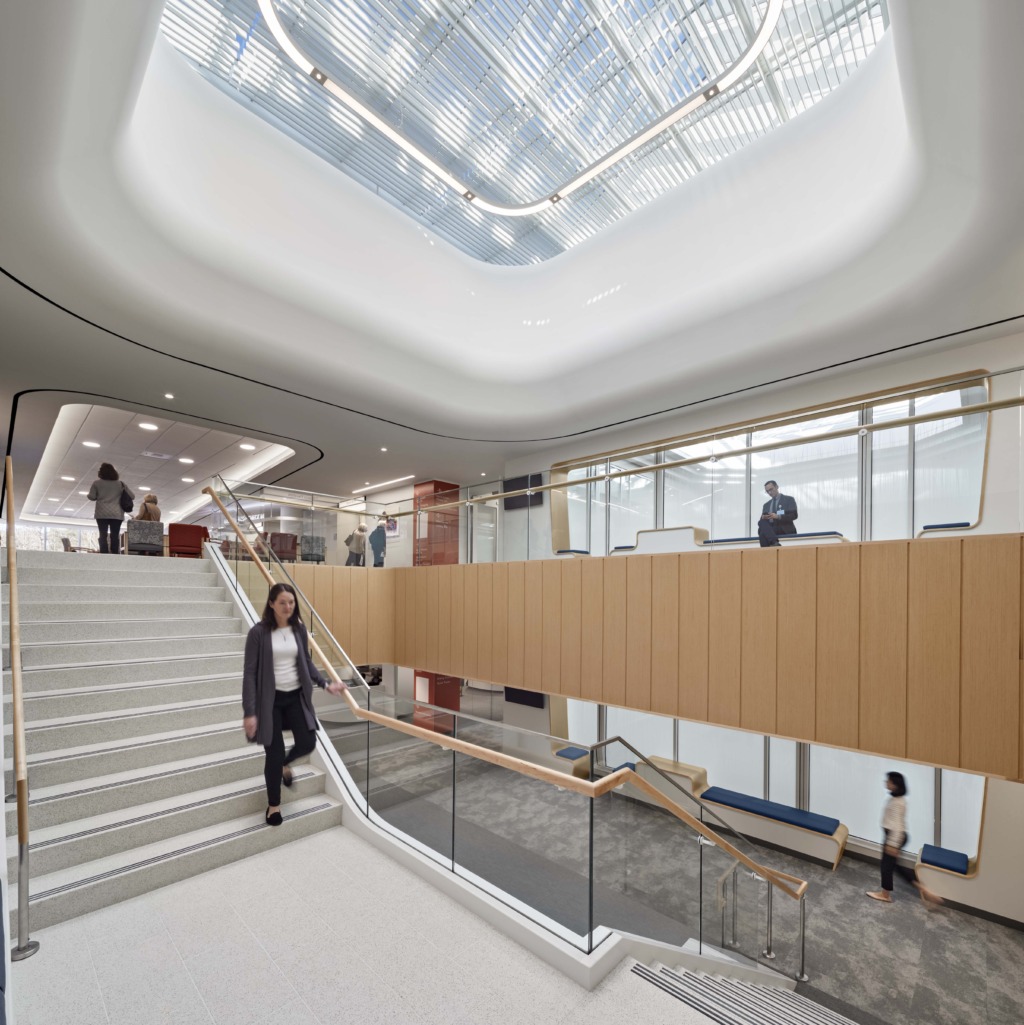 The Dana-Farber Cancer Institute Chestnut Hill project was conceived in mid-2017 to relieve pressure on the facilities located in the Longwood Medical Area of Boston. With no room for expansion and higher acuity levels of care required of the specialty clinics, increasing patient volumes necessitated a remote expansion for more comprehensive diagnostic and treatment space. This site provided several synergies: convenient access with reduced travel times for a majority of patients; colocation with other wellness-based functions; and a facility scale that would accommodate more collaborative team-based caregiving.
Three themes – shelter, light and connectivity – guided the team and the owner to an elegant and flowing solution. Their various manifestations work together to nurture patient and staff wellbeing. As a fundamentally patient focused facility, the design is an antidote to the most stressful and challenging of life experiences. A series of tactile elements, such as the undulating wood benches, walls and soffit panels, bring a coherence to the project. They visually and physically embrace occupants. Far from sterile, the soft sculptural soffits, reception desks and nurses' stations evoke a gentle touch. Radiused corners guide fluid movement and circulation. Together these elements create a sheltered, protected and healing patient experience.
Williams College, Wachenheim Science Center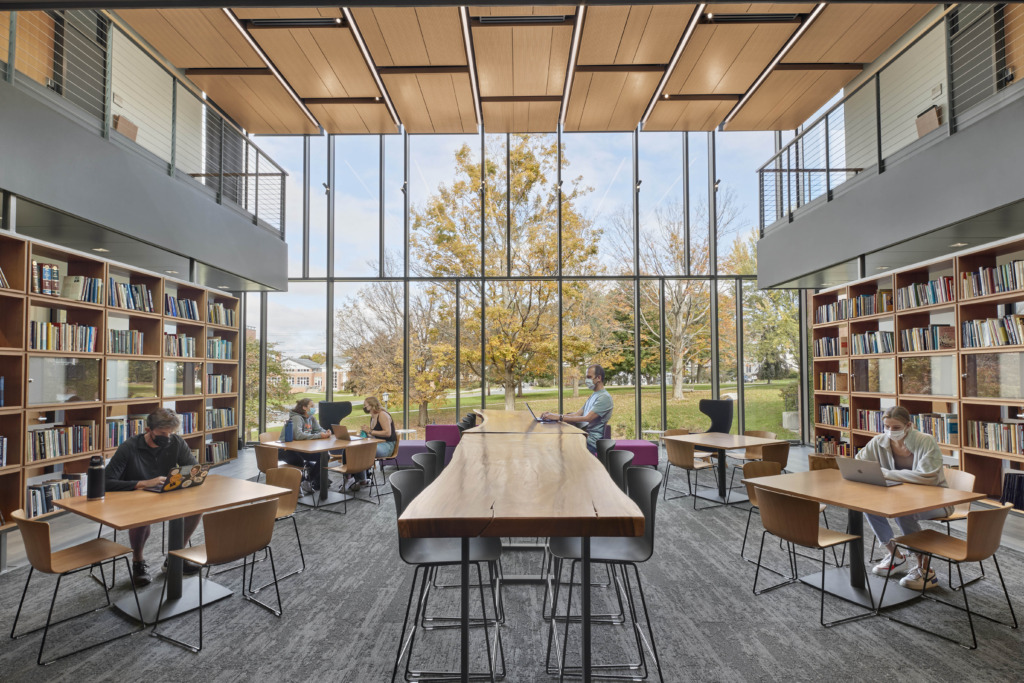 The Wachenheim Science Center is an addition connected by a two-story glass bridge to the existing Science Complex at Williams College. It houses the departments of Geosciences, Psychology and Mathematics|Statistics, along with much needed general-purpose classrooms. Celebrating the identity and specific culture of each department while maintaining the scale and fabric of the Science Quad were signature goals for the College. As a result, this is an intentionally quiet building that is at times almost invisible, yet still has its own distinctive personality.
The 113,000 SF Wachenheim Science Center replaces a 60,000 SF 1960's science building without fundamentally changing the character and scale of the cherished Science Quad. Through massing and materiality, the Science Center focuses upon the scale and warm embrace of its spaces both inside and out by making a large building appear small and discreet. Great care was taken to embed the building's mass in the hillside to reduce its scale and to align its parapet with the eave lines of its historic 3-story neighbors along the Science Quad.
As an assemblage, the Wachenheim Science Center provides an interesting counterpoint to a more typical monolithic interdisciplinary science center with a singular identity, blended disciplines and monumental scale. It is this particularly nuanced expression that places such intimate focus upon the culture and pedagogy of the three academic disciplines it houses, which in turn generates its unique character and scale.