Last month, we attended the Embodied Carbon in Buildings conference put on by the BSA. It was a one-day, sold-out event at the Samberg Conference Center at the MIT Sloan School. Given our current focus on utilizing Life Cycle Assessments to achieve our carbon reduction goals, our intent in attending was to learn from leading-edge practitioners and researchers as they investigate the impacts and opportunities of materials and products and share strategies for realizing carbon-thoughtful design.
As stated by Carbon Leadership Forum, "embodied carbon is the sum impact of all the greenhouse gas emissions attributed to the materials throughout their life cycle (extracting from the ground, manufacturing, construction, maintenance and end of life/disposal)."
Embodied carbon is measured by completing a Life Cycle Assessment (LCA), which is a standardized method used to track the emissions of a product, material, or even a whole building, throughout its entire life cycle. To complete a Life Cycle Assessment, it requires a thorough evaluation of the compilation of inputs, outputs and corresponding environmental impacts from the cradle to the grave (or cradle to cradle in the case of recyclable materials).
Through this process, emissions are translated into environmental impacts on both a global and regional scale – these areas of impact typically include:
Global Warming Potential (GWP)
Ozone Depletion Potential (ODP)
Primary Energy Demand (PED)
Acidification Potential (AP)
Eutrophication Potential (EP)
Smog Creation Potential (SFP)
Land use
Water scarcity
Human and Ecotoxicity Potential (HTP, ETP)
The event provided the opportunity to learn from industry thought leaders, and it was broken down into three sections:
Part 1: Life Cycle Assessments 101 and why this issue is so important
Part 2: Material information
Part 3: Digital tools to do something about it
Key takeaways: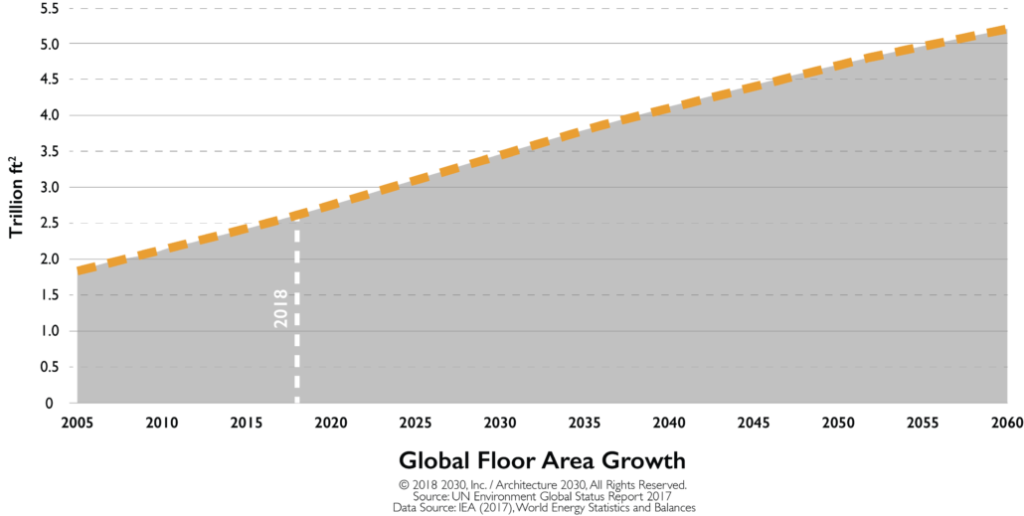 "Embodied carbon will be responsible for almost half of the total new construction emissions between now and 2050." (The term "embodied energy" does not include carbon emissions from the manufacturing process; "embodied carbon" does.)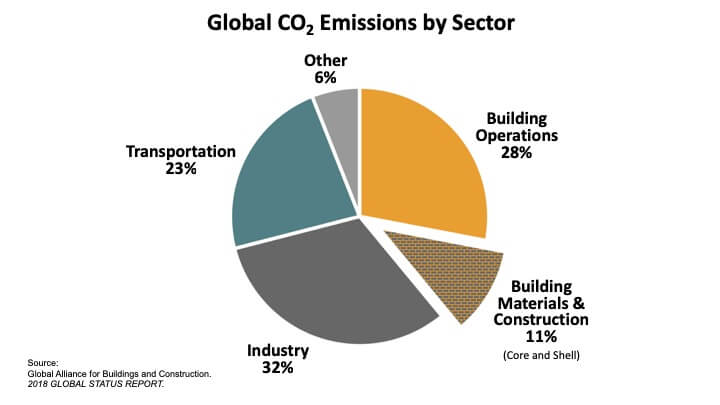 The architecture profession must be carbon neutral by 2030–this needs to include embodied carbon which goes beyond the 2030 Challenge requirements. Foster + Partners has pledged to design every project carbon-neutral by 2030; is this ambitious enough?
It is our task to shepherd the public mindset of embodied carbon with optimism and accessibility of information.
Carbon needs to be a critical decision metric on the same level as cost and aesthetics, including in design options and master planning.
Be "right enough" and use educated estimates just to get started; if you wait for 100% accurate metrics, you'll never start. Start asking questions, and ask manufacturers for their Environmental Product Declarations (EPDs).
Digital tools such as Tally (a Revit add-in), One Click LCA and EC3 (carbon calculator, still in development) allow you to evaluate your designs without collecting all of the documentation and data.
Concrete is the most used material on the planet after water and needs to be a focus for embodied carbon reduction. Cement is the primary carbon culprit; work with your structural engineer to reduce cement as much as possible.
Explore opportunities to integrate materials that store or sequester carbon. Use the 2030 Carbon Smart Palette as a reference for all material choices. The building's interiors can have as much impact as the core and shell.
To get started, check out the resources below.
Resources:
Read the Carbon Leadership Forum LCA Practice Guide for more information.
Join the University of Washington Embodied Carbon Network, check out their repository and exchange ideas with other members.
Read the COTE Top Ten Toolkit and The Uninhabitable Earth.