Payette has increased its participation at collaboration and networking events that give designers the opportunity to explore new technologies beyond their typical project work. Luke Gehron, our Lead Computational Designer, has attended six workshops and hackathons over the past year. In this post, Luke describes the app he created at a hackathon hosted by the MIT Media Lab, an Augmented Reality (AR) Space Planning Tool titled "SpaceAR".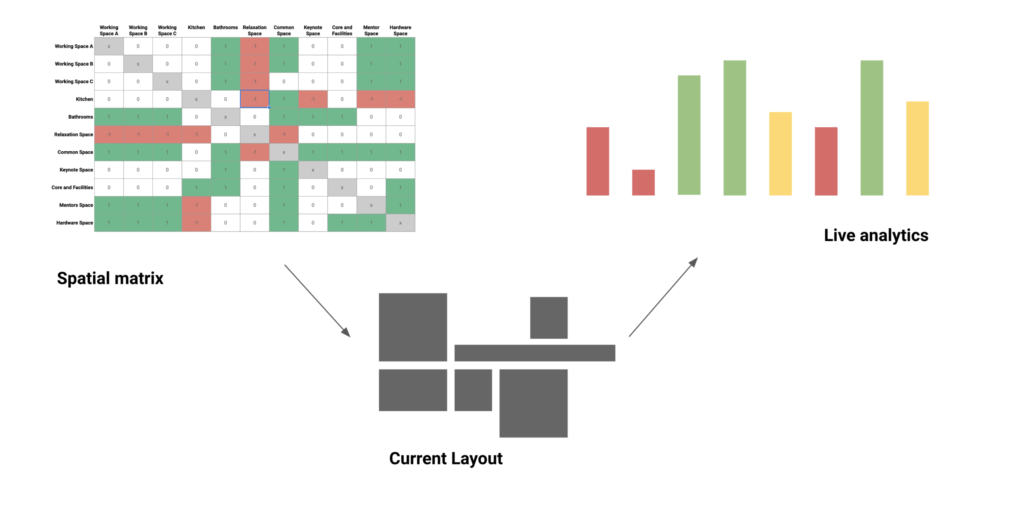 For this project, I collaborated with two designers at MIT Reality Hack, Justyna Szychowska and Jeff Matarrese. My co-designers also have architecture backgrounds, which allowed us to immediately articulate and understand each other's ideas, and to quickly make progress towards our shared goal despite the fact we had never met. We united over the idea of adding flexibility, accuracy and analysis to the early stage conceptual design process and identified an opportunity for using a new AR technology for the phase that typically employs hand drawings or physical models – space planning.
Once we identified some of the fundamental problems faced when using physical models for conceptual design, we prioritized these as drivers for creating a new tool. We established that the tool would need to be a seamless part of the collaborative process and since a screen-based solution would limit collaboration, we chose a headset-based AR. We considered several different headsets, ultimately selecting the Hololens 2 because it was the most comprehensive, and utilizes gesture-based recognition to interact in the AR space, thus eliminating the need to teach users how to use an unfamiliar remote control.
Our app opens showing a grid plane populated with space blocks. Each block corresponds to a space type and has a floating tooltip above indicating the space name and area to allow for immediate understanding of space data. Users are then prompted to rearrange the blocks within the grid. If a space block is dragged off the grid, handles appear that allow the user to scale the object in the X or Y direction, while the tooltips update the modified space data "live." New spaces can be added to the grid using a floating tool bar which holds a collection of alternative space types. Additionally, a bar chart hovering just beyond the grid shows ideal adjacencies and as you move and scale spaces, it displays the score of the different space types as they relate to their immediate surroundings. Finally, the history of all interactions is recorded digitally, and using a slider, all previous configurations and positions of the space blocks can be accessed and played back at any time.
Over the two and a half days of hacking, we successfully developed this prototype using Unity, the MRTK plugin and C# to allow users to plan their own spaces. As a case study, we built the tool to design a hackathon layout with spaces based on rooms at the MIT Media Lab. After presenting our application to nearly a dozen judges on the final day of the event, our team was awarded the Best App in Logistics + Productivity prize and we were a finalist for the Best of AR category.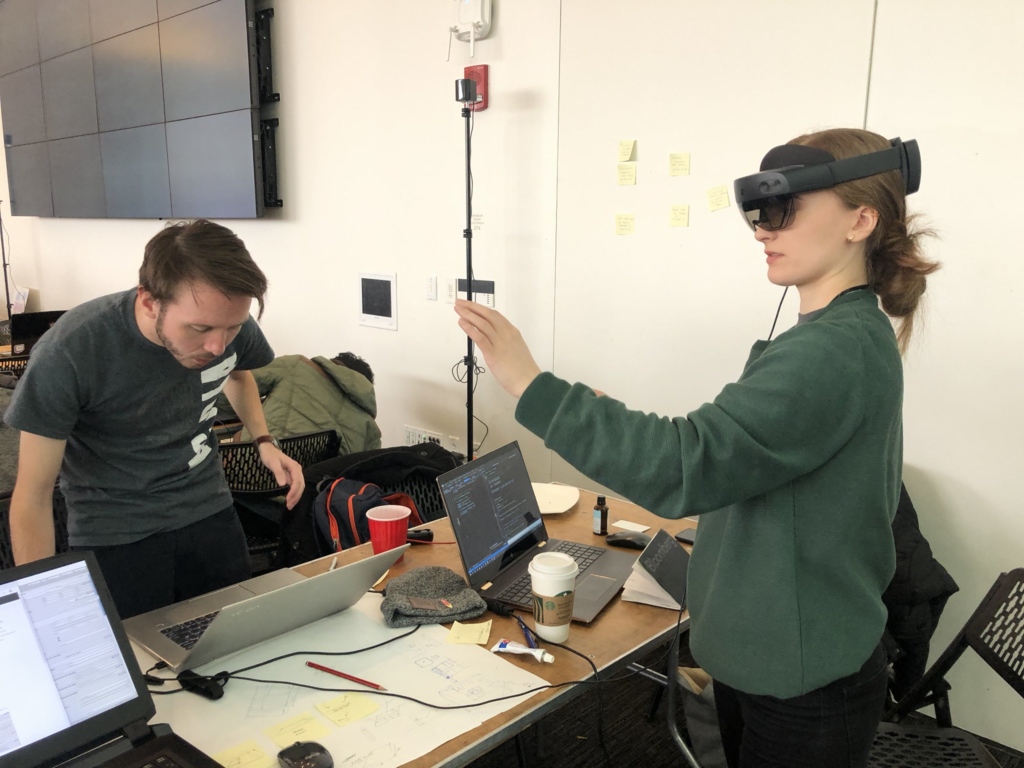 Our goal was to create a product that would help architects and space planners design better spaces. We wanted a tool that we could bring back to our firms for further development, and to address the specific types of spaces that we work with. Our team is still in contact and we are working together remotely (from around the world) to port this app to a different headset with the hope of making it more accessible within our respective offices.
One of the most important reasons for attending these events is the opportunity for the advancement and exchange of ideas that extends well beyond the three days of a hackathon. Of the past five workshops and hackathons I have attended, I remain in contact with at least one person from each team and continue to connect with others. I have also met with former team members to expand some of the ideas we developed during the short time afforded in a hackathon or workshop. While I have personally committed to three more hackathons this year, their value has inspired me to share and encourage participation with my coworkers and broader community. I am excited that six colleagues joined me in the AEC hackathon this past week, and I hope to continue this trend of increased engagement that Payette fosters.