Last week we reached a major milestone in our Pro Bono work for Land's Sake Farm. Over the course of about 5 days the new animal barn timber frame was raised. This is the culmination of years of work and planning involving a great number of people.
Last fall all the timber for the frame and much of the siding was harvested from another farm in Weston less than 2 miles away from the site. The pine was shipped to Upton where it was sawn into timbers by the Garner Girls Sawmill, a women owned and operated sawmill.
The animal barn is part of the first phase of the long-term master plan for their 40-acre farm which also includes a farmstand, a greenhouse and a service building.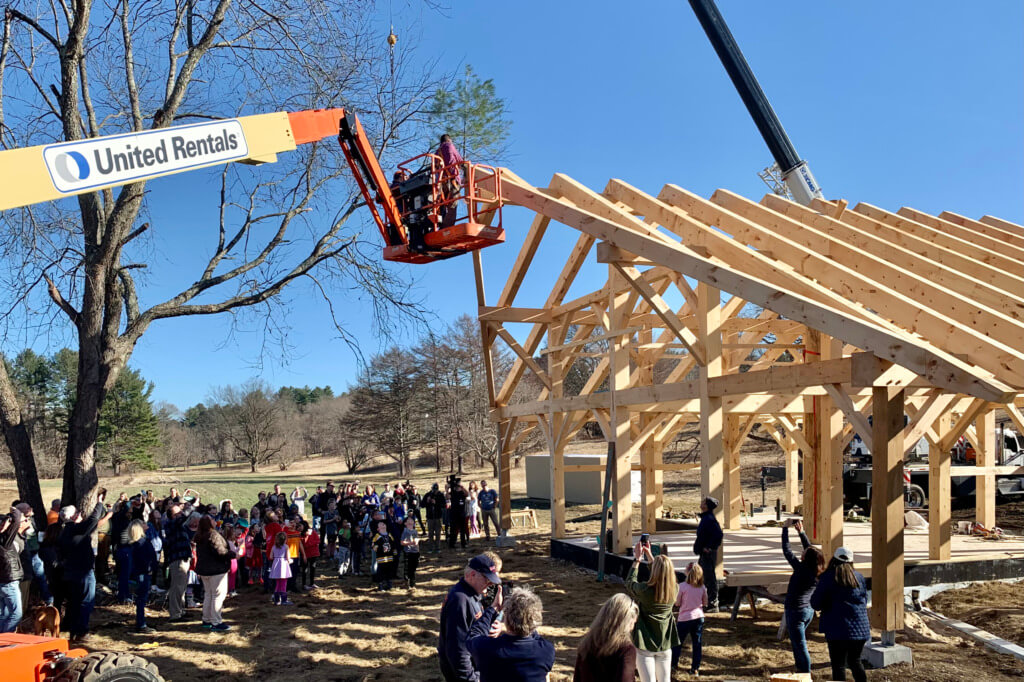 From there the timbers went to Hardwick Post and Beam who spent the winter cutting the frame and preparing the timbers for assembly. While the barn does not mimic a traditional form it follows traditional timber framing techniques. The lumber is all cut with mortise and tenon joints when it is green (undried) and is pegged with hardwood dowels and left to dry once raised. It was planned as 5 bents that are constructed laying down that are then raised to form the walls and framing is infilled between them.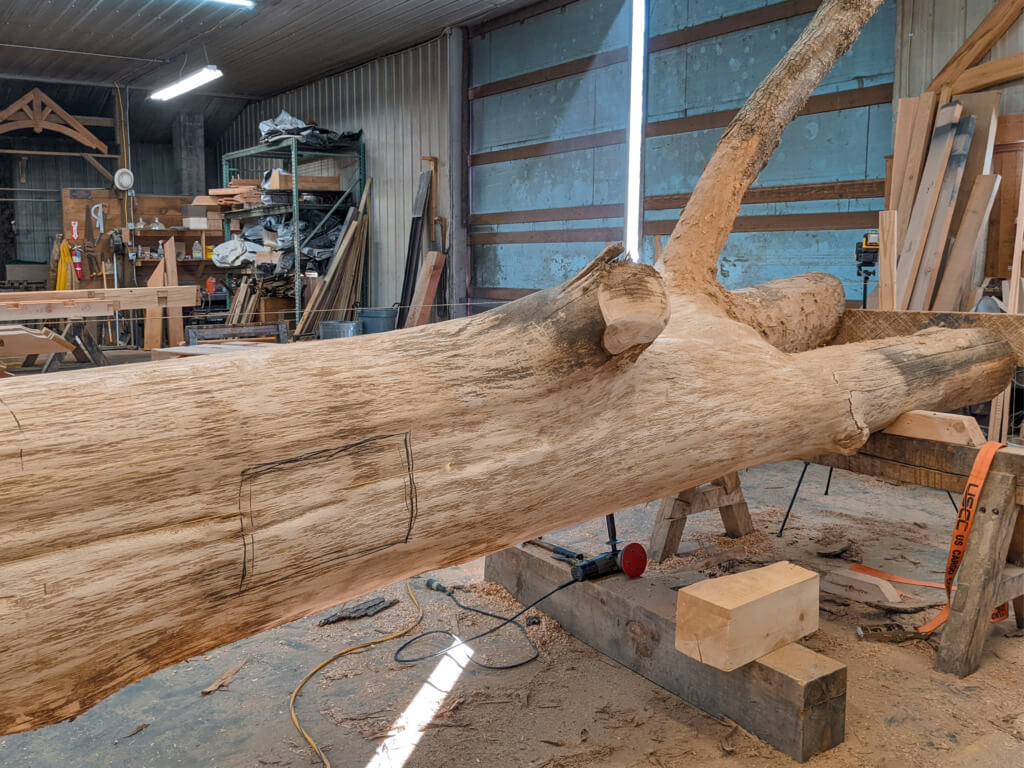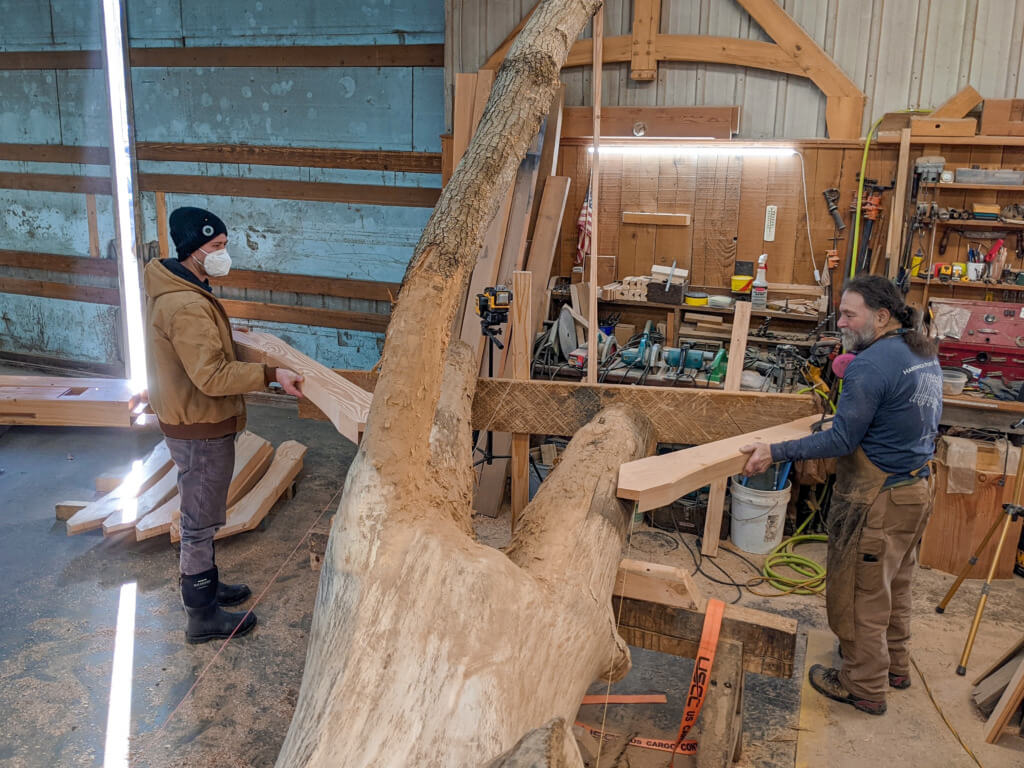 Over the course of 2 days, 4 shifts of community volunteers worked alongside the team from Hardwick to assemble the bents on the ground. This involved carrying timbers, fitting them together with bracing and hammering in the hardwood pegs. In the following 2 days the entire frame was raised culminating in a topping off ceremony where a wetting bush was nailed to the top of the frame to pay homage to the trees and hands that helped build the structure and to symbolize the establishment of the building roots which will nourish a long and prosperous life.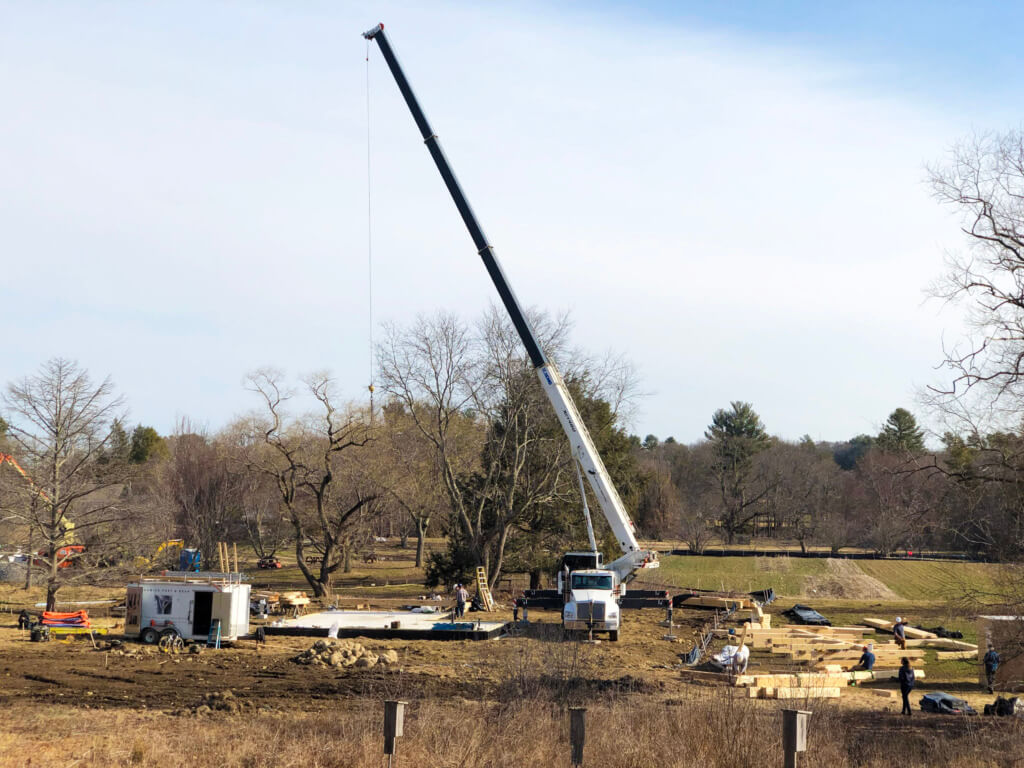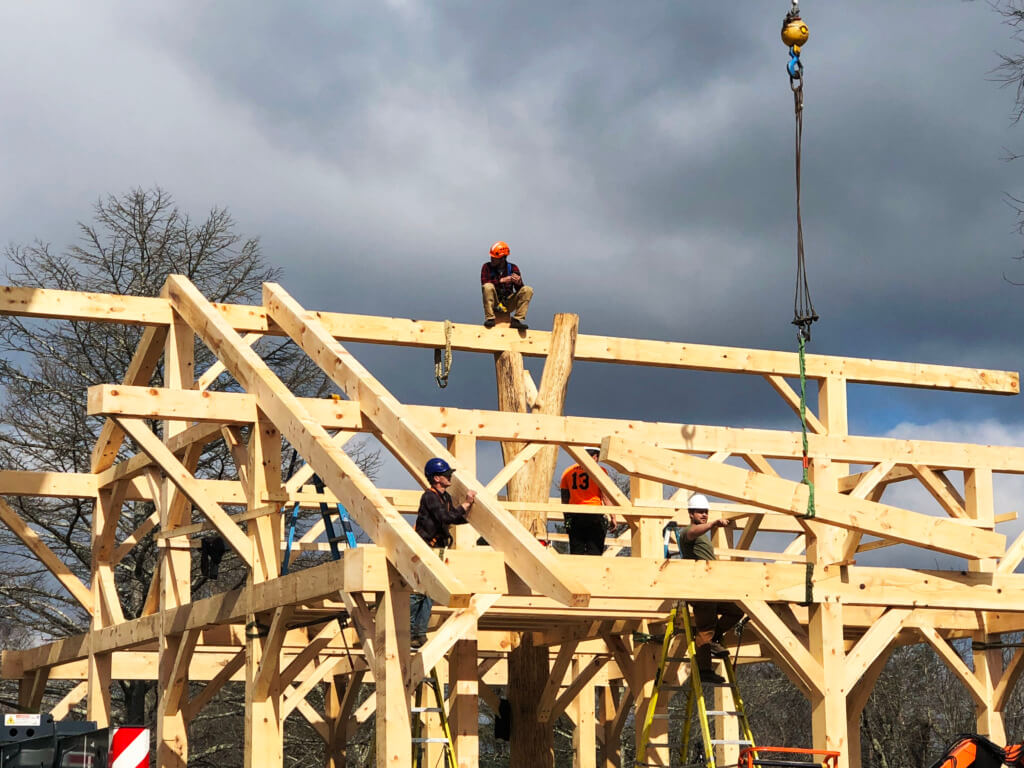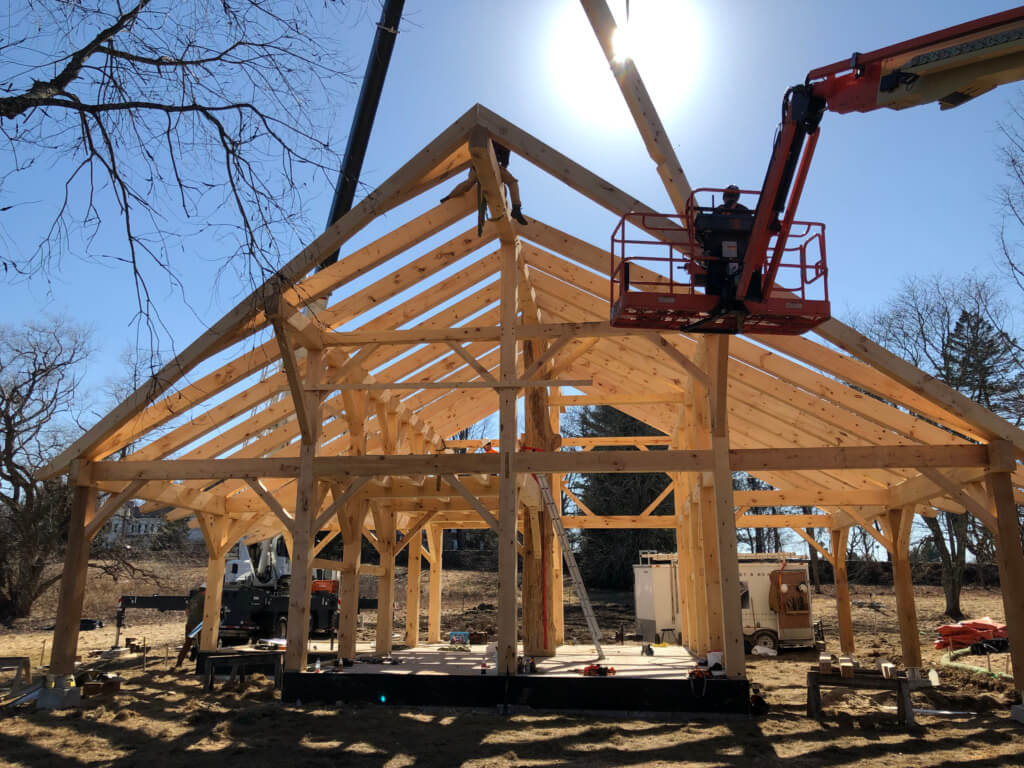 The most unique aspect of the frame is the center post which is an oak tree stripped of bark that was expertly integrated into the frame by the team of craftsmen for Hardwick. This tree creates a tactile centerpiece to the barn reminding where the timber came from and anchoring the barn to the site. Carefully sited around a grove of trees, the barn itself becomes yet another tree canopy within the grove.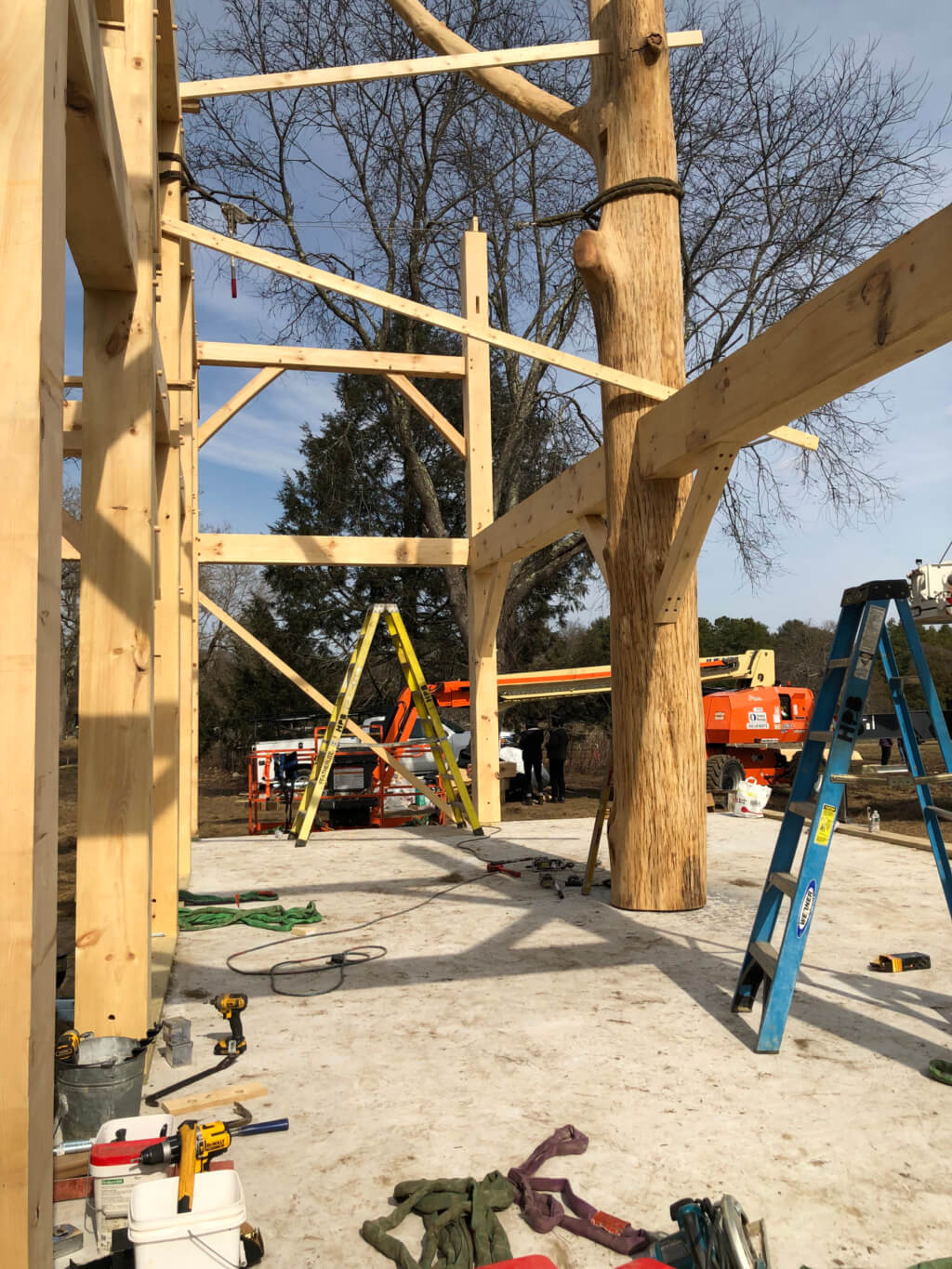 It is hard to believe that four years ago we hosted a charrette with the Land's Sake Farm to help them plan a sustainable future for the farm and now we have raised the new animal barn in just 5 days! Construction of the animal barn will be complete in June and farmstand construction is anticipated to commence in 2023.