At its core the Spatial Equity Research Group is interested in design through the lens of social equity, diversity and inclusion. This post is of the first in a series exploring equitable design strategies and standards.
One way to look at spatial equity is the inclusion of social equity within the architectural design process. In essence, social equity is a sense of belonging. You get the best out of people, no matter who they are, when they are in a space that makes them feel empowered, secure, happy and are contributing to their community. Therefore, spatial equity could be considered a design strategy toward creating a sense of belonging amongst community members.
One approach when moving toward spatial equity is to begin at the building conceptualization phase. Fundamentally, the design process through a spatial equity lens begins with and revolves around the users of a space. Equitable design strategies expand upon that thinking by broadening the spectrum of users explicitly considered when designing a space. Identification of who the users will be and what, where and when they will be doing certain activities allows designers to synthesize possible equitable design strategies and standards that meet programmatic needs. This outlines a process which is complemented by an iterative feedback loop that can lead to more than one design standard being pursued to provide the best possible outcome. As illustrated graphically (see below), this process can be described as a method of moving toward spatial equity.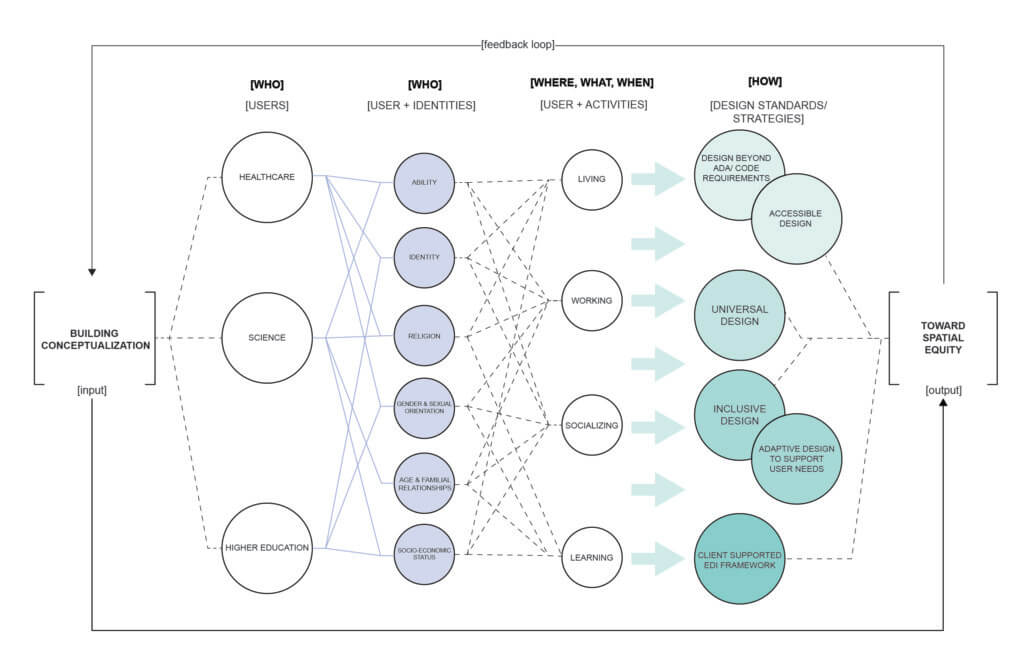 Acknowledging that each project and its users are unique, the design strategies and standards outlined below look at removing barriers and advancing equity in some form. Each on its own, or combination thereof, is seen as an advancement toward spatial equity rather than an exclusive means toward an outcome with the goal of creating a positive user experience and enhancing the lives of the people who will inhabit the building. Some, such as the ADA and Accessible Design establish foundational building blocks on which other elements such as Inclusive Design can be supported. Regardless of the strategy chosen, each establishes a framework which not only places the user first, but incorporates the widest range of people operating to their fullest potential.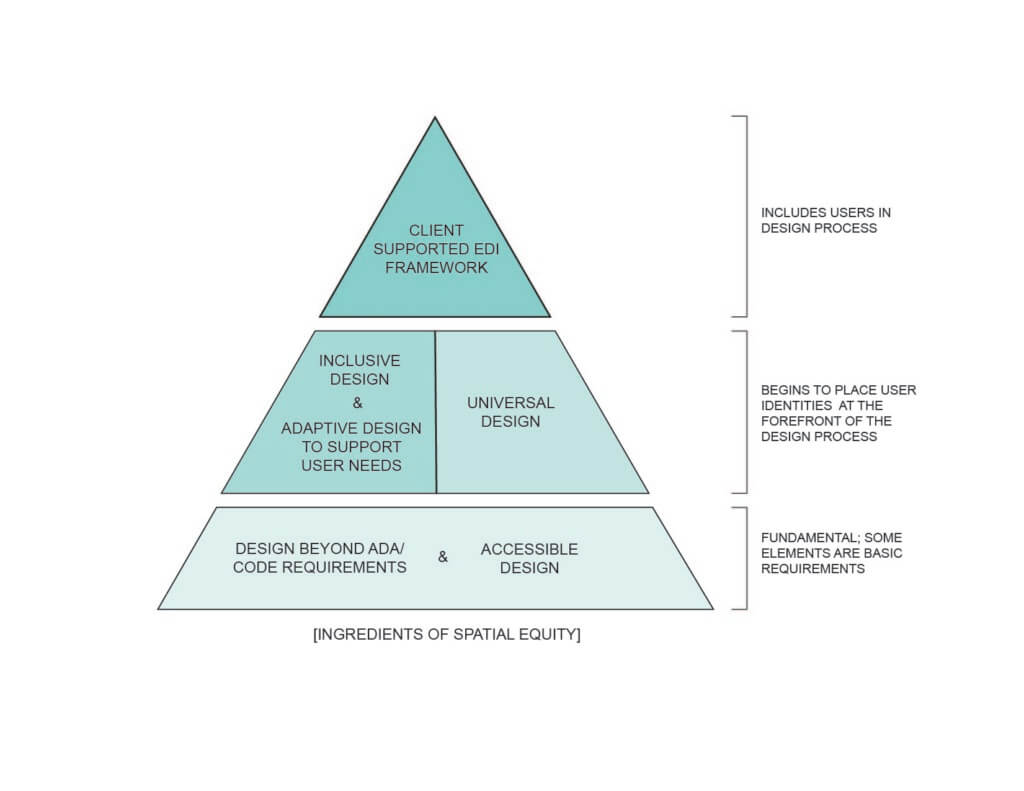 The following synopses provide brief introductions to each of the equitable design standards which will be featured later in this blog post series.
Designing Beyond ADA / Code Requirements
The Americans with Disabilities Act (ADA) places design within a civil and human rights context as a baseline of equal opportunity for people with disabilities. However, accessibility laws and state codes are often a limited indicator of the potential design opportunities have to facilitate equity and are sometimes seen as a maximum achievable standard rather than a minimum guideline.
Accessible Design
While the foundations for accessible design are outlined in the Americans with Disabilities Act (ADA), the focus of Accessible Design is to ensure that spaces and interfaces can be used by people with auditory, cognitive, physical and visual impairments.
Inclusive Design
The goal of an Inclusive Design strategy is to fulfill as many user needs as possible rather than as many users as possible. In addition to architecture, this can also encompass the design of products, technology and how digital information or media is perceived.
Adaptive Design to Support User Needs
A subset of Inclusive Design is the idea of designing through the lens of a specific user or group of users with the intention of enhancing the space while not compromising the experience for others. For example, Gallaudet University explores the inclusion of five key features of DeafSpace – sensory reach; space and proximity; mobility and proximity; light and color; and acoustics – as an additive layer of inclusion to the design and is a method to support the needs of a specific user while maintaining a positive experience for others.
Universal Design
While Inclusive Design embraces the possibility of multiple design variations, Universal Design aims to create a single experience that can be accessed and used to the greatest extent by all users. In 1997, Ron Mace at North Carolina State University outlined "equitable use, flexibility in use, simple and intuitive use, perceptible information, tolerance for error, low physical effort, and size and space for approach and use" as the 7 Principles of Universal Design.
Client Supported EDI Framework
This design strategy focuses on including stakeholders early in the design process. Through an iterative framework, a design process that promotes equity, diversity and inclusion is developed directly with the users. A current project at Wesleyan University highlights some of the key aspects of establishing community partnerships, promoting participatory engagement and developing design strategies that reflect the needs of all stakeholders.
Acknowledging that there are multiple outcomes to this process, the Spatial Equity Research Group welcomes any additional feedback.
Resources
Design for All Requires a Culture Change in Architecture
Institute for Human Centered Design