A lobby space is often the gem of any building, and that's certainly the case for The 105 by Breakthrough, a biotechnology research laboratory in South Boston. Initially conceived as a warm and friendly wood ceiling, the ceiling material was changed to a smart and sleek metal panel by the owner's preference when construction and administration was well under way.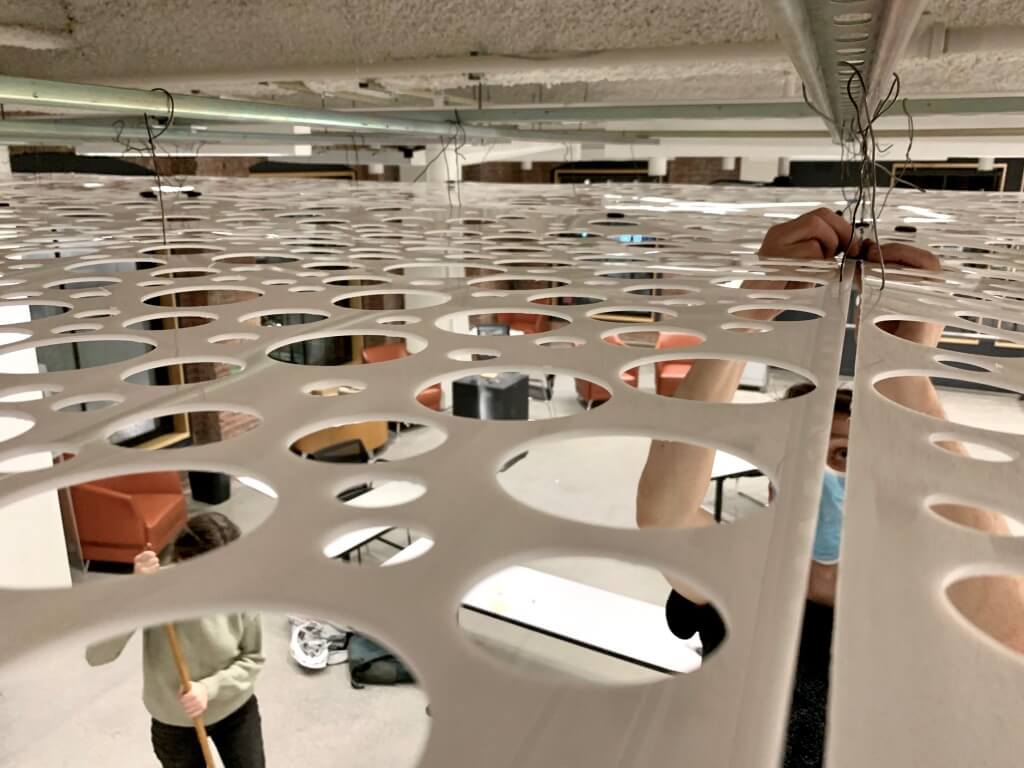 The original wood ceiling featured two levels of complexity. One was a single-layered wood slat, and the other, a double-layered wood lattice with slats running at an acute angle to the first. The two enabled the creation of a figure ground in the ceiling affectionately dubbed by the team as "pebbles in a river." The pebbles demarcated important lobby programs such as the multipurpose lecture and meeting space, as well as the reception desk and information kiosk. While at the same time creating a visual stream in the background, serving as a wayfinding device, encouraging circulation toward the turnstiles and elevator lobby that lead to the rest of the building.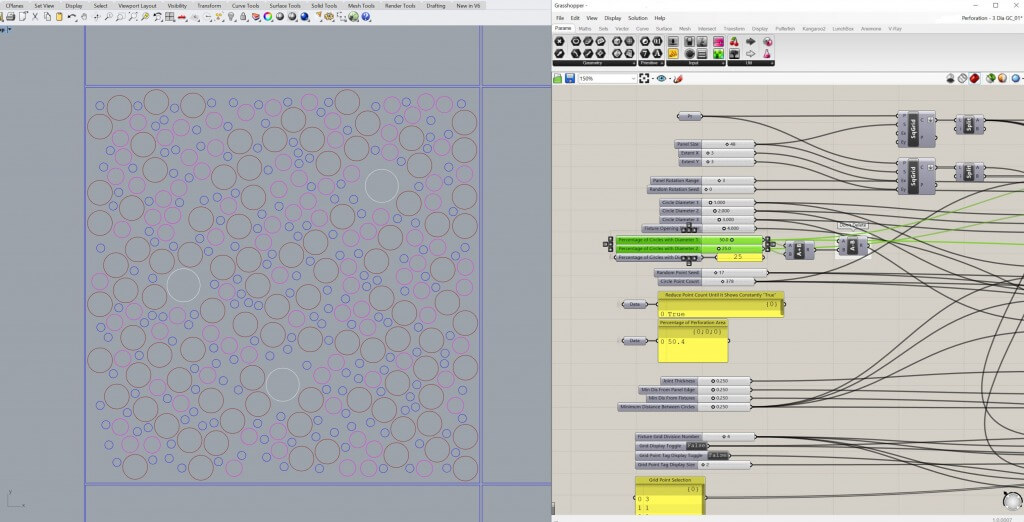 With the new metal panel material palette, the team remained diligent in being faithful to the original design intent in creating the figure ground pattern on the ceiling. But instead of creating two different layers at different elevations as was obvious for the wood ceiling, the two zones are now being achieved by varying the opacities of the four-foot square panels from which circular apertures are cut.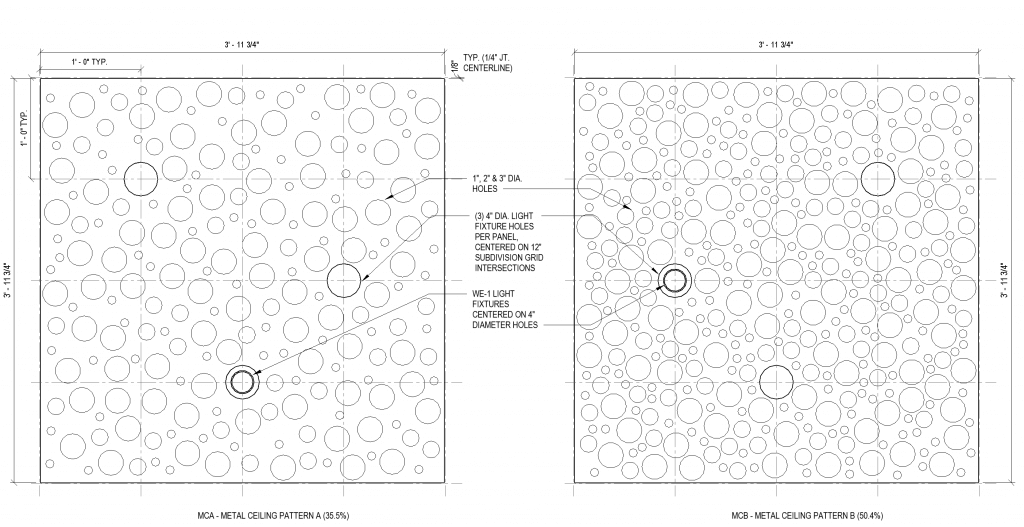 In rationalizing the perforation patterns, the team reduced the number of large four-inch diameter openings to three per panel on a one-foot square grid. Light fixtures will shine through these large openings, while the rest of the panel will be populated with a field of randomized, smaller openings. Our Design Visualization team devised a parametric grasshopper script, allowing the design team to rapidly churn out iterations of perforation patterns with different sizes and densities of holes. A massively useful tool when fine tuning the opening percentages of the design to achieve the desired visual effect, prevent structural warping of the panels and ensure the effective functioning of the acoustical insulation installed in the ceiling.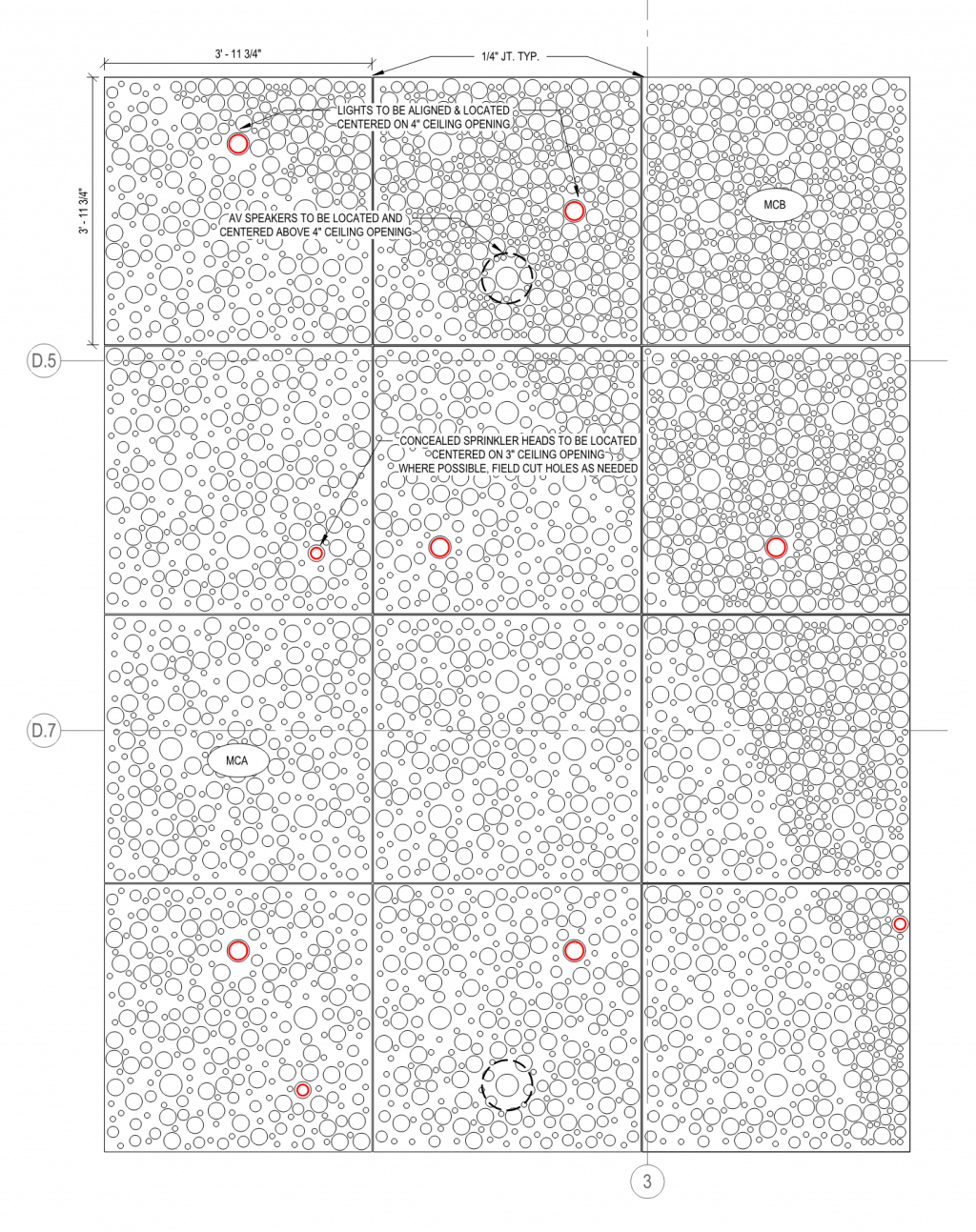 The Fabrication team were then able to create quick 1:1 scale mock-ups out of CNC'd white acrylic that were installed in the our office for the client to view, comment on and approve for further fabrication. With the efficient collaboration between all the different Payette teams we were able to pull off a drastic design change in an impressively short amount of time.