Our production includes everything from study models to mockups to custom components within the buildings we design
One year ago, I wrote about the adjustments to our design process forced by remote-work during the pandemic and our delight in returning to the studio with recalibrated skills and proclivities. This energy led to a resurgence in our culture-of-making here at Payette in 2022. Simply put, we are stepping outside the traditional bounds of the profession in order to make better projects.
At Payette, our project teams make models and mock-ups to support our design process. Our fabrication group works across the studio to reinforce these efforts and cultivate new opportunities for elevating our work. This internal design process extends outwards in several notable ways:
1) Fostering Shared Agency
The physical artifacts we generate help all parties understand the design problem and have a voice in its resolution. We use these artifacts to preclude potential disconnects between the architect's design intent and the way these ideas are understood by owners and builders. Especially with large client groups, architectural drawings can be difficult for all parties to quickly understand. This leads to inefficiency in the design process and key client voices may not be empowered to contribute. A scale model or mock-up frequently proves a more accessible means of communication.
Similarly, a builder who may be reluctant to support a novel construction detail or material approach could be engaged by a physical mock-up which facilitates productive discussion. As an architect, having the capacity to build these artifacts in-house enables effective communication and collaborative decision-making early in the design process. Thoughtful listening and the clear communication of big-picture design priorities cultivates allies and adds value for all parties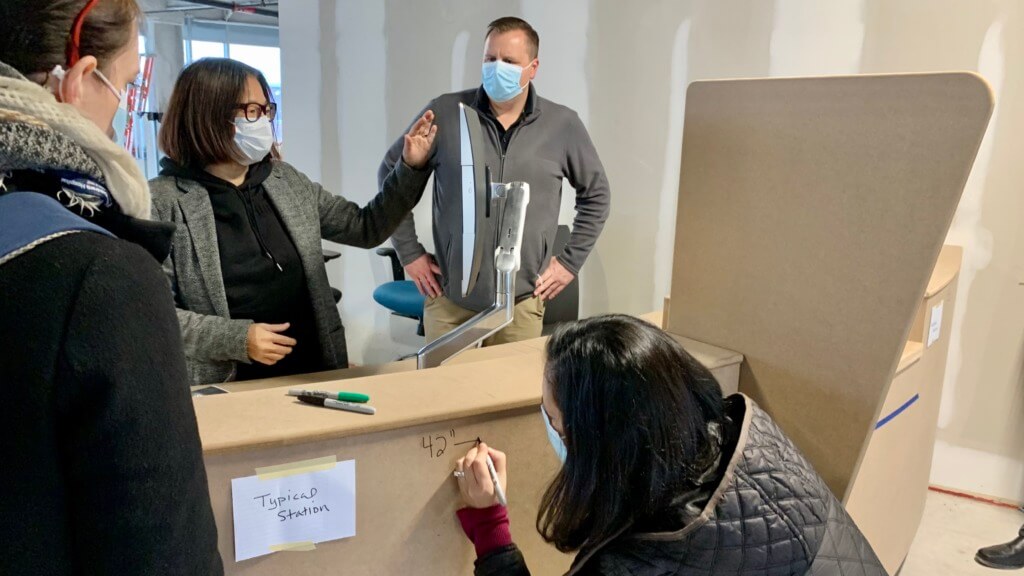 Design mockups prove especially effective with large stakeholder groups.
2) Retooling Education and Community Engagement
Payette regularly uses our fabrication resources as an entry-point to introduce local youth to careers in design and construction. We have hosted workshops and internships that use small fabrication projects to teach design skills and foster an affirming connection between the mind and the hand that is especially valuable in our hyper-digital world.
Expanding on these initiatives, Payette's fab-team led a summer design studio for local high-school students, culminating in a large public installation in Boston's Seaport. The program leveraged the energy and expertise of a host of collaborators, including non-profits, other design firms and municipal agencies. In the fall, our inhabitable sculpture, BeND, was relocated to South Boston's Moakley Park. In the coming year, the City of Boston Mayor's Office and Parks Department will deploy BeND around the city, activating spaces to strengthen community.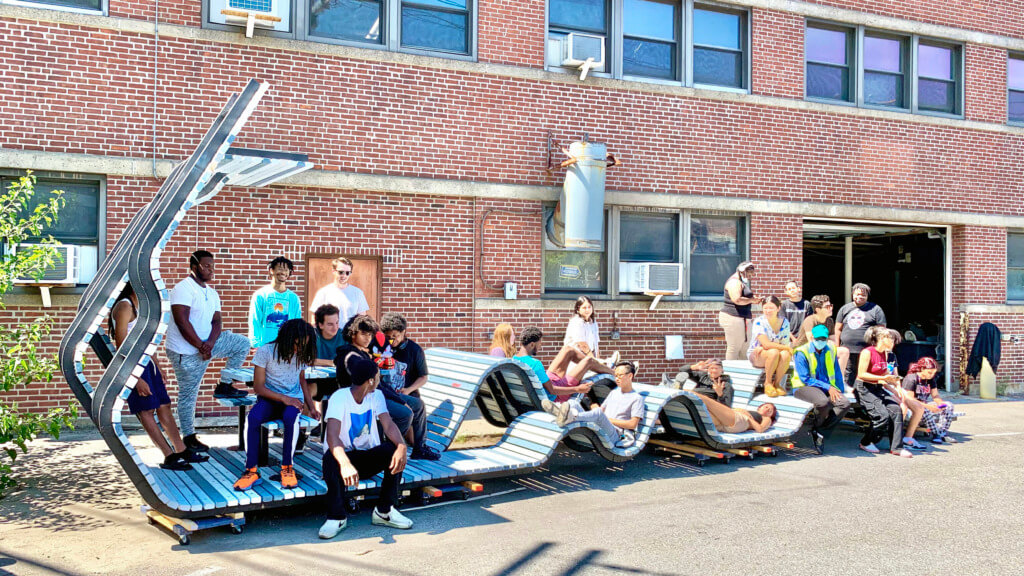 The 5-week summer program provided 22 Boston youth with stipends and college credits while they developed their design skills through sketching, lectures, digital modeling, and hands-on fabrication.
This outreach extends into collegiate architectural education through our partnership with the Virginia Tech School of Architecture + Design. For the past two fall semesters, we have hosted a full studio in our Boston office, where students work side-by-side with our designers and architects. The program positions a Comprehensive Studio, Digital Building Technologies course and Professional Practice seminar as a packaged learning opportunity in which each class supports and reinforces a holistic curriculum. The fabrication group plays a key role in this exercise, as the academic studio is modeled after our design practice here at Payette. Under the guidance of our team, students use models and mock-ups as both a vital component of the design process and a powerful way to convey intent.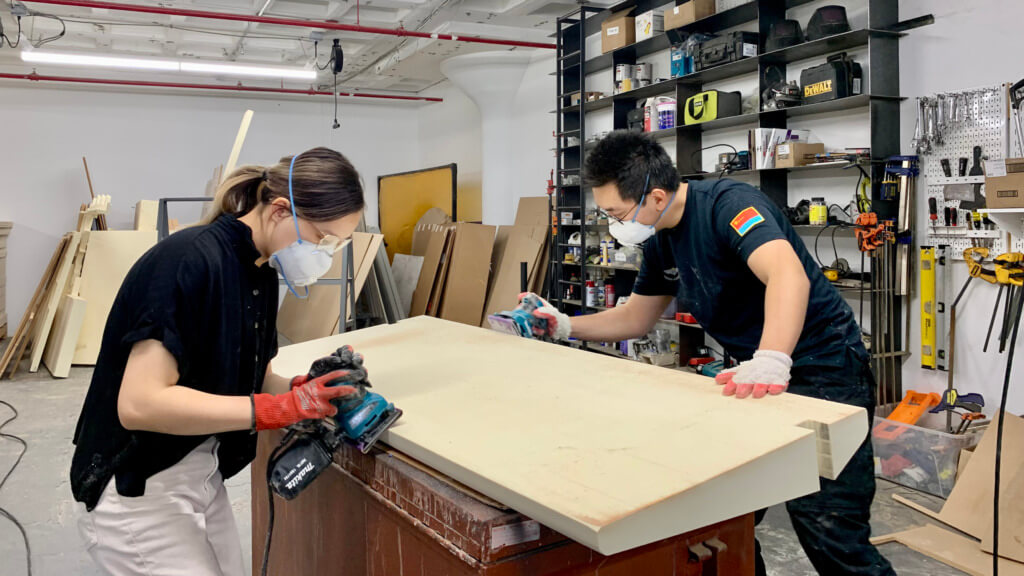 Virginia Tech students build full-scale mockups in the Payette shop as part of the Boston OpenLab.
3) Broadening the Role of the Architect
As an extension of our prototyping work, we are increasingly self-performing fabrication for key furniture pieces, millwork and metalwork within our larger projects. These projects-within-projects leverage our in-house capabilities as well as our broad network of manufacturers and fabricators to achieve cost/time efficiencies while adhering tightly to design intent.
This trend will accelerate in the coming year, delivering enhanced opportunities for design authorship and added value for our clients. I see this new aspect of our practice as a particularly enticing opportunity to challenge business-as-usual. Let's see where 2023 takes us!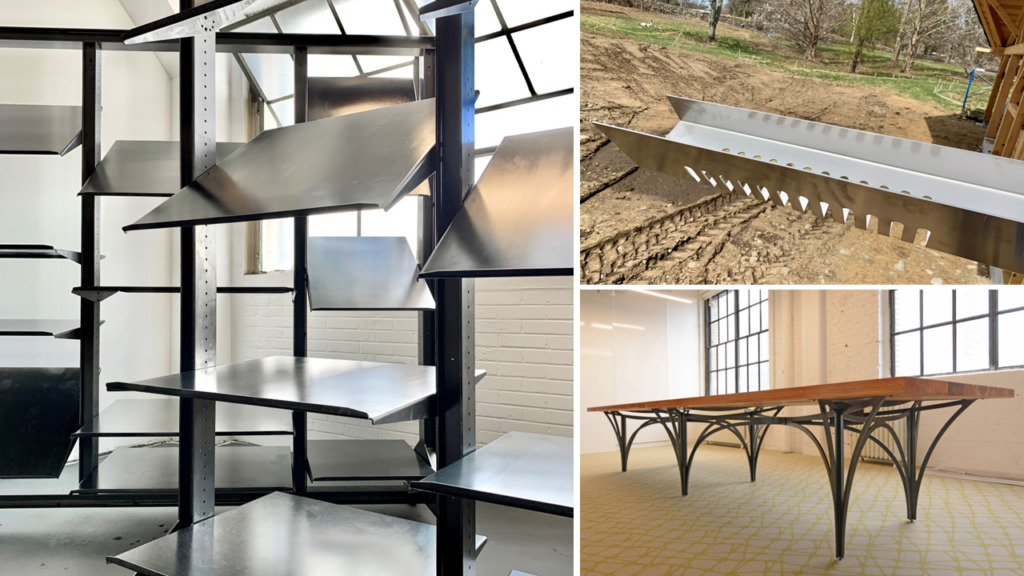 Custom furniture pieces for the University of Hartford and MIT; and feature gutters and other metal elements for Land's Sake Farm.
Comments
fascinated with what you are doing, love the above table, look forward to showing you our facility at Mark Richey Woodworking.

John Wall, March 29, 2023