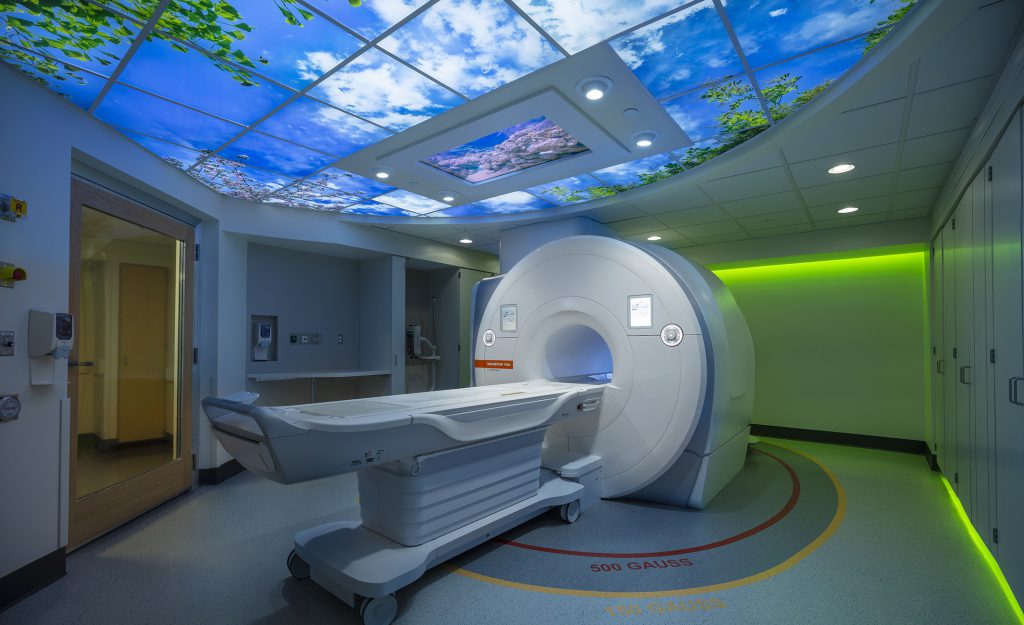 The adaptation of existing space to accommodate highly complex equipment has become an important focus of our healthcare design practice. At Massachusetts General Hospital (MGH), five outpatient care projects—an interventional radiology room and four diagnostic imaging rooms—show how we've solved difficult technical challenges while prioritizing patient and staff experience.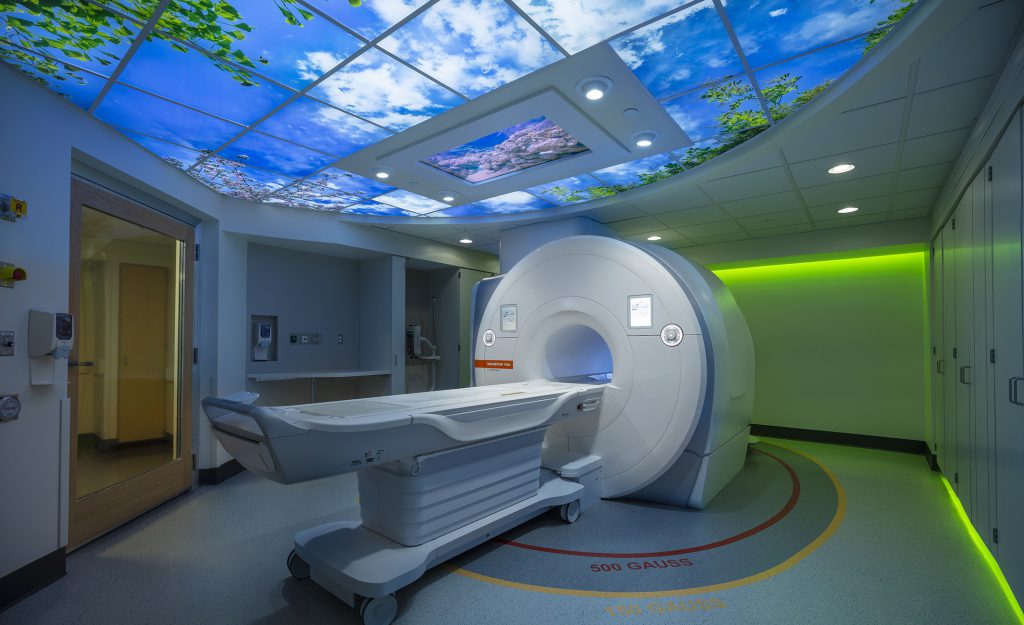 Massachusetts General Hospital
Imaging Projects
Project Statistics
LOCATION
MGH Main Campus, Boston & North Shore Medical Center, Boston and Danvers, MA / United States
COMPLETED
2014-2015
TOTAL SQUARE FOOTAGE
MGH Main Campus, Boston
Multiple X-Ray Rooms – 300 SF (average) per room
Gray 2 – Interventional Radiology , Zeego Room – 927 SF
Gray 2 – Interventional Radiology, CT Room – 780 SF
Yawkey 6 – Radiology, MRI & CT Renovation – 6000 SF
North Shore Medical Center, Danvers
Radiology, Linear Accelerator – 760 SF
PROGRAM COMPONENTS
Radiology – XRay, MRI, CT, Linear Accelerator | Interventional Radiology – Zeego, CT | Nuclear Cardiology – Nuclear Camera
Collaborative Design Process: Interventional Radiology
Interventional Radiology enlists a range of imaging technologies—including X-ray fluoroscopy, ultrasound, computed tomography (CT) and magnetic resonance imaging (MRI)—to guide high-precision surgical operations. It has a lot of moving parts, many of them large and expensive. To coordinate design, construction, installation and operations, we led a highly collaborative process with MGH's Planning & Construction Department and IR Department.
Our design team worked closely with the IR Department to achieve seamlessness and integration of clinical procedures. With space at a premium, we designed a compact control "cock-pit." Medical gas access points, storage cabinets and equipment enclosures were detailed to achieve a sleek, streamlined environment and the most efficient use of space. Finishes were chosen not only for infection control but also to identify equipment functions through the strategic use of color and pattern. Durable, modular, stainless steel wall panels provide a quick means to incorporate new connections and equipment while minimizing downtimes.
Reducing Anxiety: Diagnostic Imaging
The diagnostic imaging rooms employ more conventional set-ups—a single, fixed X-ray or MRI/CT scanner. The challenge is less technical, more experiential: to reduce patient anxiety. We applied carefully selected finishes and perimeter lighting with variable color schemes to create calming environments, with MRI-safe video screens to provide a pleasant distraction. For patients who must lie motionless on their backs in these windowless rooms, we designed a backlit ceiling panel that simulates a view to the sky above.
Staff and patients alike testify to the effectiveness of the ceiling panels. We were told the story of a child who was scared to get a CT scan, upset to lie on that big, sinister table, which looked like something off an Imperial Starfighter. But the patient really liked the "big window" in the ceiling, and the staff tuned the ambient lighting to his favorite color. Not only was it cool having some control over the environment, it also eased the feeling of intimidation.
BESbswyBESbswyBESbswyBESbswyBESbswyBESbswyBESbswyBESbswyBESbswyBESbswyBESbswyBESbswyBESbswyBESbswyBESbswyBESbswyBESbswyBESbswyBESbswyBESbswyBESbswyBESbswyBESbswyBESbswyBESbswyBESbswyBESbswyBESbswyBESbswyBESbswyBESbswyBESbswyBESbswyBESbswyBESbswyBESbswyBESbswyBESbswyBESbswyBESbswyBESbswyBESbswyBESbswyBESbswyBESbswyBESbswyBESbswyBESbswy
Photography: © Warren Jagger