Construction of the Williams College North Science Center has been underway for about 14 months. We are roughly at the halfway point of the overall construction timeline, and the progress made in that time has been significant, having celebrated topping off earlier this month. Since the last update regarding the construction process, the construction team has completed the mat slabbing and foundation walls, as well as erected steel.
The coordination of trades on-site is becoming increasingly critical. On any given day, we could have a dozen different subcontractors working around each other, starting from the North side and working South. For the past four months, implementation of steel has progressed and the only remaining portion yet to be erected is the bridge connecting to the existing Thompson Building. This final phase of steel is scheduled to be completed in mid-October.
From a structural engineering perspective, the bridge is an interesting piece of this project. Two large beams span the gap between the new and existing buildings, along Level 3. Thin, mullion-like steel posts stem up from the beam to support the bridge roof and hang down to support Level 2. Once completed, the bridge will serve as a more direct route between the different science disciplines between multiple buildings.
Most recently, interior partitions have started to be framed on the North side, moving upward from the basement level. Exterior cold-formed metal framing also has begun wrapping the North side. As well, the team is adding window blocking to these framing members. We can finally get a sense of just how large these openings are, as well as how the fenestration pattern will look at full-scale.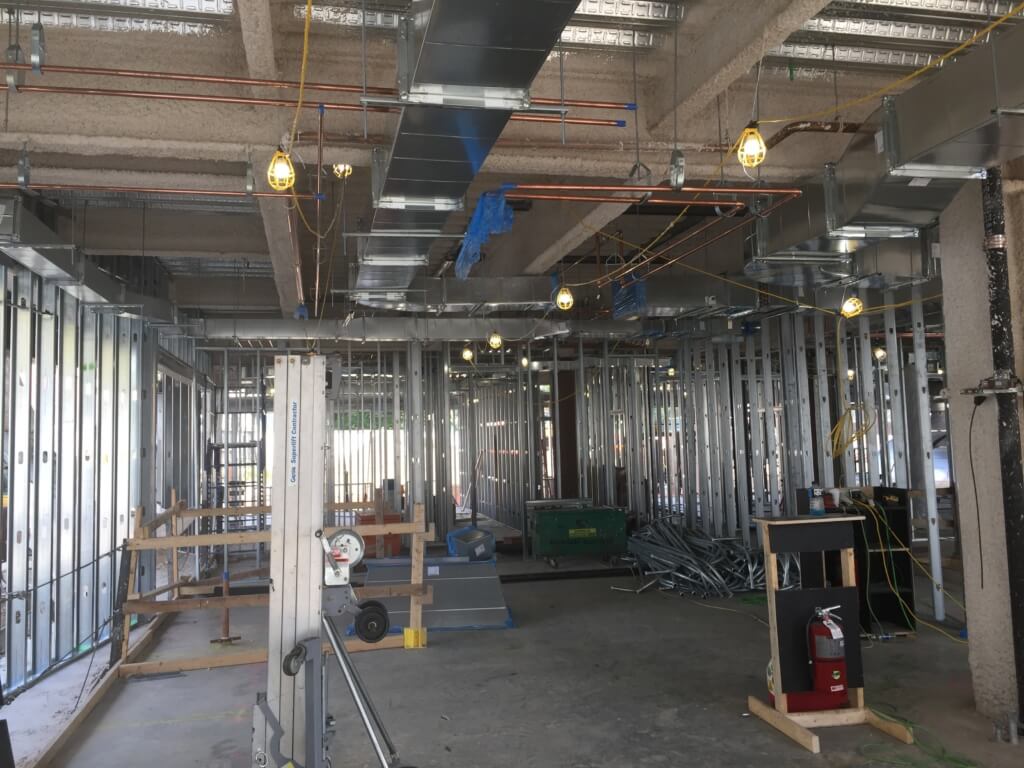 Concrete slabs have been poured starting at the basement levels, all the way up to the roof with only Levels 2 and 3 remaining for completion. As the team progresses with pouring floor slabs, the two-inch concrete depression reserved for our Common Area stone floors helps us realize the relationship between common spaces and corridors.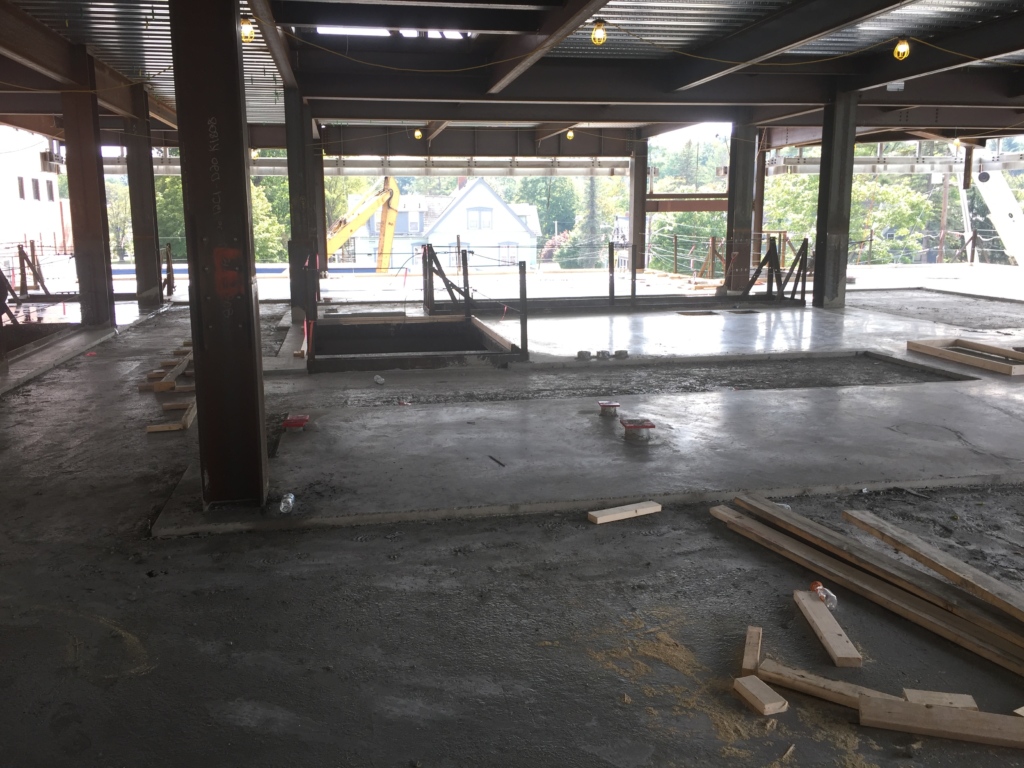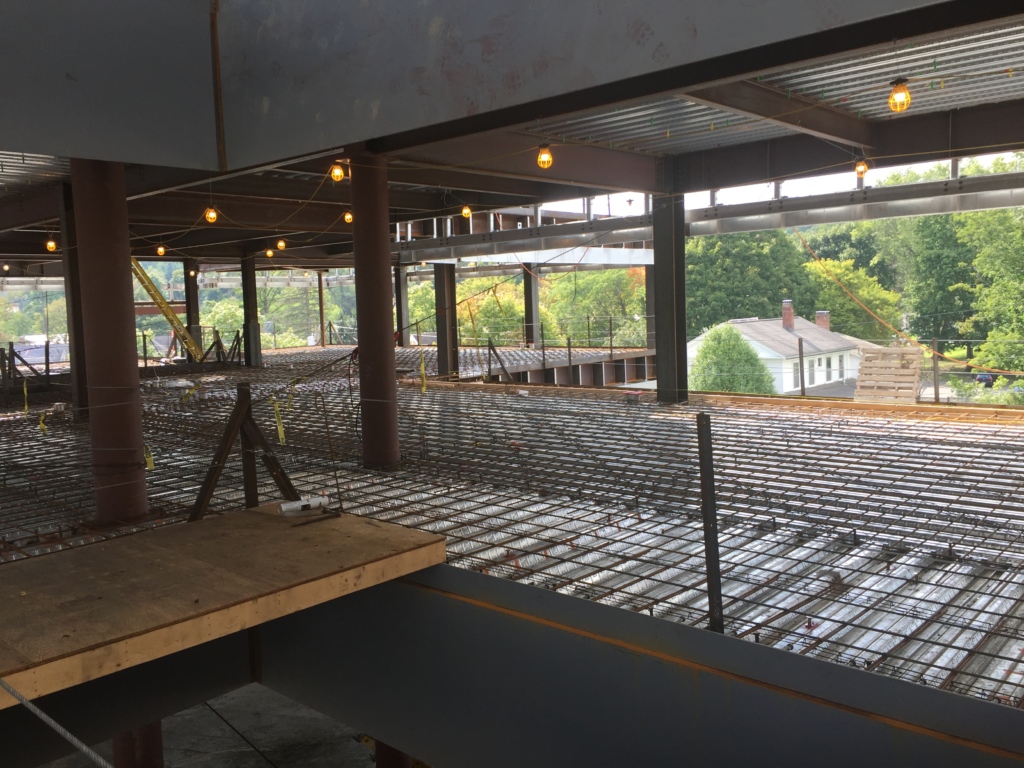 With the roof slab being one of the earliest poured levels, there was a jump start on installing roofing components and framing the roof monitors. The roof insulation and membrane will continue to be installed on the north side of the building for the two weeks before being able to progress South.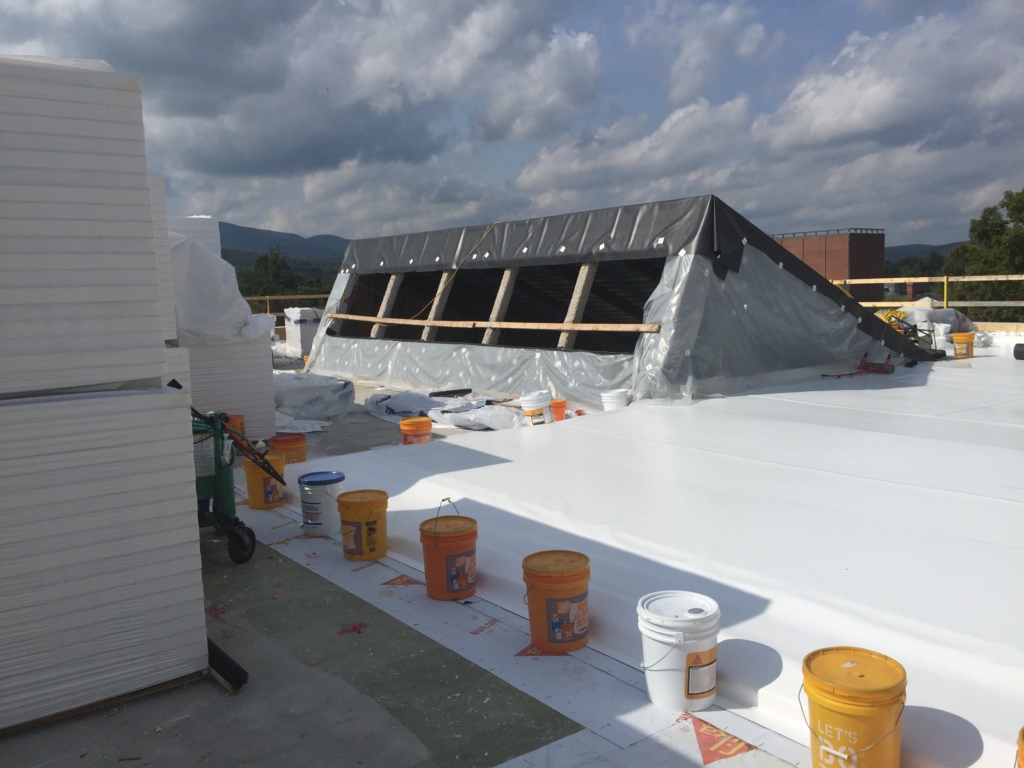 In the next few weeks, concrete floor slabs will be wrapping up, and framing members will continue to go up, framing interior partitions and exterior walls. Installation of one of the largest pieces of curtainwall on the project will start, as well. This will be a particularly intricate detail to accomplish since we have structural members penetrating mullions. There is quite a bit of anticipation and excitement for when curtainwall begins, especially at roof monitor conditions.