Last week, our landscape team made a trip to Elhannon Nursery in upstate NY to tag trees for our Williams College North Science Building project. After a long drive, and walking the 1,500 acres of trees at the nursery, we had the chance to stop by the construction site where our project manager Ron Blanchard gave us a tour of the building.
The North Science Building will house the department of psychology, mathematics and geoscience. The landscape design resembles the geology and ecosystems of the idyllic Berkshires Mountains where Williams College resides.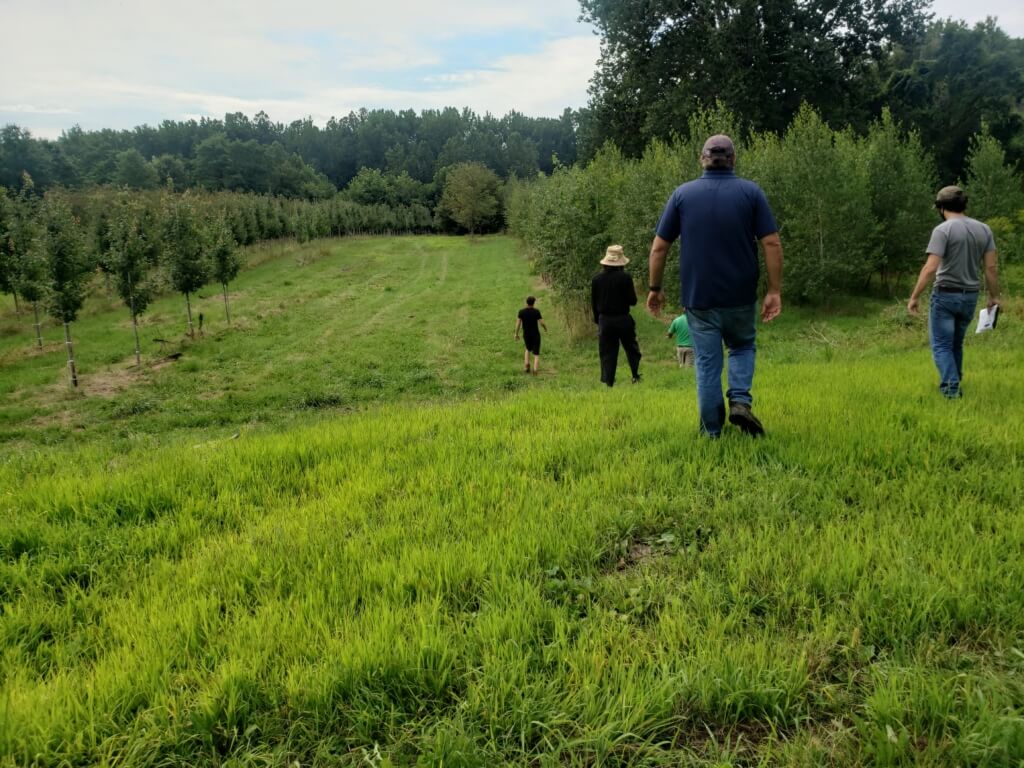 The design takes advantage of the topography changes on the site and recreates different ecosystems at various elevations of the mountains – from forest at the rolling hilltops, to evergreen groves and from shady valleys to native meadows. These design moves are not only aesthetically attractive, but also extend the site's full potential. Storm water run-off will move through the "drumlins" at the geo-garden, cascading down through several weirs and be collected at the rain garden; the rich combination of native planting will attract numerous species, each with various roles that contribute to supporting a healthier ecosystem.
We worked closely with the faculty at the biology department to establish a native planting list that works with the school's research and pedagogies, such as establishing an environment that allows for tracing biodiversity overtime. In addition, the planting choices also work with the design of the geo-garden, where a wide range of specimen rocks collected by the geoscience department will be displayed in the form of site furnishings and site features such as boulders. As the mineral compositions of different rocks varies, we grouped the plants that love specific nutrients with certain rocks together to take advantage of the synergy and fostering long term health of the plantings.
Tree tagging is one important step to ensure the final outcome of the landscape design will match what we have been envisioning. Like human-beings, each tree has its own characters if you observe closely. At the nursery, we not only make sure we get the right species and sizes of trees, we also examine the forms and shapes, the health and growing tendencies, and look for any scars or signs of damage on the trees. Tree tagging is also a great opportunity to meet and chat with the contractors and the nursery people in-person, which has become trickier, but even more important at this age of the pandemic.
Here are a few photos of this fruitful day: