Welcome to Low Carbon Week at Payette! Our Building Science group, the Kaleidoscope research team, and the YDC are hosting this special week that includes a Life Cycle Analysis (LCA) Hackathon to provide opportunities for our office to learn more about embodied carbon and jumpstart teams running a project LCA.
This week we will be sharing strategies on how to reduce embodied carbon within your own projects!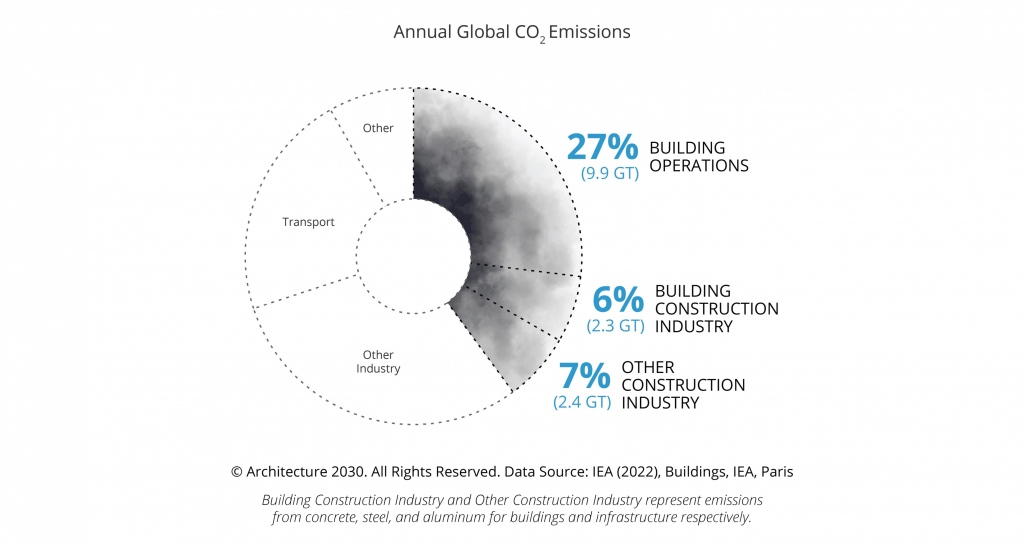 Globally, buildings and construction account for approximately 40% of annual carbon emissions. With about 27% of those emissions coming from the energy usage for building operations, and the remaining 13% from embodied carbon.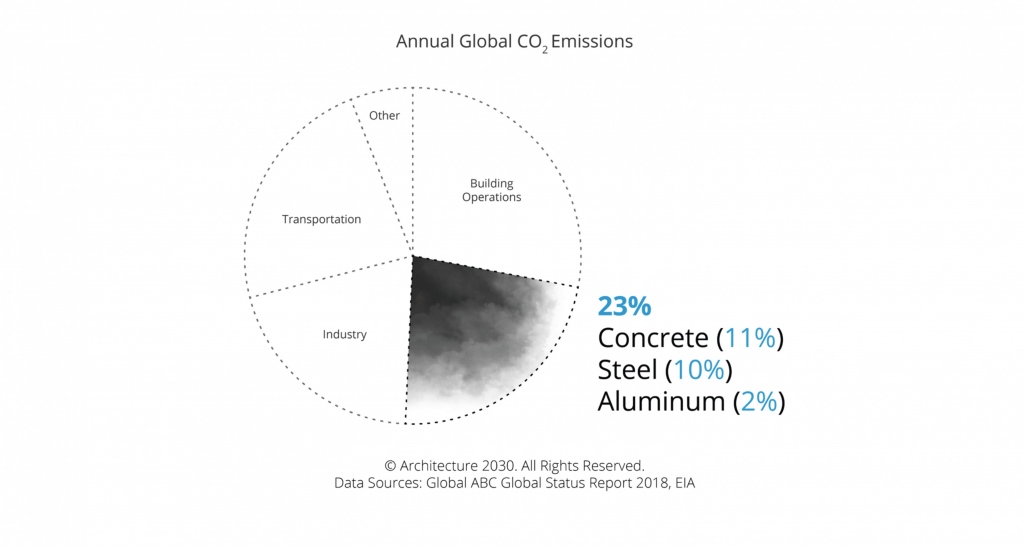 Three materials alone – concrete, steel, and aluminum account for 23% of the total carbon emissions annually.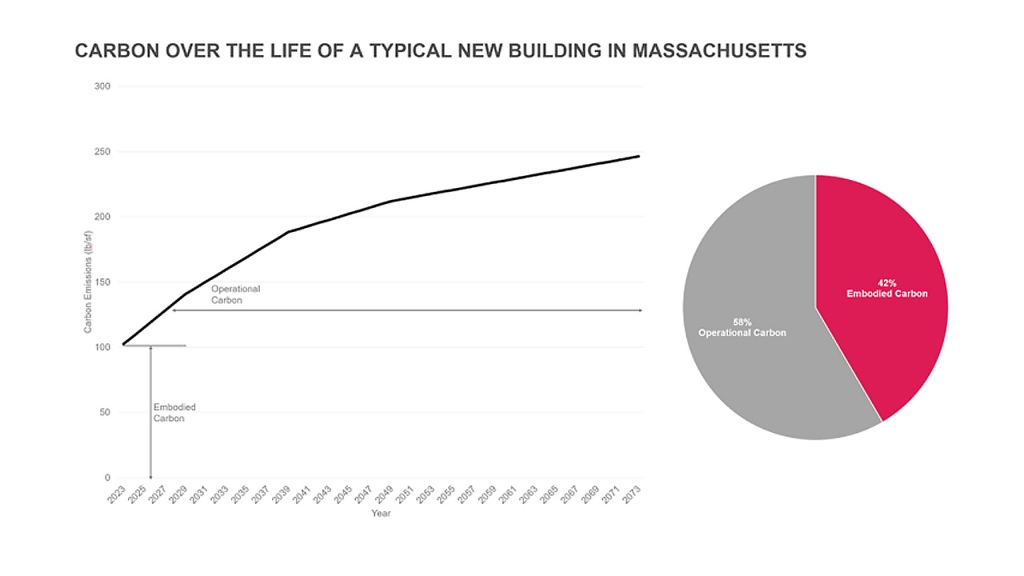 Operational carbon emissions are typically greater than embodied carbon emissions and a significant source of global carbon emissions. As a result, over the past decade, the building industry has primarily focused on reducing operational carbon emissions through codes, policies, and best practices.
As the Massachusetts grid has become cleaner and the Stretch Code increasingly more stringent, operational carbon emissions have decreased. For example, a little over 40% of the carbon emissions for a newly constructed office building designed to the current Stretch Code (not even the Opt-In Specialized Net Zero Code) will now come from embodied carbon.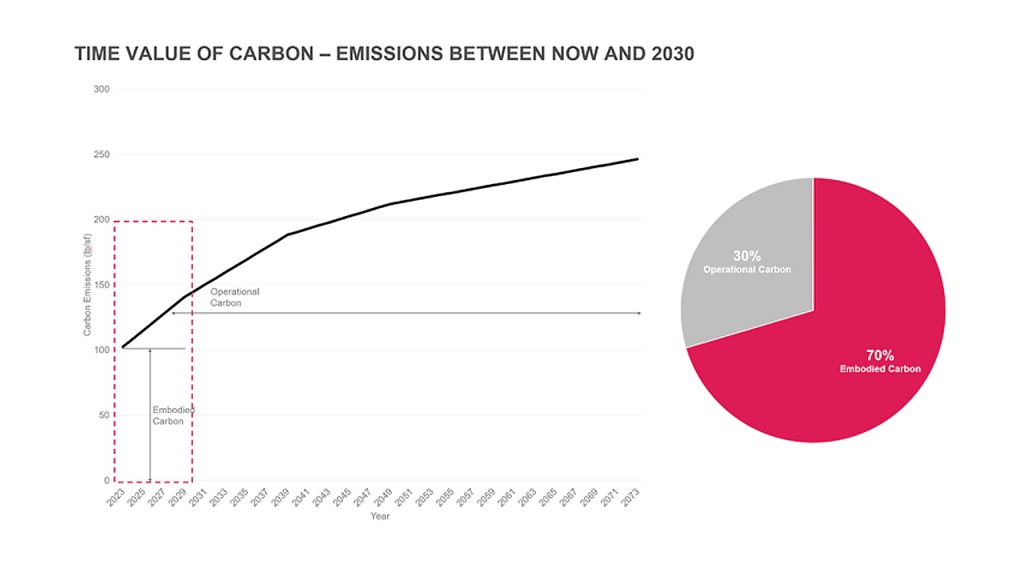 On March 20, 2023, the Intergovernmental Panel on Climate Change (IPCC) released a report synthesizing pervious reports and research, providing a comprehensive review of global knowledge of the climate. The news from this report is not good. The report includes warnings that "the world was approaching 'irreversible' levels of global heating, with catastrophic impacts rapidly becoming inevitable; and that it was 'now or never' to take drastic action to avoid disaster." (Harvey, 2023)
In 2018 the IPCC established targets to cut global carbon emissions in half by 2030, and to zero by 2050 to stay within 1.5°C temperature rise. However, carbon emissions have continued to increase, and have already risen 1% in 2023. This means that our global carbon budget is quickly shrinking and with it our window to reach these targets.
Because of the critical need to rapidly remove carbon emissions from the atmosphere before 2030 to reduce carbon emission to 50% by 2030, there is a time value to carbon. In other words, the reduction in carbon now is more valuable to slowing global warming than carbon that is emitted in 2060 (when hopefully it is zero anyways) If we look at the carbon emissions for the code building above, the vast majority the carbon emissions between now and 2030 will come from embodied carbon.
As building designers, it is imperative that we find significant reductions in embodied carbon in all our work, but in particular for new construction. It is critically important to understand with a Life Cycle Assessment where the embodied carbon resides in every project and identify strategies that we can employ to dramatically reduce it.
RULES OF THUMB FOR REDUCING EMBODIED CARBON
High performance projects also mean considering material choices for a low embodied carbon design. Measuring and reducing embodied carbon for a building is a complex topic and task, but over the last few years we have learned some universal tips that make it easier to reduce embodied carbon on all projects, regardless of performing an LCA.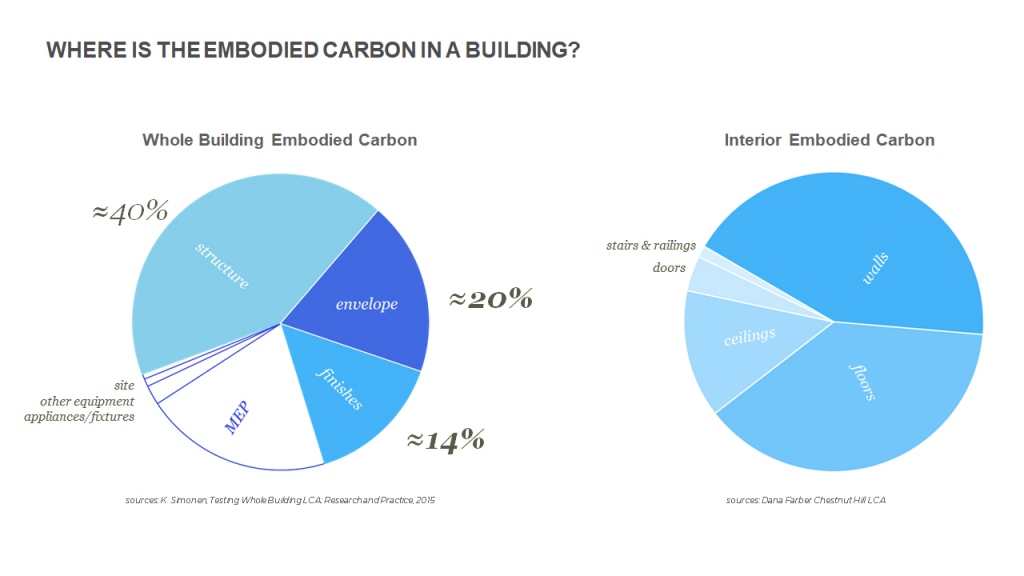 First, we need to understand the breakdown of embodied carbon in our buildings. These graphs show a typical example (an office for the whole building, and our Dana-Farber Chestnut Hill project for interiors). While these exact breakdowns will vary by project, this gives a good sense proportionally of where the embodied carbon is in a project.
Additional architectural considerations that will have a positive impact due to reduced structural needs: fewer cantilevers, less transfer frames, thinner floor slabs with lower floor-to-floor heights and lighter façades. Also, basements and foundations can contribute a lot of carbon due to the extra concrete and steel needed for these elements.
For envelopes, you can use our Kaleidoscope tool to choose a low carbon option for your façade. Generally lighter façades will have lower embodied carbon and require less structure. For roof insulation use EPS or other alternative, avoid using XPS which has very high embodied carbon. Additionally, slope the structure rather than the insulation for drainage.
Interior fit-outs and finishes also matter and can add a significant amount of embodied carbon. Eliminating additional finishes when possible and using less materials can help reduce the embodied carbon of a building's interior spaces. Kaleidoscope can also be used to choose a low carbon option for your floors, ceilings, and partition assemblies.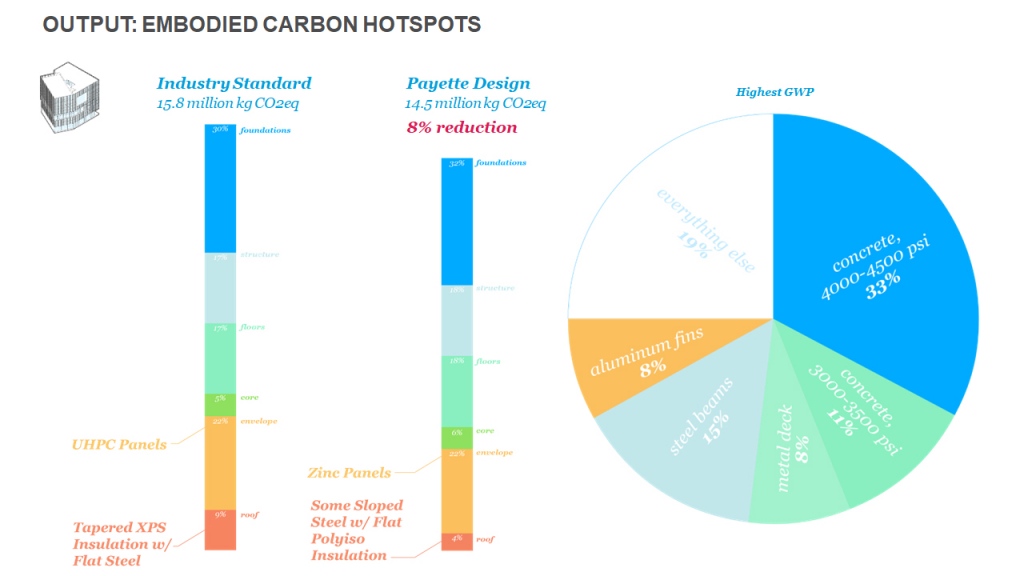 Through a project LCA, we can find high carbon hot spots, like this example from a higher education client. By conducting an LCA, we can see the impact of switching to low carbon alternatives during the design process and target those items that are the worst offenders.
The adage "reduce, reuse, recycle" applies to embodied carbon for all projects. Reduce the amount of materials where possible, find opportunities for reuse/renovation and use recycled materials. Additionally use biobased materials where possible to take advantage of biogenic carbon.