In April, I attended a professional development workshop about professional writing in the Architecture Engineering and Construction (AEC) industry with Arielle Scher from Wilson HGA. When we were asked to brainstorm topics to write about and potentially present at a conference, Arielle expressed her frustration that sustainable ideas have not caught on faster in the AEC industry, and I wholly agreed.
Arielle and I both graduated from college within the last few years. While we attended architecture schools in completely different parts of the country, upstate New York and coastal Louisiana, we both learned about innovative sustainable design strategies. After graduating, we both moved to Boston and began working at architecture firms leading the push toward more sustainable building design. However, we were surprised that sustainability still seemed like a novel idea overall in the industry because we had expected architectural practice to be more advanced in adopting sustainability.
As young millennials, our education coincided with the industry's slow shift toward more sustainable practices from learning the basics of global climate change to sustainability becoming a fundamental aspect to our design education. After working for a few years, we realized our naivete expecting an established industry to change rapidly, and we became more interested in learning from the stories of our peers on how they have advanced sustainability objectives.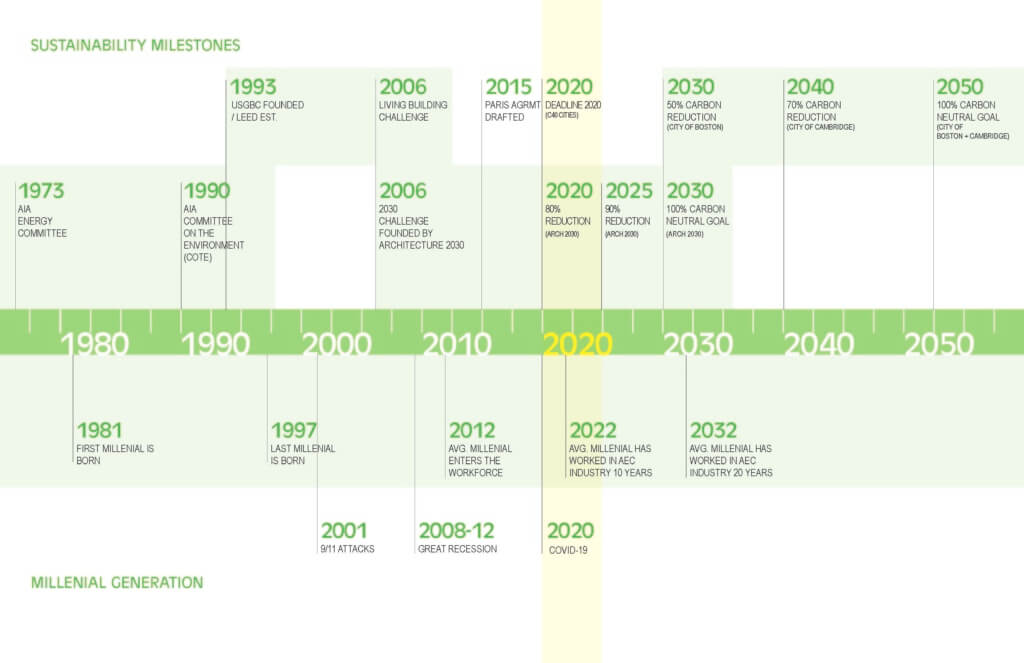 Timeline comparing the AEC sustainability movement to the Millennial Generation.
We reached out to two of our mentors, Andrea Love and Jacob Werner, about turning this idea into an ABX workshop and who we might ask to speak with us on a panel. They connected us with three AEC industry leaders with unique experiences advocating sustainability agendas: Barbra Batshalom Founder and President of the Sustainable Performance Institute; Benjamin Silverman, Climate and Buildings Program Manager for the City of Boston; and Meredith Elbaum, Executive Director of Build Environments Plus. Barbra has worked since the beginning of the sustainability movement in the 1990s to advance the industry forward, advising clients and architects on thinking more sustainably and how to negotiate and collaborate better. Ben helps the City of Boston benchmark, audit and set building emissions performance standards to meet aggressive Carbon Neutral targets. His role also includes reviewing Boston's green zoning requirements. Meredith drives the sustainability of the built environment by providing education, building a community of practitioners, expanding advocacy initiatives and developing tools and research.
Our diverse panel will begin our live presentation by sharing stories of our different roles in advancing sustainability in the AEC industry. After introductions, the bulk of the workshop will be spent in break out groups where panelists and attendees will discuss their successes and failures in advocating for sustainable design. The main objective of this workshop is for attendees to meet and connect with like-minded AEC professionals who are passionate about sustainability, building a community where we can learn together and moving the industry forward.
I hope you will have a chance to join our conversation on December 3rd. Details about the workshop can be found on the ABX website.