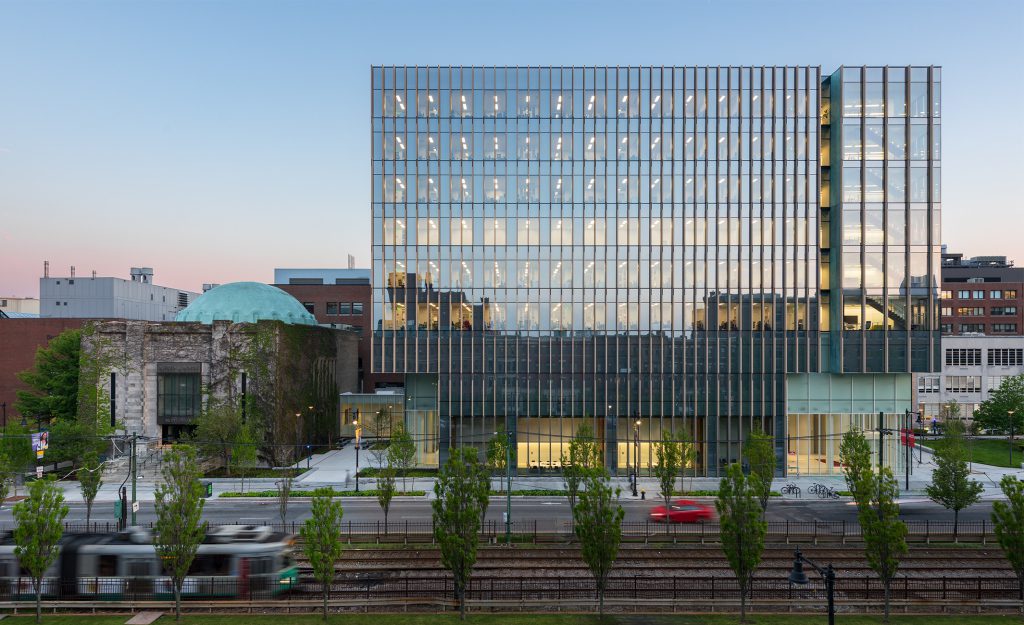 The Kilachand Center is a nine-story, high-intensity academic research building that supports a wide range of research modes to serve existing and future scientific communities. The compact building occupies a prominent location on a tight urban site along Boston's Commonwealth Avenue. It embraces the notion that collaboration happens everywhere – in the corridors, at the desks and in the labs.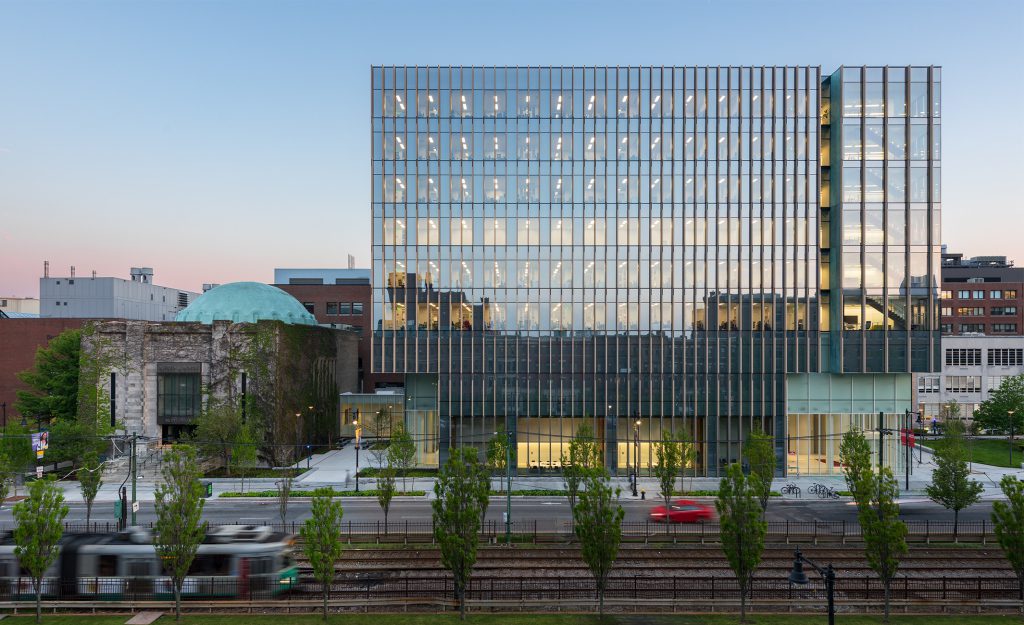 Boston University
Rajen Kilachand Center for Integrated Life Sciences and Engineering
Project Statistics
LOCATION
Boston, MA / United States
COMPLETED
2017
TOTAL SQUARE FOOTAGE
170,000 SF
PROGRAM COMPONENTS
Neuroscience, Synthetic Biology, Human Imaging
LEED STATUS
LEED-NC 3 Gold Certified
AWARDS
2019
Boston Society of Architects, Honor Award for Excellence
2017
AIA New England, Citation Award
IN THE NEWS
Boston University Breaks Ground on Science Center
Team
James H. Collins, Jr., FAIA, LEED AP
Design Principal
Charles S. Klee, AIA, LEED AP
Principal-in-Charge
Peter F. Vieira, FAIA, LEED AP
Senior Project Architect
Leon V. Auvil, Jr., AIA, CSI, CDT
Project Manager
Mark Bandzak, AIA, LEED AP
Architect
Daniel Russoniello, AIA, CDT
Architect
Dane Clark, AIA, LEED AP BD+C
Architect
Ngaire Stuart Gongora, AIA, LEED AP, BD+C
Architect
Sean Hurley, AIA, LEED AP, BD+C
Architect
Michael J. Quinn, AIA, CSI, CCS, LEED AP
Architect
Edin Kostovic, LEED AP BD+C
Designer
Marceli Botticelli, LEED AP
Designer
Andrea Love, AIA, LEED Fellow
Building Scientist
PROJECT EUI
72%
reduction in energy use compared to the 2030 baseline
Versatility
The Kilachand Center is designed as a flexible, interdisciplinary research environment to accommodate current scientific research and offer easily adaptable space for yet-to-be-determined explorations. In a radical departure from conventional practice, its main mechanical spaces are located neither on the roof (where their unsightly bulk would be visible from the street) nor below grade (where they would be susceptible to flooding), but on levels two and three. From there, services are distributed efficiently to the laboratory floors above, which enjoy wide views of the city and the river.
Rather than separating energy-intensive core laboratories from less energy-intensive spaces by floor, each floor is zoned to accommodate low, medium and high intensity areas. Doing so allows ease of movement from computational labs and offices to high-intensity program spaces, increasing opportunities for interdisciplinary collaboration on every floor.
Crystalline and Opaque
The Kilachand Center is a deceptively simple building volume, articulated simultaneously as both intangibly crystalline and impassively opaque. The building's skin employs large, glass fiber-reinforced concrete fins and panels to dramatic visual effect. From a distance, it appears entirely solid. Approached obliquely, the gaps between the fins progressively increase, momentarily rendering the skin almost entirely reflective, before the phenomenon reverses itself and the building's solidity reasserts itself.
BESbswyBESbswyBESbswyBESbswyBESbswyBESbswyBESbswyBESbswyBESbswyBESbswyBESbswyBESbswyBESbswyBESbswyBESbswyBESbswyBESbswyBESbswyBESbswyBESbswyBESbswyBESbswyBESbswyBESbswyBESbswyBESbswyBESbswyBESbswyBESbswyBESbswyBESbswyBESbswyBESbswyBESbswyBESbswyBESbswyBESbswyBESbswyBESbswyBESbswyBESbswyBESbswyBESbswyBESbswyBESbswyBESbswyBESbswyBESbswy
BESbswyBESbswyBESbswyBESbswyBESbswyBESbswyBESbswyBESbswyBESbswyBESbswyBESbswyBESbswyBESbswyBESbswyBESbswyBESbswyBESbswyBESbswyBESbswyBESbswyBESbswyBESbswyBESbswyBESbswyBESbswyBESbswyBESbswyBESbswyBESbswyBESbswyBESbswyBESbswyBESbswyBESbswyBESbswyBESbswyBESbswyBESbswyBESbswyBESbswyBESbswyBESbswyBESbswyBESbswyBESbswyBESbswyBESbswyBESbswy
BESbswyBESbswyBESbswyBESbswyBESbswyBESbswyBESbswyBESbswyBESbswyBESbswyBESbswyBESbswyBESbswyBESbswyBESbswyBESbswyBESbswyBESbswyBESbswyBESbswyBESbswyBESbswyBESbswyBESbswyBESbswyBESbswyBESbswyBESbswyBESbswyBESbswyBESbswyBESbswyBESbswyBESbswyBESbswyBESbswyBESbswyBESbswyBESbswyBESbswyBESbswyBESbswyBESbswyBESbswyBESbswyBESbswyBESbswyBESbswy
Photography: © Chuck Choi; © Keitaro Yoshioka