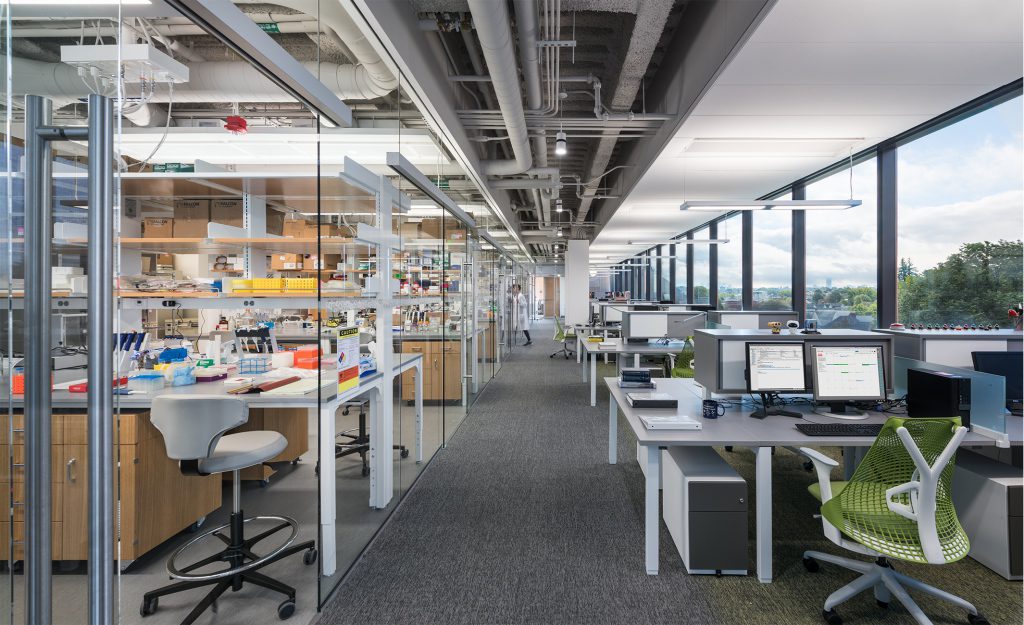 The new Science and Engineering Complex is the product of a strategic infill addition that creates space for interdisciplinary research while connecting two historic buildings to form a dynamic, community focused, academic precinct. The complex addresses the University's desire for a critical mass of research and teaching space to support cross-departmental collaborations in an environmentally responsible manner. A glass box floats effortlessly between two historic red brick bookends. Its taut skin cradles and reflects its surroundings, complementing the brick and lending quiet dignity to the existing buildings.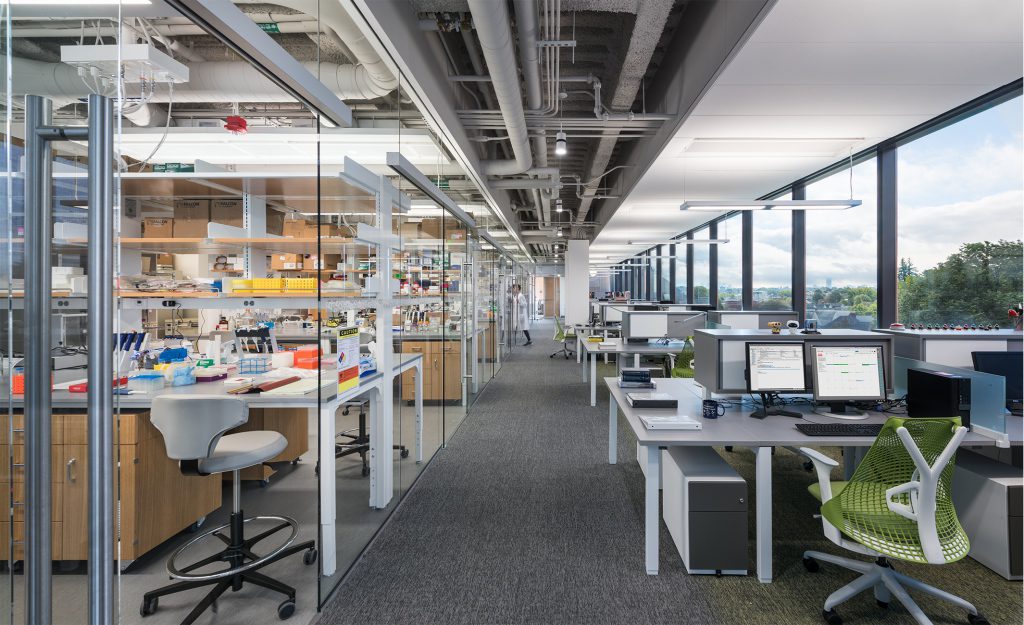 Tufts University
Science and Engineering Complex
Project Statistics
LOCATION
Medford, MA / United States
COMPLETED
2017
TOTAL SQUARE FOOTAGE
177,000 GSF
PROGRAM COMPONENTS
Biology, Environment and Neuroscience Research Laboratories, Computation, Vivarium, Core Labs, Teaching Labs
LEED STATUS
LEED-NC 3 Gold Certified
AWARDS
2021
BSA Sustainable Design Award
2019
AIA New England, Merit Award
2019
IIDA New England, Award, Research Laboratory Category
2018
BSA Honor Award for Excellence, Citation
2018
I2SL Go Beyond Award, Buildings Category
Team
George E. Marsh, Jr., FAIA
Principal-in-Charge
Kevin B. Sullivan, FAIA
Design Principal
Robert Pasersky, AIA
Project Manager / Architect
Diana Tsang, AIA
Architect
Megan van der Linde, AIA, LEED AP BD+C
Architect
Sean Hurley, AIA, LEED AP
Architect
Michael J. Quinn, AIA, CSI, CCS, LEED AP
Architect
Mary Gallagher, IIDA, LEED AP
Interior Designer
Andrea Love, AIA, LEED Fellow
Building Scientist
David Hamel
Design Visualization
PROJECT EUI
77%
reduction in energy use compared to the 2030 baseline
Integrated Strategy
Rather than relocate or demolish one of the significant historic buildings on the site, as the client's project brief had initially proposed, the solution was to introduce a smaller addition that strengthens the existing buildings through adaptive reuse, creating an integrated complex. A nested series of interior and exterior spaces heightens awareness of the existing buildings, their different geometries experienced as a series of transparent layers that weave together inside and outside, old and new, each dependent on the other.
Heart, Hive, Hub: Community Living Room
The addition acts like a battery pack, providing new life and infrastructure to underutilized historic structures, while simultaneously creating a dynamic, integrated high tech hub for open communication and cross-pollination. The complex thereby serves as the academic and social heart of a precinct much larger than itself. The spaces between new and existing buildings become as important as their prominent public faces, generating an animated campus system of movement that highlights science and reinforces one's connection to place.
Photography: © Chuck Choi