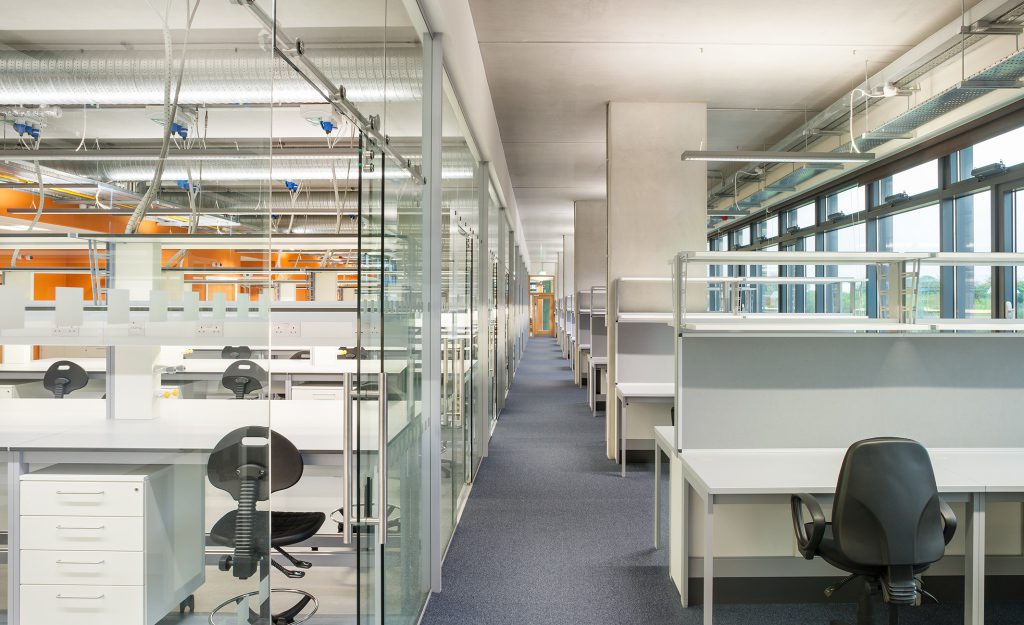 Sited in a rolling meadow near the River Corrib, the Biosciences Research Building (BRB) is the first phase of the new North Campus Science Precinct at the National University of Ireland, Galway. Housing high tech science laboratories dedicated to cancer research, regenerative medicine, chemical biology and Biological Safety Level 3 animal research, the BRB offers a transparent and collaborative lab environment that connects the new science precinct with the University's historic campus.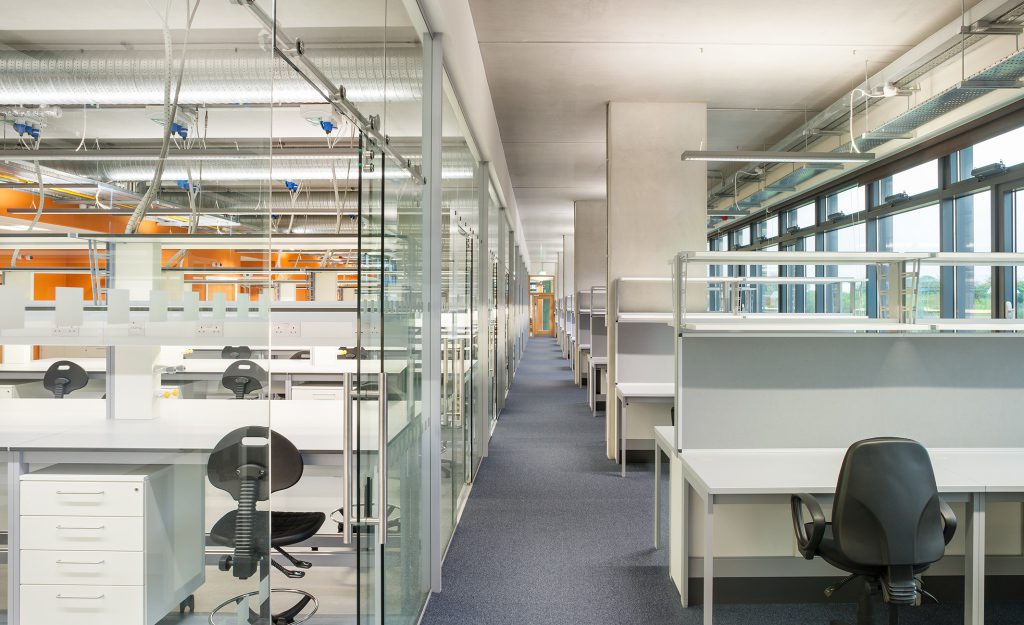 National University of Ireland, Galway
Biosciences Research Building
Project Statistics
LOCATION
Galway / Ireland (Republic)
COMPLETED
2013
TOTAL SQUARE FOOTAGE
86,112 GSF
PROGRAM COMPONENTS
Cancer, Regenerative Medicine and Chemical Biology Research Laboratories, Vivarium, Imaging, Lecture Hall, Café
AWARDS
2017
AIA New England, Merit Award
2016
Boston Society of Architects, Sustainable Design, Citation Award
2016
AIA COTE Top Ten Recipient
2015
I2SL Go Beyond Award, Buildings Category
2015
SCUP/AIA-CAE Excellence in Architecture: New Building, Merit Award
PROJECT EUI
72%
reduction in energy use compared to the 2030 baseline
Program and Performance
Embracing the moderate climate of Ireland, the building is one of the most energy efficient research laboratories in the world. The laboratory environment is separated into high and low energy zones. The most mechanically intensive spaces, such as tissue culture and imaging suites, are consolidated into distinct areas adjacent to the larger open lab space; less energy intensive spaces, such as writing carrels, offices and interaction spaces, surround the high energy use lab spaces along the building's perimeter. Interior glass partitions allow natural light to filter into the open labs. This approach enables 80% of the floor area to be naturally daylit and 45% to be naturally ventilated, requiring mechanical heating or cooling for less than 10% of the year.
Energy and Ventilation
In Ireland's moderate climate, the low-load spaces of the building can take advantage of natural ventilation as the sole conditioning strategy for more than half the year. Wrapping the perimeter of the building with low energy uses creates a "thermal sweater" for the high energy laboratories, which optimizes energy use for the building as a whole. While the cooling requirements of research buildings are typically driven by internal heat sources, heat from the sun was also an essential concern. Each side of the building is tuned to its orientation, a strategy that eliminates solar heat gain and thereby the supplemental cooling system that would have otherwise been required in the low energy zones.
BESbswyBESbswyBESbswyBESbswyBESbswyBESbswyBESbswyBESbswyBESbswyBESbswyBESbswyBESbswyBESbswyBESbswyBESbswyBESbswyBESbswyBESbswyBESbswyBESbswyBESbswyBESbswyBESbswyBESbswyBESbswyBESbswyBESbswyBESbswyBESbswyBESbswyBESbswyBESbswyBESbswyBESbswyBESbswyBESbswyBESbswyBESbswyBESbswyBESbswyBESbswyBESbswyBESbswyBESbswyBESbswyBESbswyBESbswyBESbswy
In collaboration with Reddy Architecture and Urbanism (Architect-of-Record)
Photography © Warren Jagger