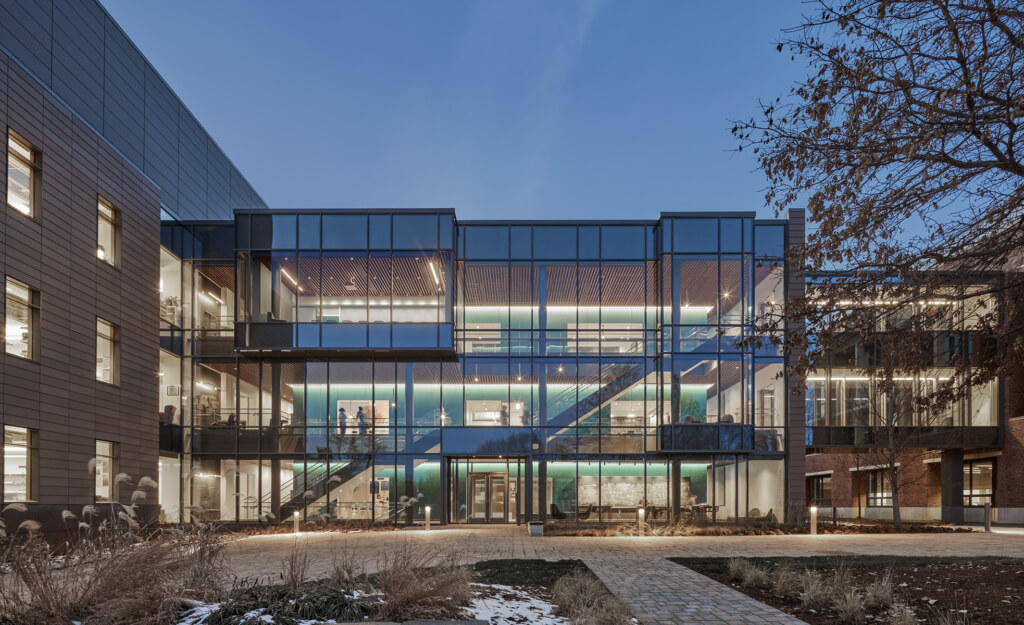 Williams College has a strong culture of student-teacher exchange, in which learning often occurs outside the classroom. The Hopper Science Center was the first of two planned additions to the Morley Science Center in order to reinforce this important pedagogical relationship. Pairing new biology, chemistry and physics labs and faculty offices with a range of formal and informal meeting and study spaces, it welcomes students into the sciences. A cascading stair knits together the research labs, offices, study rooms, project alcoves and conference rooms.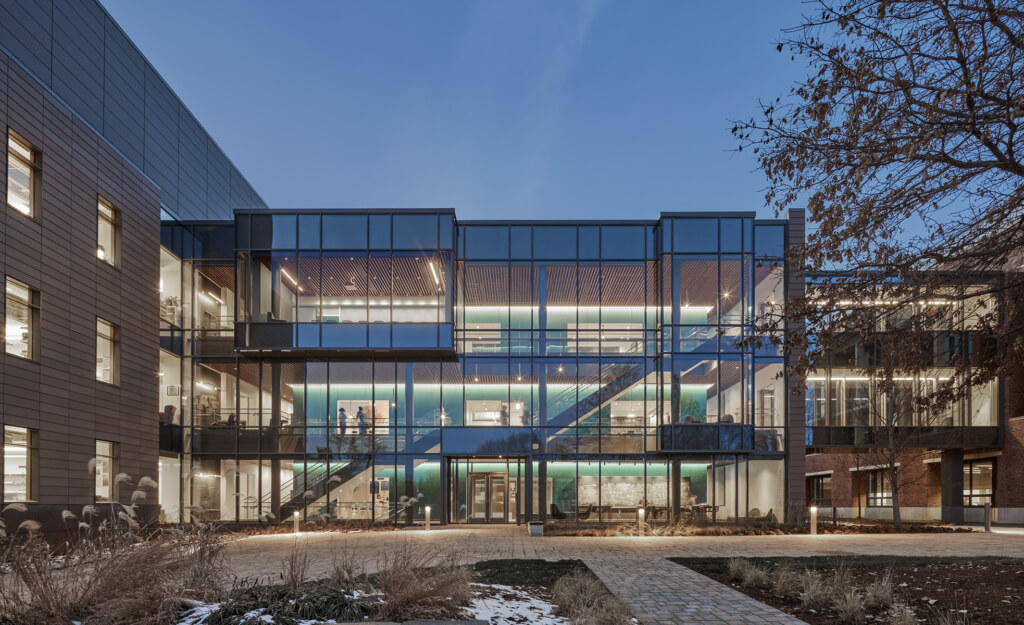 Williams College
Hopper Science Center
Project Statistics
LOCATION
Williamstown, MA / United States
COMPLETED
2018
TOTAL SQUARE FOOTAGE
175,000 GSF
PROGRAM COMPONENTS
Biology, Chemistry, Physics, Geosciences, Mathematics and Statistics, Psychology, Research Labs, Teaching Lab, Auditorium, Classrooms, Lecture Rooms, Computer Labs, Offices, Shops and Makerspace, Imaging Suite
LEED STATUS
LEED Platinum Certified
Team
Kevin B. Sullivan, FAIA
Principal-in-Charge
Ron Blanchard, AIA, LEED AP
Project Manager
Mark Bandzak, AIA, LEED AP
Project Architect
Doran Abel, AIA, LEED AP
Architect
Elizabeth Cox, AIA, EDAC, LEED AP
Architect
Michael Mandeville, AIA
Architect
Daniel Estes, AIA, LEED AP
Architect
Michael J. Quinn, AIA, CSI, CCS, LEED AP
Architect
Melanie Silver, AIA, LEED AP
Designer
Bohseung Kong
Designer
Edin Kostovic, LEED AP BD+C
Designer
Andrew LaFosse
Designer
David Hamel
Design Visualization
Adam Anderson, ASLA, LEED AP
Landscape Architect
Yuan Zhang
Landscape Designer
Mary Gallagher, IIDA, LEED AP
Interior Designer
Yunjung Cho, LEED AP ID+C
Interior Designer
Kerri Estano
Interior Designer
PROJECT EUI
25%
reduction in energy use compared to the 2030 baseline
Creating Campus Space
Facing east, the cascading stair looks out onto Morley Circle, a former vehicular turnaround transformed into a pedestrian plaza, an exterior social space that is a unique addition to the campus. To the west, a more private Biology Garden is cradled between the new and existing buildings, forming an exterior classroom, with both permanent and temporary plantings curated by the Biology Department. To the south, a tree-lined, gently sloping lawn recalls the original campus landscape and its setting in the Berkshires.
Exterior Materiality
The wall facing Morley Circle is all glass, revealing the stair, with projecting bays highlighting collaborative spaces. Other study alcoves along the interior core give greater depth to the stair hall. Floor-to-ceiling glazing expresses the student spaces in the lab bar, and glassy corners on either end contain break-out lounges. The remainder of the exterior surface is composed of terracotta panels, ribbed in three different ways to create a pattern of varying textures. These panels overlap one another like shingles to create lines of shadow, emphasizing the horizontality of the building.
Photography: © Robert Benson Photography