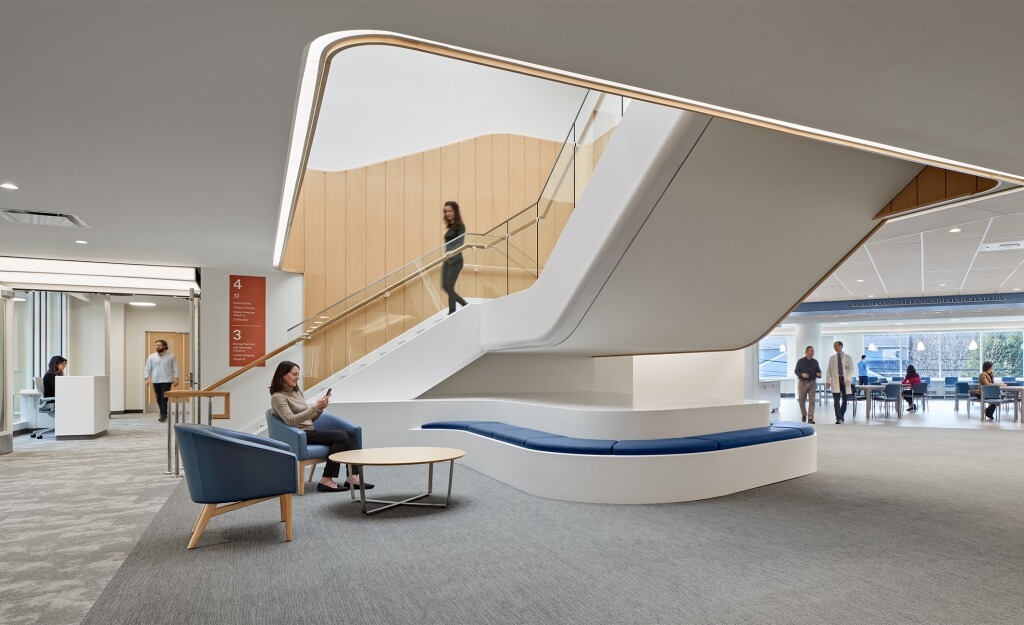 Shelter, Light, Connectivity
Fundamentally patient focused, the design uses curved wood forms and soft sculptural elements that evoke a gentle, healing touch. Together these create individual, protected treatment experiences. Despite a large floorplate, daylight guides patients and staff throughout, with iconic new skylight enclosures and radial corridors framing views of nature. The facility strengthens a team-based care approach to effectively connect clinicians and staff in real-time collaboration.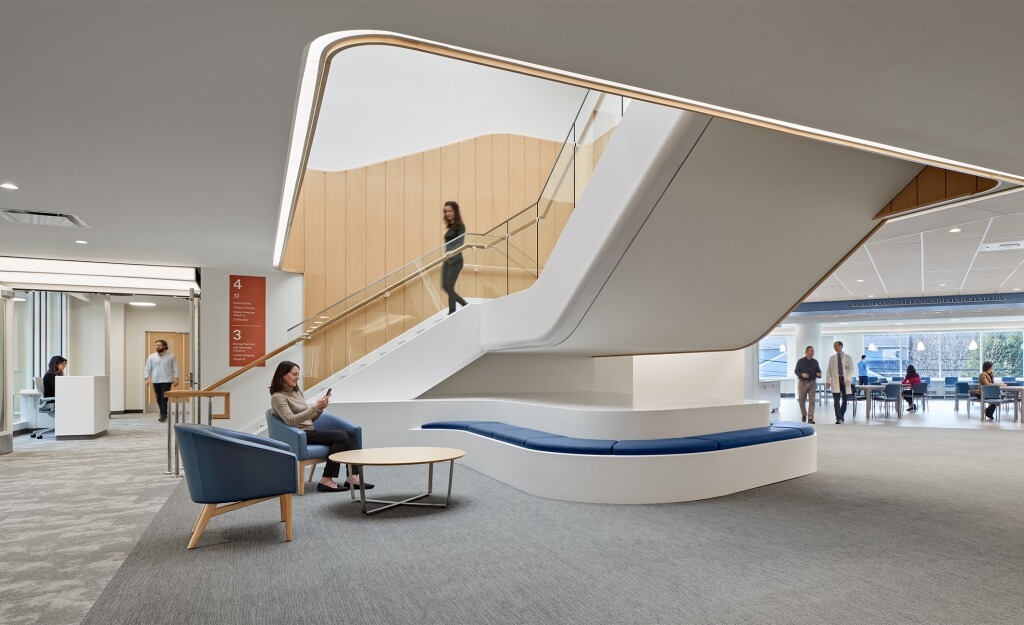 Dana-Farber Cancer Institute
Chestnut Hill
Project Statistics
LOCATION
Newton, MA / United States
COMPLETED
2021
TOTAL SQUARE FOOTAGE
140,000
AWARDS
2022
AIA Healthcare Design Award
2022
AIA New England, Merit Award
2022
IIDA Healthcare Design Award
2022
BSA Healthcare Facility Award
2021
BSA Honor Award - Design Excellence
2021
IIDA NE Health & Wellness
I felt home, I felt welcome, comforted, I felt a sense of hope. It's amazing how the design and aesthetics of a place can be just as impactful as the people within it. That special sauce didn't just happen, it was created and nurtured here at Chestnut Hill.

DFCI Chestnut Hill Patient
SHELTERED PATIENT EXPERIENCE
Functioning as a "pod," three open bays, two private rooms, a nurse station and patient bathroom make up the modular unit that repeats to form a cohesive Infusion Therapy suite. Curved wood soffits, soft and welcoming staff stations, and bright ceiling accents come together to form a unified patient experience.
CREATIVE ADAPTATION
The project represents a significant achievement in the adaptive reuse of an idiosyncratic retail structure into a full-service outpatient cancer care center. The program creatively adapts to the existing structure with minimal structural and mechanical interventions. Among other technically complex programs, the space now accommodates multiple advanced imaging devices, such as vibration sensitive MRI's and heavily shielded CT, PET-CT, and SPECT-CT scanners.
Photography (c) Robert Benson Photography