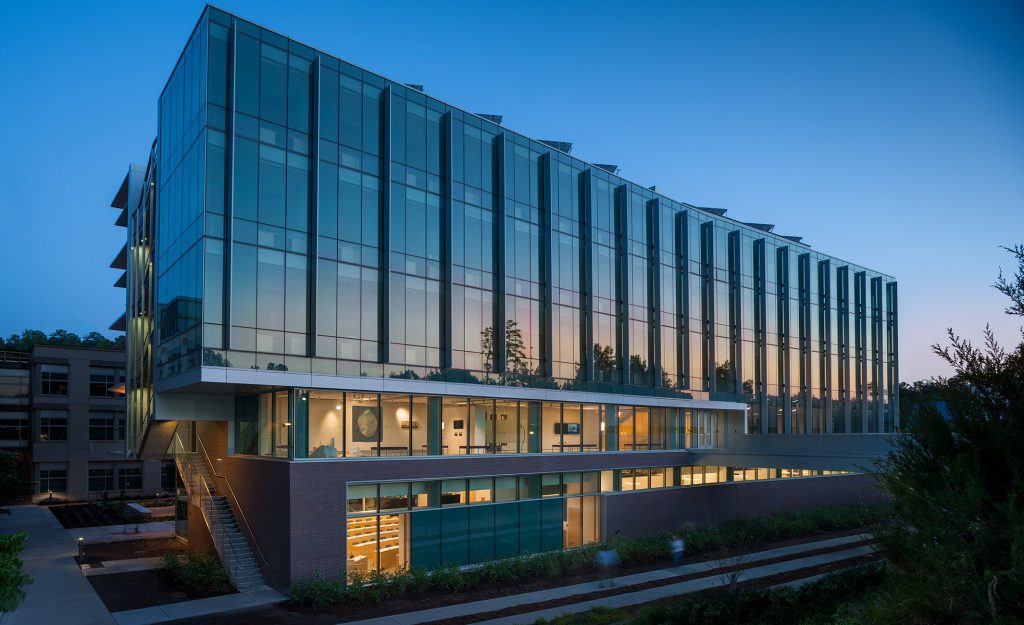 Located within Duke's main science precinct, Grainger Hall stands as a model for high performance campus architecture, embodying the principles of sustainability and interconnectedness that drive the Nicholas School of the Environment, a premier institution for the study of environmental science and policy. It brings together the School's formerly dispersed faculty and weaves together a campus fabric tattered by years of sprawling expansion.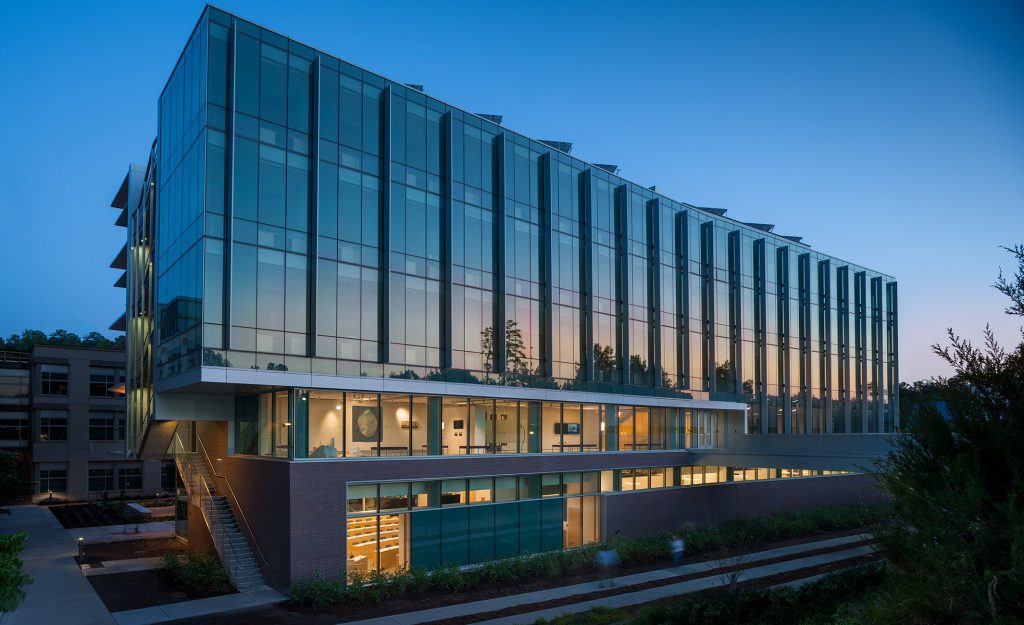 Duke University
Grainger Hall: Nicholas School of the Environment
Project Statistics
LOCATION
Durham, NC / United States
COMPLETED
2014
TOTAL SQUARE FOOTAGE
72,000 GSF
PROGRAM COMPONENTS
Faculty & Departmental Offices, Classrooms, Computational Dry Labs, Reading Room & Environmental Art Gallery
LEED STATUS
LEED-NC 2.2 Platinum Certified
AWARDS
2015
NC Chapter: American Society of Landscape Architects Award
2015
SCUP/AIA-CAE Excellence in Architecture: New Building, Merit Award
2014
ABC Excellence in Construction, Merit Award
2014
Boston Society of Architects, Honor Award for Design Excellence
2014
ENR, Best Green Project
PROJECT EUI
53%
reduction in energy use compared to the 2030 baseline
Connecting and Leading the Campus
Efficiently compact, the building sets up a sequence of pedestrian-scaled exterior spaces along an important pathway connecting the University's historic main campus to its medical campus. Facing this pathway, a network of "thermal corridors" along the south façade organizes the building's circulation and reconciles the conflicting goals of transparency and thermal performance. Allowed to vary in temperature more widely than the principal spaces behind them, these corridors create a buffer that maintains comfort while reducing energy use. The layered organization of program allows 90% of the building's spaces to be daylit and to enjoy views outside. This strategy establishes an architectural vocabulary for future campus development.
A Living Laboratory
Using 66% less energy than standards require, Grainger Hall is the most energy-efficient building of its type on campus. It integrates low energy, sustainable building systems to reduce environmental impact and serve as teaching tools for the School and broader community. Students and faculty actively engage with and learn how best to utilize the facility's sustainable infrastructure. Building materials effortlessly slip between inside and outside: along the south, expansive wood plank ceilings run continuously between the two environments, providing exterior shading and improving interior acoustics. The blurring of boundaries reinforces the School's mission to treat human society and the Earth's environment as an integrated whole.
BESbswyBESbswyBESbswyBESbswyBESbswyBESbswyBESbswyBESbswyBESbswyBESbswyBESbswyBESbswyBESbswyBESbswyBESbswyBESbswyBESbswyBESbswyBESbswyBESbswyBESbswyBESbswyBESbswyBESbswyBESbswyBESbswyBESbswyBESbswyBESbswyBESbswyBESbswyBESbswyBESbswyBESbswyBESbswyBESbswyBESbswyBESbswyBESbswyBESbswyBESbswyBESbswyBESbswyBESbswyBESbswyBESbswyBESbswyBESbswy
Photography: © Warren Jagger Photography