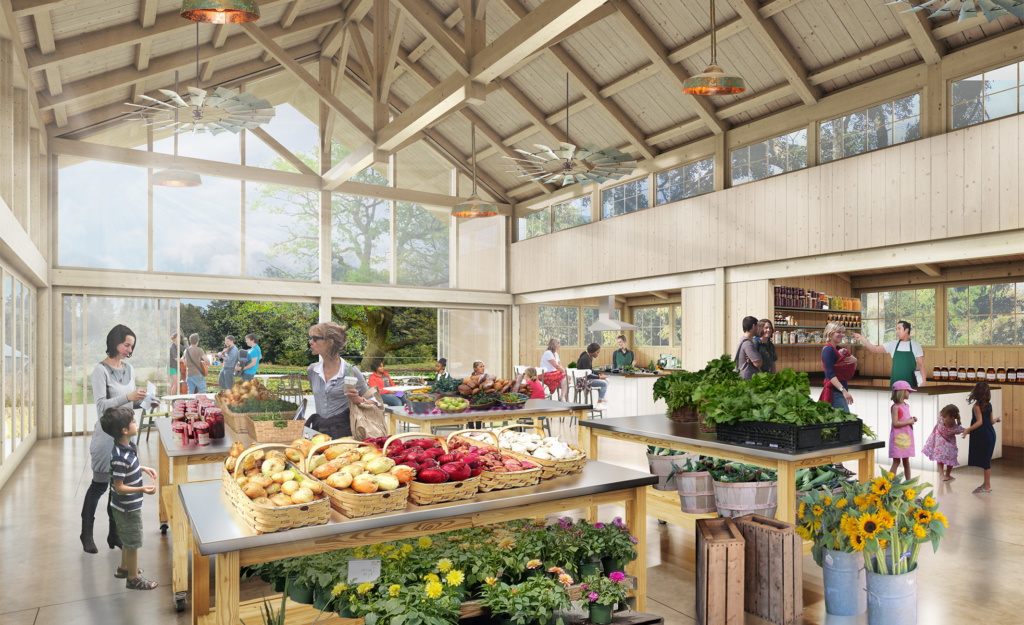 Land's Sake is a non-profit community farm in Weston, MA with a focus on serving their community through food production and education, as well as hunger relief for underserved communities in Boston. Payette assisted the Land's Sake organization in developing a long-term master plan for their 40-acre farm. The plan sets out to increase efficiency of the farm operations, improve the site's infrastructure, create a sustainable model and enhance the farm experience for its year-round visitors.
Land's Sake
New Farmstand, Education Pavilion and Barn
Project Statistics
LOCATION
Weston, MA / United States
TOTAL SQUARE FOOTAGE
40 acres
EST. COMPLETION
2021
Team
Kevin B. Sullivan, FAIA
Principal-in-Charge
Wesley Schwartz, AIA
Project Architect
Robert Pasersky, AIA
Project Manager
Stephanie Balsam, AIA
Project Manager
Seth Clarke, AIA
Architect
Adam Blood
Architect
Dane Clark, AIA, LEED AP BD+C
Architect
Holly Jin
Designer
Kofi Akakpo
Designer
Parke MacDowell, AIA
Architect
Melanie Silver, LEED AP
Designer
David Hamel
Design Visualization
Luke Gehron
Lead Computational Designer
Gota Miyazaki
Visualization Designer
Hasan Uretmen
Visualization Designer
Adam Anderson, ASLA, LEED AP
Landscape Architect
Yuan Zhang
Landscape Architect
The first phase of improvements will include a new farmstand and a new animal barn, as well as landscape enhancements that will reinforce visitors' connection to the land. Along with the sale of the farm's produce, the new farmstand will include space for community gathering and areas for food processing and storage. The new barn will house animals and provide open and flexible community space to support the education programs. Future phases will include the addition of a service barn for farm equipment as well as a greenhouse.
A Sustainable Model
Land's Sake and Payette are committed to create a model for sustainability that will not only stand in alignment with the farm's land-loving mission, but also serve as a learning tool that can enrich their education programs. With net zero energy goals, the buildings will utilize traditional timber framing, composting toilets, rainwater collection and reuse, renewable energy from photovoltaics, and other strategies that lower their impact on the site.