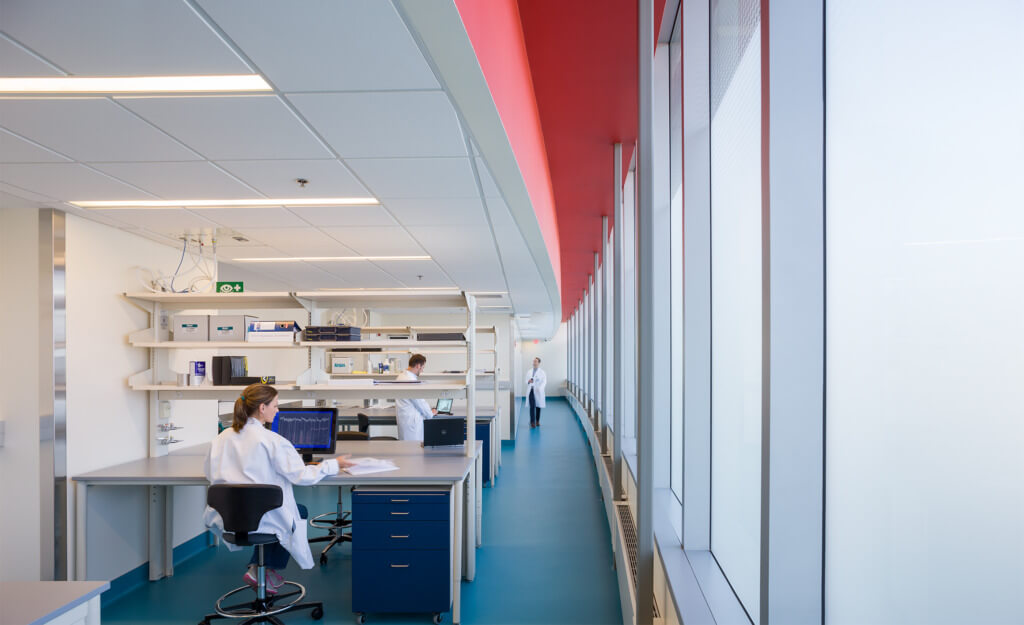 The Molecular Cancer Imaging Facility expands the research capacity for Dana-Farber Cancer Institute. Located in an historic warehouse in Boston's Seaport Innovation District, this renovation brings state-of-the-art radioisotope production to this satellite campus. The facility includes a new self-shielded PET-Trace cyclotron and its associated research laboratory with the potential to house up to a dozen radiation hot cells. The companion specialty lab and quality control/quality assurance laboratories are structured for future conversion into cGMP space for clinical testing. The first dedicated research facility of its kind in Massachusetts, the isotopes generated in the new suite will support early state testing of diagnostic tracers in the adjacent Lurie Family Imaging Center.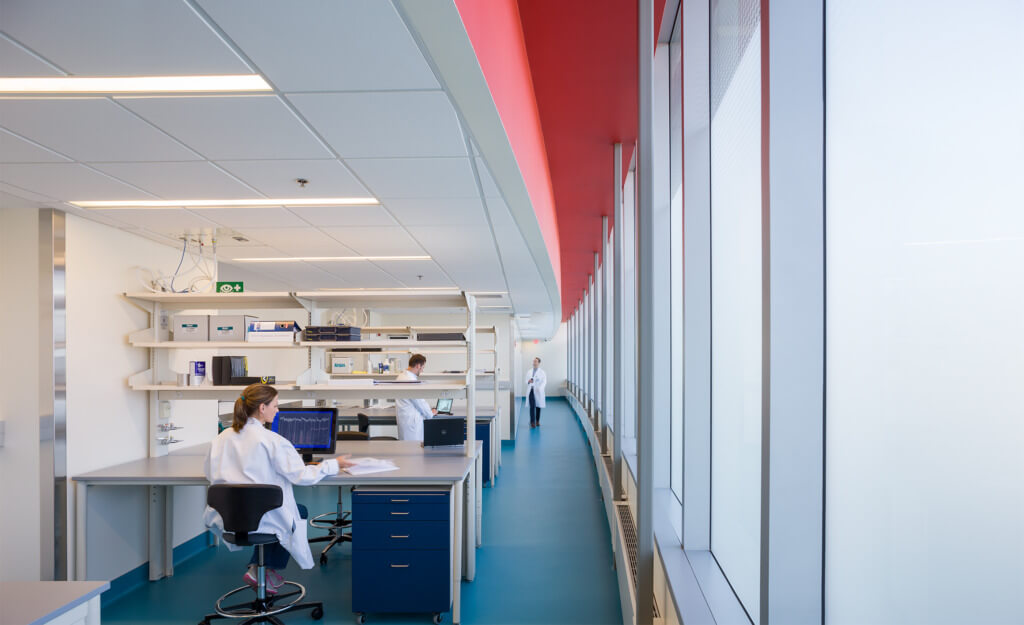 Dana-Farber Cancer Institute
Molecular Cancer Imaging Facility
Project Statistics
LOCATION
Boston, MA / United States
COMPLETED
2015
TOTAL SQUARE FOOTAGE
3,800 GSF
PROGRAM COMPONENTS
Research Laboratory, QA/QC Laboratory, Cyclotron, Specialty Mechanical Infrastructure
REPURPOSING FOR DISCOVERY
The delicate renovation includes a complete new mechanical system. Built in 1917, the concrete structure of this former military warehouse supported the conversion of an elevator shaft into a new services path to a dedicated rooftop mechanical penthouse and the 55,000 lbs. cyclotron. Its sturdy slabs and ample floor height also permitted construction of new magnetic and radiation shielding systems and under-slab trench pathways for product delivery. The expansion below the existing loading canopy is a freestanding assembly of structurally insulated panels (SIPs) and refined columns that follow the gentle curve of the building.
Photography © Warren Jagger Photography