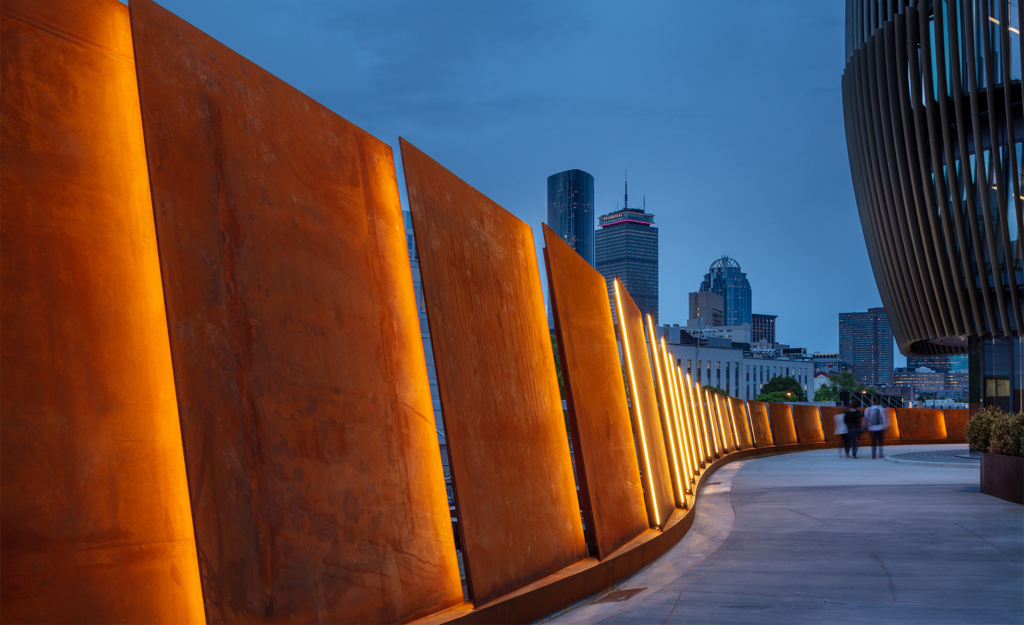 The Northeastern University Pedestrian Crossing (PedX) spans across five MBTA / Amtrak rail lines to connect the main campus with the expanding Interdisciplinary Science and Engineering Complex to the south of the tracks. Serving more than just the University community, the bridge provides a public connection between the Fenway and Roxbury neighborhoods and links the adjacent MBTA platform, bus station, pedestrian routes and parking structures. It is a much needed, safe, fully accessible pedestrian route at a key transportation node in Boston.
Northeastern University
Pedestrian Crossing (PedX)
Project Statistics
LOCATION
Boston, MA / United States
COMPLETED
2019
TOTAL Length
500 feet
Max Clear Span
120 feet
AWARDS
2021
American Architecture Award
2020
Envision Bronze Award
2020
Massachusetts ACEC Engineering Excellence Silver Award
2020
Excellence in the National ACEC Awards
2020
Boston Society of Landscape Architects Honor Award
2020
CMAA New England Project Achievement Award
2020
Boston Society of Civil Engineers Section Sustainability in Civil Engineering Award
2020
BSA Honor Awards for Design Excellence Citation
A Collaborative mindset and an architect-as-prime delivery approach culminate in a stunning university pedestrian bridge that connects not only disparate campus areas but also communities.

Geoff Weisenberger, Editor, Modern Steel Construction
Dramatic Forms
The bridge has a dramatic form that uses weathering steel plates to protect the train tracks and power lines from pedestrians and vice versa. The specialty steel's inherent corrosion resistance avoids the need for rail agency shut-downs for periodic re-painting. The use of weathering steel also imbues a reddish-brown patina to the structure which nicely complements the surrounding infrastructure and the new ISEC. Instead of employing the conventional 'curl-over' guard rail fencing typical on bridges that cross railways, the new bridge's steel panels angle outward and grow in height to attain the necessary protection over the catenary wires.
SKYWARD VIEWS
At its northern terminus, the bridge lands delicately between existing buildings and its solid parapet flares open and dissolves into a perforated pattern that invites pedestrians south across the main span. Traveling over the rail corridor, the bridge arcs and grows taller, its parapet panels canting outward and rotating to expose slender glass vision panes with views to the ISEC and Boston skyline. The bridge parapets lean outwards 10 degrees from vertical to enhance a sense of openness while adhering to the strict protection requirements established by the rail operators. The taller western parapet gently rises to a height of 18 feet towards the bridge's south abutment, creating a dramatic entry marker. A curving, sloped walkway continues toward Columbus Ave while the east parapet of the bridge sweeps toward the entry of the ISEC.
Photography (c) Warren Jagger Photography; Robert Benson Photography; Chuck Choi Photography