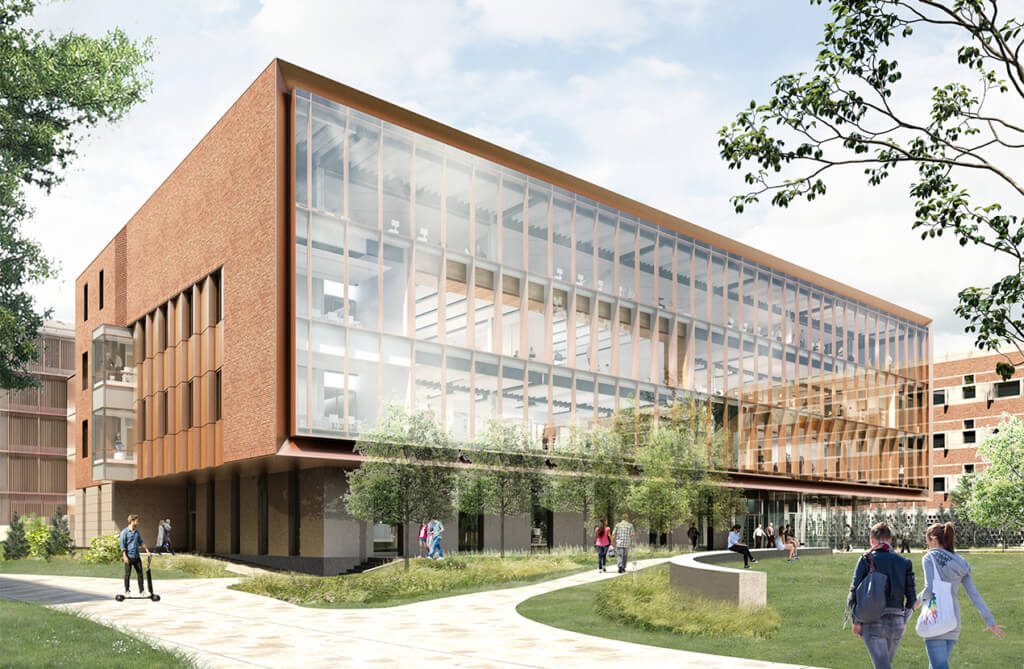 The first component to be implemented out of Payette's College of Engineering Master Plan, the Engineering Design and Innovation Building will provide flexible classrooms, multi-use design studios, "cornerstone to capstone" makerspaces, high bay research labs, faculty offices and research cores to benefit multiple engineering disciplines. This will create a singular programmatic magnet for research, making, testing and prototyping from a broad range of disciplines to become the innovation and making hub of the College of Engineering.
The Pennsylvania State University
Engineering Design and Innovation Building
Project Statistics
LOCATION
University Park, PA / United States
Est. Completion
2023
TOTAL SQUARE FOOTAGE
105,000 GSF
PROGRAM COMPONENTS
Makerspaces, Machine Shops, Classrooms, Collaborative Design Laboratories, Department Suites, Faculty Offices, High Bay Engineering Shops
LEED STATUS
Tracking LEED Gold
Team
Jeffery H. DeGregorio, AIA, LEED AP
Principal-in-Charge
Leon W. Drachman, AIA, LEED Green Assoc.
Design Principal
Michael Hinchcliffe, AIA, LEED AP
Executive Project Manager
Robert Pasersky, AIA
Project Design Director/Senior Project Architect
Jennifer Hardy, AIA
Project Architect/Project Manager
Thomas Simister, AIA, LEED AP
Lab Programmer
Lu Zhang
Designer
PROJECT EUI
83%
reduction in energy use compared to the 2030 baseline
learning on display
The building, currently under construction, will frame and define the West Quad, a new signature open space creating the heart of the new West Precinct. Featuring a simple volume, the building engages the new campus quad through an oversized "super window," proudly projecting its busy interior programs to the rest of the campus. This window is the synthesis of passive and active engineering strategies, utilizing a triple glazed timber curtainwall and efficient active systems to minimize energy use while maintaining human thermal comfort and enabling engineering on display.
Inside, the building's mass timber and steel structure is exposed and mechanical systems are thinly veiled by mesh ceilings and woven between vertical baffles. This enables students to interact with the building directly through visual and tactile experience. Spaces such as the open design and critique areas provide opportunities for communal life and collaboration, but also of intimacy and personal focus within a series of niches lining the studio walls. Dedicated maker shops located in prominent areas provide high visibility of modern design techniques, prototyping and manufacturing facilities that support all scales of making, from university-industry partnerships to access for all students on campus to fabricate an idea. Tucked between the academic building and garage is a three story high bay for engineering research, complete with 20-ton cranes and a strong wall and floor. Direct views on all levels from the academic building into the high bay provide maximum exposure and active research on display. On the top floor, the Innovation Loft provides a flexible makerspace with access to natural light brought deep into the space by overhead light monitors and expansive views from the super window to the new West Precinct and campus beyond. An emphasis has been placed on integrating active learning on display, to create an icon that will become students and visitors' introduction to the College of Engineering at Penn State.