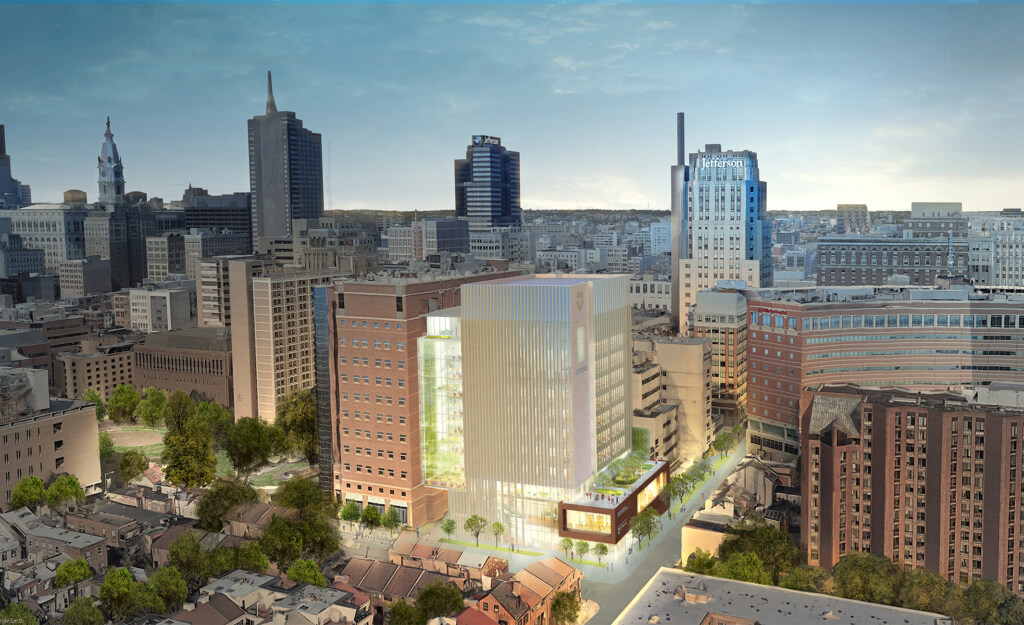 The new Caroline Kimmel Biomedical Research Building will expand and consolidate Jefferson's research capabilities for this growing institution. This includes programs in Cancer and Neurological research to facilitate inter- and intra-departmental collaboration. The building is envisioned as a new gateway to the Jefferson Research Corridor stretching along Locust Street in Center City Philadelphia, including the Bluemle Building and Jefferson Alumni Hall. The project will better define and differentiate this precinct from the adjacent educational and healthcare related sections of the campus.
Jefferson / Thomas Jefferson University
Caroline Kimmel Biomedical Research Building
Project Statistics
LOCATION
Philadelphia, PA / United States
EST. COMPLETION
2024
TOTAL SQUARE FOOTAGE
252,000 GSF includes 35,000 GSF Underground Parking Garage
PROGRAM COMPONENTS
Bioscience, Neuroscience, Vivarium
Team
Kevin B. Sullivan, FAIA
Design Principal
Jeffrey DeGregorio, AIA, LEED AP
Principal-in-Charge
Michael Hinchcliffe, AIA, LEED AP
Managing Principal
R. Craig Mutter, AIA, LEED AP
Project Architect
Philippe Généreux, AIA, LEED AP
Project Manager
Alex Zink, AIA
Architect
Michael Mandeville, AIA
Lab Planner
PROJECT EUI
57%
reduction in energy use compared to the 2030 baseline
COLLABORATION AND COMMUNITY
At the heart of the project is the new atrium connection to the Bluemle Research Building – creating an intense hub of research activity in the multi-level hive overlooking South Philadelphia. While affording much needed collaboration and meeting space to both structures, the goal is to encourage a more dynamic community of researchers, sharing core lab resources, as opposed to duplication. The new research tower connections will also allow the phased renovation and upgrade of the Bluemle building over time, better managing capital expenditures and researcher moves. Research suites in both buildings will have direct access to seminar, break-out and lounge spaces where they can connect and interact directly with their colleagues. The atrium will also link directly to the conference center and provide access to a rooftop garden overlooking 9th and Locust Streets.