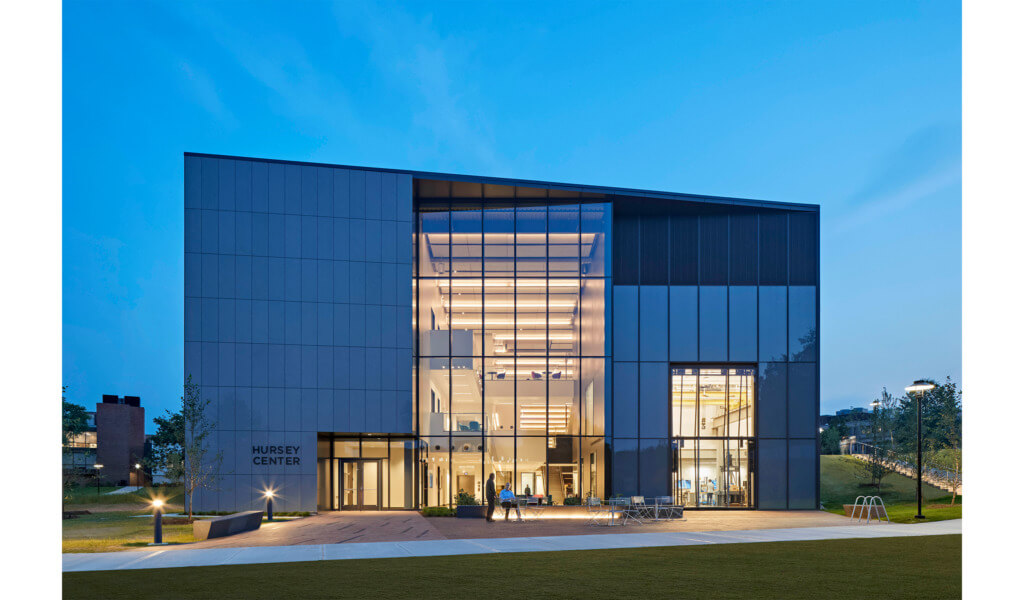 Envisioned as a mix of cutting-edge spaces for engineering with technology-rich learning and simulation environments of the health professions, the Hursey Center is a showcase building that places student projects and hands-on learning at the heart of the University of Hartford's beautifully landscaped campus. The building takes an unconventional approach to place-making: it is sited at the very center of its iconic Main Academic Green, prominently exposing each of its sides. While this inherently disruptive act could have easily overwhelmed the scale and intimacy of the open space, the new building is integrated seamlessly into its surroundings and has quickly become the crossroads of the campus. The principal organizing feature of its visually complex interior is a multi-level skylit commons that runs the length of the building, affording students and visitors with expansive views into a diverse array of experiential learning spaces along either side.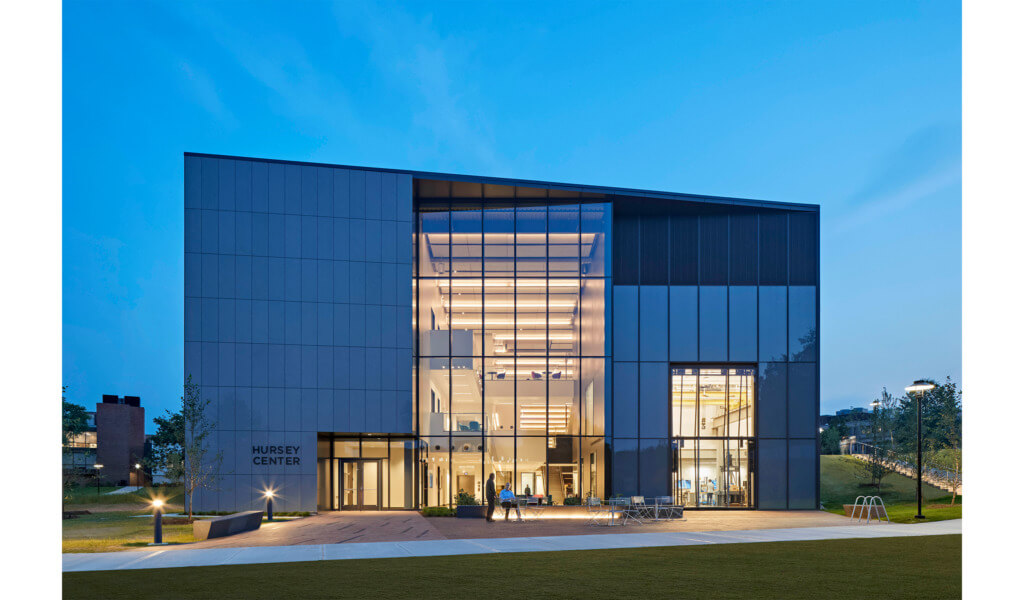 University of Hartford
Francis X. and Nancy Hursey Center for Advanced Engineering and Health Professions
Project Statistics
LOCATION
Hartford, CT / United States
COMPLETED
2021
TOTAL SQUARE FOOTAGE
59,000 GSF
PROGRAM COMPONENTS
Engineering and Health Sciences
AWARDS
2022
Porcelanosa International Project Award Finalist
Team
Jeffrey H. DeGregorio, AIA, LEED AP
Principal-in-Charge
Peter F. Vieira, FAIA, LEED AP
Design Principal
Sarah Gewurz, AIA, LEED AP
Project Manager
Mark Bandzak, AIA, LEED AP
Project Architect
Dane Clark, AIA, LEED AP BD+C
Architect
Josh Aronson
Designer
Laura Devine
Designer
Amber Penman, AIA, LEED AP
Designer
David Hamel
Design Visualization
Parke MacDowell, AIA
Fabrication Manager
Elizabeth Galloway, LEED AP BD+C, WELL AP
Building Scientist
Melanie Silver, AIA, LEED AP
Building Scientist
Tom Simister, AIA, LEED AP
Planner/Programmer
Andrew Ringler
Data Visualization
Yu Pei
Landscape Designer
PROJECT EUI
74%
reduction in energy use compared to the 2030 baseline
SHARED SYNERGIES
While engineering and the health sciences are not always thought of as sharing natural affinities, combining them together in a new building anticipates a near-future world wherein engineers pioneer inventions that improve human health, and discoveries in tissue engineering and implants are directly integrated into nursing education and simulation. The new building supports the health professions with specialized instructional and assessment laboratories for nursing, physical therapy, occupational therapy, exercise science, athletic training and prosthetics/orthotics. Spaces for engineering include turbomachinery, robotics, mechatronics, cybersecurity, Internet of Things, a makerspace, and an engineering high bay and strength testing lab.
SUBTLE MASSING HARMONIZES WITH SURROUNDINGS
A four-sided irregular polygon in footprint, the building's massing is deliberately quiet and subtle. Viewed from the south where widest, its large roof is very low, slightly sloped and completely planted, suggesting a continuation of the Academic Green. On its north side, where its lower level emerges from the hillside, the building is narrower and unexpectedly tall. Clad almost entirely in grey porcelain tiles, the Hursey Center harmonizes with the red brick and buff-colored concrete of the surrounding façades without mimicking them. Its taut surface perfectly reflects the sky and tall forests that encircle the campus. The combined effect of form and skin gives the building a presence that is simultaneously bold and contextual.
Photography © Robert Benson Photography