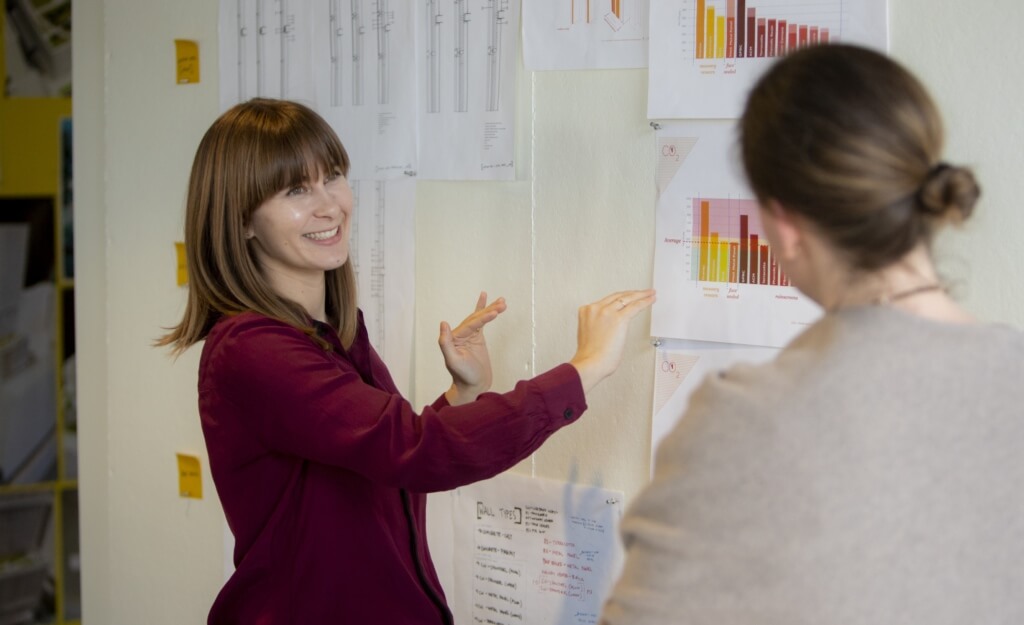 Melanie joined Payette's Building Science Group in 2017. She works with design teams to meet rigorous sustainability targets through data-driven investigation, while understanding which elements are critical to the building's design or program.
Her background is in civil engineering with a focus on water resources. As a Building Scientist, she provides performance analysis to project teams to push their designs to be more innovative and sustainable.
Melanie also has an expertise in issues on the health and environmental impact of building materials, leading Payette's Materials Working Group and implementing Payette's Material Policy. Melanie has been intimately involved in Payette's recent work around embodied carbon, including the development of Payette's award-winning embodied carbon tool, Kaleidoscope. Additionally, she has worked closely with the specification group to develop a QA/QC process. She represents Payette regularly at both client meetings and speaking at national conferences.
EDUCATION
M.Arch., Certificate in Ecological Architecture, 2013, University of Pennsylvania
B.S., Civil Engineering, Minor in Architecture, 2010, Columbia University
TEACHING & LECTURES
"This is How We Do It: Integrating Sustainability in Design", AIA Conference on Architecture, June 2022
"How Low Can You Go? Reducing Carbon Early in Design", Living Futures, May 2022
"Whole Building Life Cycle Assessment-Embodied Carbon Basics, Market Transformation and Project Implementation", AIA Nebraska, September 2021
"The Carbon Diet: Approaches for Reducing Embodied Carbon", Greenbuild, November 2020
"Stories to Inspire and Tools to Transform Building Products", AIA Minnesota, October 2020
"Apples-to-Apples: LCA Tool Development and Facade System Selection", AIA/ACSA Intersections Research Conference: Carbon, September 2020
"Embodied Carbon 101: Envelopes", BSA, June 2020
"New Paradigm: Architect/engineer Collaborative Energy Models," Greenbuild, November 2019
"Apples-to-Apples: Life Cycle Assessments and Façade System Selection," ABX Conference, November 2019
"Integrated Design with Early HVAC Sizing" ABX Conference, November 2018
"From Research to Specifications to Healthier Environments", Construction Specifications Institute (CSI) Boston Chapter, May 2018