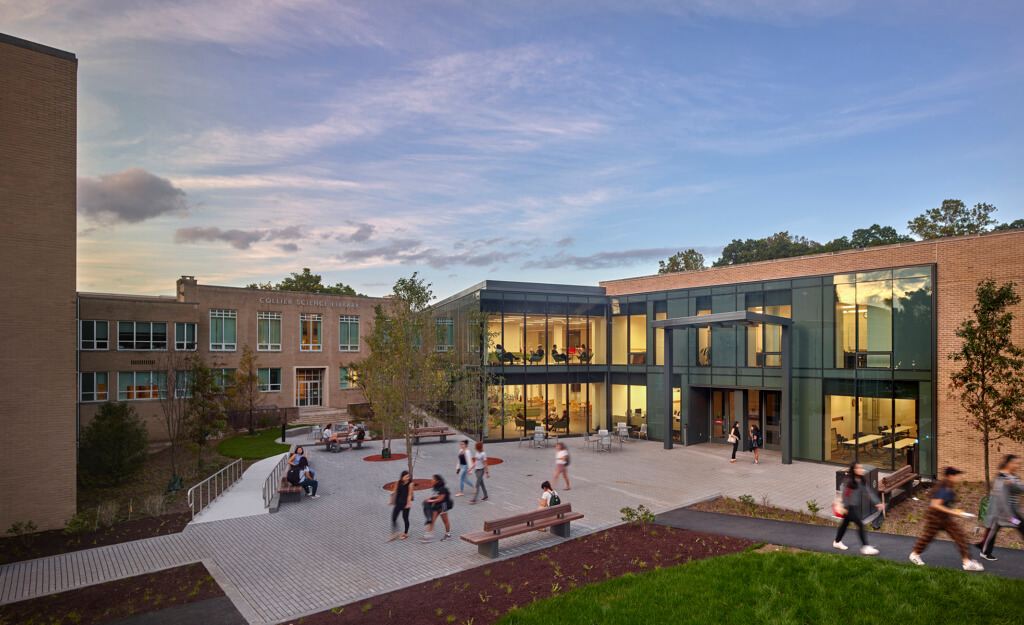 Bryn Mawr College, located 11 miles from Philadelphia, has long been a pioneer in the education of women in the sciences. The Park Science Complex, which occupies a sloping site in the northeast quadrant of the campus, has been home to the sciences and mathematics since 1936. This new addition and phased renovation will create a new center within Park, around which its core functions, including teaching, research and departmental areas, can be experienced in a more logical and inspiring way.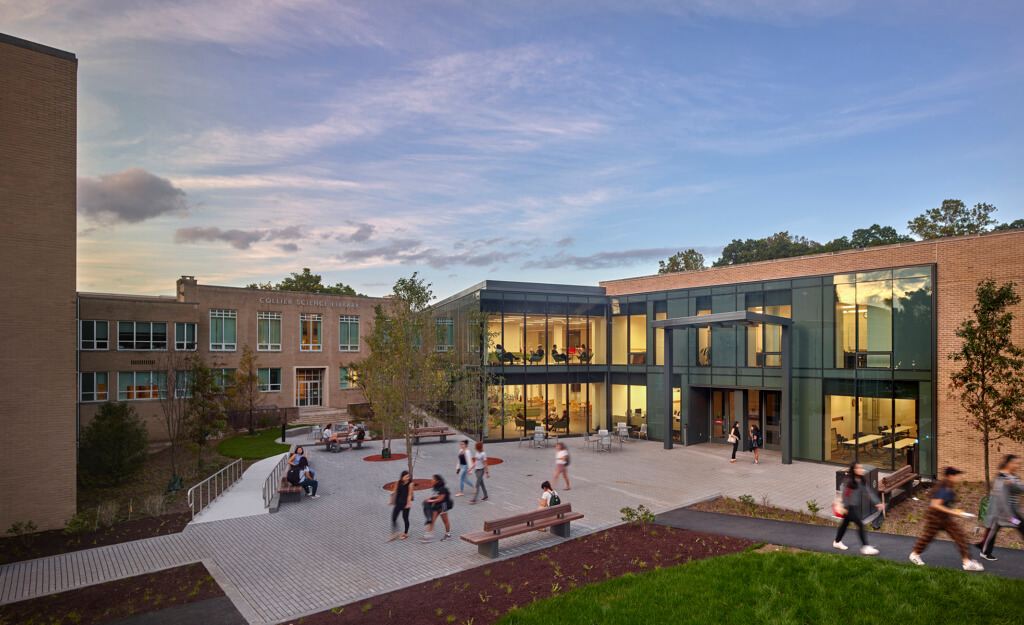 Bryn Mawr College
Park Science Center Renovation
Project Statistics
LOCATION
Bryn Mawr, PA / United States
Completed
2018
TOTAL SQUARE FOOTAGE
31,150 SF Renovation
10,200 SF Addition
PROGRAM COMPONENTS
STEM, Physics Teaching Labs, Student Collaboration Space, Classrooms/Lecture Hall, Lounges
LEED STATUS
Designed to LEED Silver Criteria
Team
George E. Marsh, Jr., FAIA
Principal-in-Charge
Peter F. Vieira, FAIA, LEED AP
Project Architect
Mollica Manandhar, AIA, LEED AP
Project Manager
Jeffrey Abramson, AIA, LEED AP
Architect
Abigail Klima, AIA
Planner/Programmer
Daniel Russoniello, AIA, CDT
Architect
James Baer, AIA, LEED AP
Architect
Michael J. Quinn, AIA, CSI, CCS, LEED AP
Architect
Hyeyun Jung
Designer
Mary Gallagher, IIDA, LEED AP
Interior Designer
PROJECT EUI
44%
reduction in energy use compared to the 2030 baseline
A Highly Impactful Addition
The project is centered on a three story, glass addition facing the complex's underutilized main courtyard. Modest in size but dynamic in its effect, the addition weaves new spaces for active student learning into the building's existing fabric. Its double-height commons opens off the entry and leads to the Science Crossroads, where the building's many wings come together. The project introduces a new language of transparency and daylight into corridors that extend from it, offering views of the activities in labs and classrooms and fostering connections between the building's many occupants.
A New Front Door for the Sciences
The addition also helps frame two new campus spaces. A paved entry plaza with a glass canopy provides a new arrival point and public gathering space, significantly improving the approach from Merion Green, the iconic venue for reunions, May Day celebrations and convocation. Just a few steps beyond the entry, an intimate sunken garden offers respite and repose.
Photography: © Halkin Mason Photography