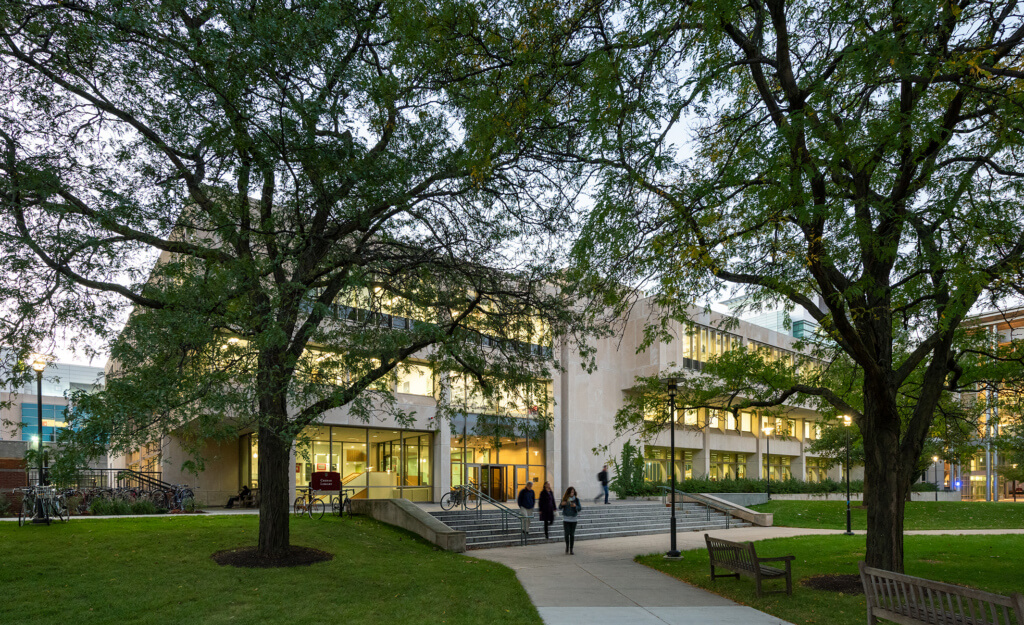 Starting in late 2015, Payette embarked on a one year study looking at research within the Physical Sciences Division, Biological Sciences Division and the newly formed Institute for Molecular Engineering. One of the outcomes of this study was the conclusion that the John Crerar Library was too valuable an asset to continue serving as a warehouse for books. It would instead become the new home for the Department of Computer Science and the newly formed Center for Data and Applied Computing. Transforming the nearly football field-sized floors of book stacks into spaces for people – a campus hub for research, collaboration and instructional support – formed the key design challenge.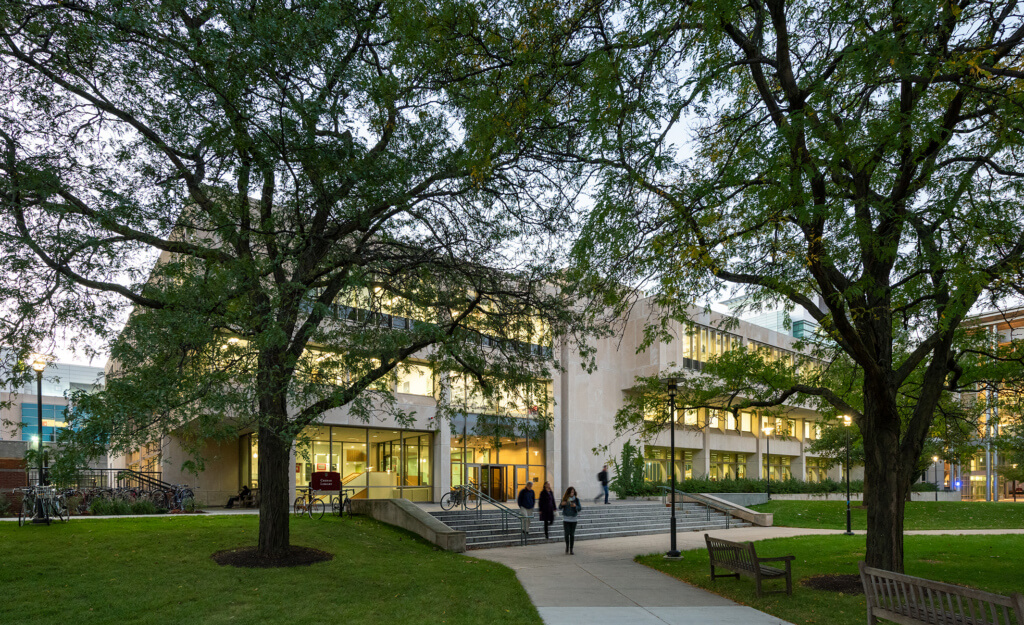 The University of Chicago
Computer Science and Computation Institute Renovation of the Crerar Building
Project Statistics
LOCATION
Chicago, IL / United States
Completed
2018
TOTAL SQUARE FOOTAGE
167,500 GSF (existing)
98,300 SF (renovated)
PROGRAM COMPONENTS
Department of Computer Science: Faculty and Research Offices, Dry Labs for Experimental Research, Conference Space, Colloquium Room, Research Commons
Library and Common Space: Cafe, Library Service Desk, Reading Room
LEED Status
LEED Gold Certified
Team
Charles S. Klee, AIA, LEED AP
Principal-in-Charge
Daniel Estes, AIA, LEED AP
Architect
James Baer, AIA, LEED AP
Architect
Avery Nackman
Designer
Greta Eckhardt, AIA, CCS, CSI, LEED AP
Senior Specification Writer
PROJECT EUI
30%
reduction in energy use compared to the 2030 baseline
HUMANIZING A MASSIVE FLOOR PLATE
The heart of the plan is the Research Commons, a sequence of public spaces that provides informal workspace for graduate students and space for undergraduates to study and meet with teaching assistants. The Commons starts at the building's west-facing entrance, overlooking the existing atrium. On each of two floors, it flows northward between graduate student offices and dry labs and colloquium rooms. At the central stair connecting the two floors, it pivots and continues east past kitchenettes, strategically located to encourage socializing, to new student lounges overlooking the North Science Quad.
NATURAL LIGHT DEEP INTO THE FLOOR PLATE
The original building had virtually no windows on the upper floor. Its two large skylights, over the atrium and connecting stair, had been re-glazed with translucent fiberglass panels, dampening sunlight and blocking views of the sky. We replaced the existing 11-foot-tall limestone wall panels with new floor-to-ceiling windows that span 25 feet from column to column; re-glazed the skylights with vision glass and introduced several new skylights along the length of the Research Commons.
Photography: © Chuck Choi
BESbswyBESbswyBESbswyBESbswyBESbswyBESbswyBESbswyBESbswyBESbswyBESbswyBESbswyBESbswyBESbswyBESbswyBESbswyBESbswyBESbswyBESbswyBESbswyBESbswyBESbswyBESbswyBESbswyBESbswyBESbswyBESbswyBESbswyBESbswyBESbswyBESbswyBESbswyBESbswyBESbswyBESbswyBESbswyBESbswyBESbswyBESbswyBESbswyBESbswyBESbswyBESbswyBESbswyBESbswyBESbswyBESbswyBESbswyBESbswy
BESbswyBESbswyBESbswyBESbswyBESbswyBESbswyBESbswyBESbswyBESbswyBESbswyBESbswyBESbswyBESbswyBESbswyBESbswyBESbswyBESbswyBESbswyBESbswyBESbswyBESbswyBESbswyBESbswyBESbswyBESbswyBESbswyBESbswyBESbswyBESbswyBESbswyBESbswyBESbswyBESbswyBESbswyBESbswyBESbswyBESbswyBESbswyBESbswyBESbswyBESbswyBESbswyBESbswyBESbswyBESbswyBESbswyBESbswyBESbswy