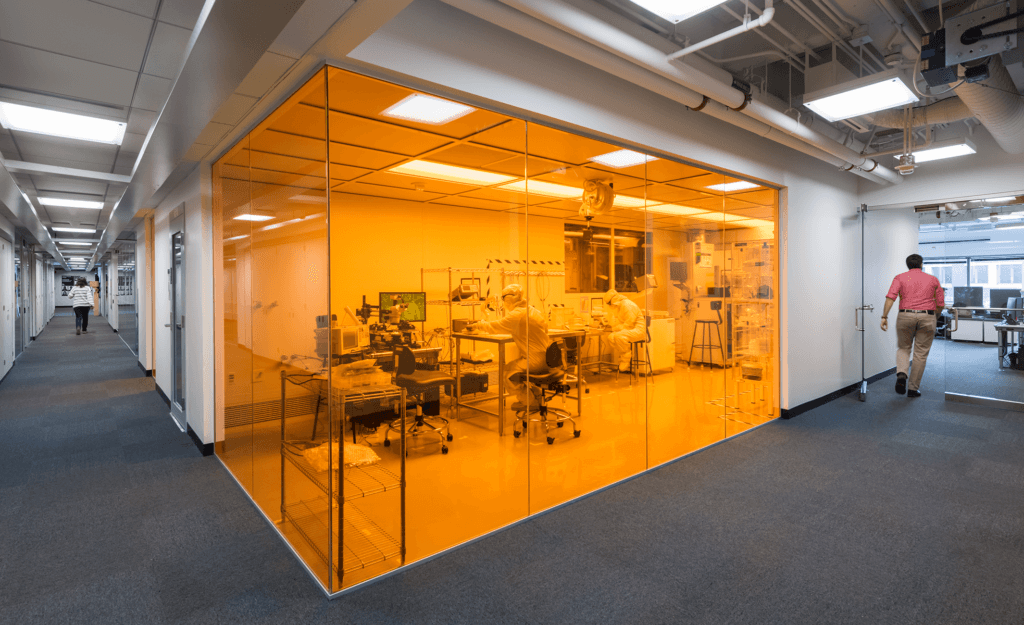 The MIT Media Lab is world-renowned not only for bold research that crosses disciplinary boundaries but also for its physical environment, in which science and the arts collide in transparent labs and workshops. The YellowBox—so dubbed by its users, the Conformable Decoders Group—is its newest addition. Strategically located along a back passage between I.M. Pei's Weisner Building and Fumihiko Maki's signature addition, the YellowBox forges an unexpected connection between the two structures.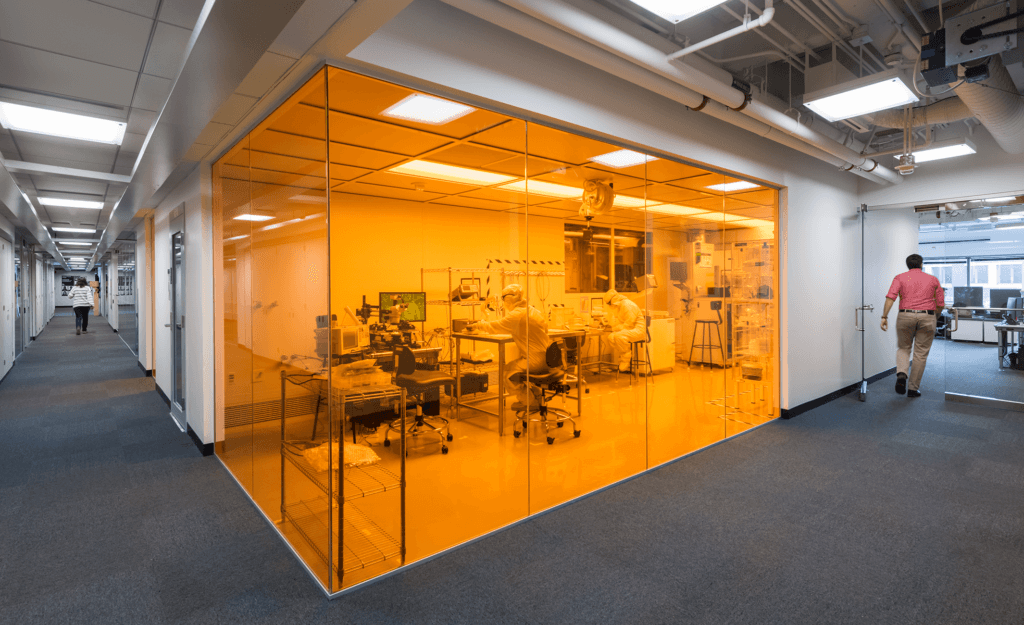 Massachusetts Institute of Technology
Media Lab Cleanroom
Project Statistics
LOCATION
Cambridge, MA / United States
COMPLETED
2017
TOTAL SQUARE FOOTAGE
1,000 SF
PROGRAM COMPONENTS
Cleanroom
One Team, One Lab
The objective for this project was remarkably simple: provide a new research lab for an up-and-coming faculty investigator and her yet-to-be-recruited research group. The lab in question is, however, a micro- and nano-electronics cleanroom: a tightly controlled environment, precisely designed to maintain very low levels of particulate contamination. In it, researchers will design and fabricate mechanically adaptive electromechanical devices. The solution draws upon the material and spatial vocabulary of the two Media Lab buildings, in which the architecture of the laboratories is pushed to the background so that the activities going on inside them can take center stage.
A Brand New Shade in the Media Lab
Adapting the Media Lab's restrained interior palette, the YellowBox efficiently packages four major components within a simple, rectangular volume. Together, the entry/gowning area, a Class 10,000/ISO Class 7 specimen preparation room, a Class 1,000/ISO Class 6 cleanroom, and the mechanical service chase between them form the first-of-its-kind cleanroom for the Media Lab. Full-height glass cut-outs reveal the activity of researchers as they hack traditional microfabrication tools for evolving research needs.
Photography: © Chuck Choi