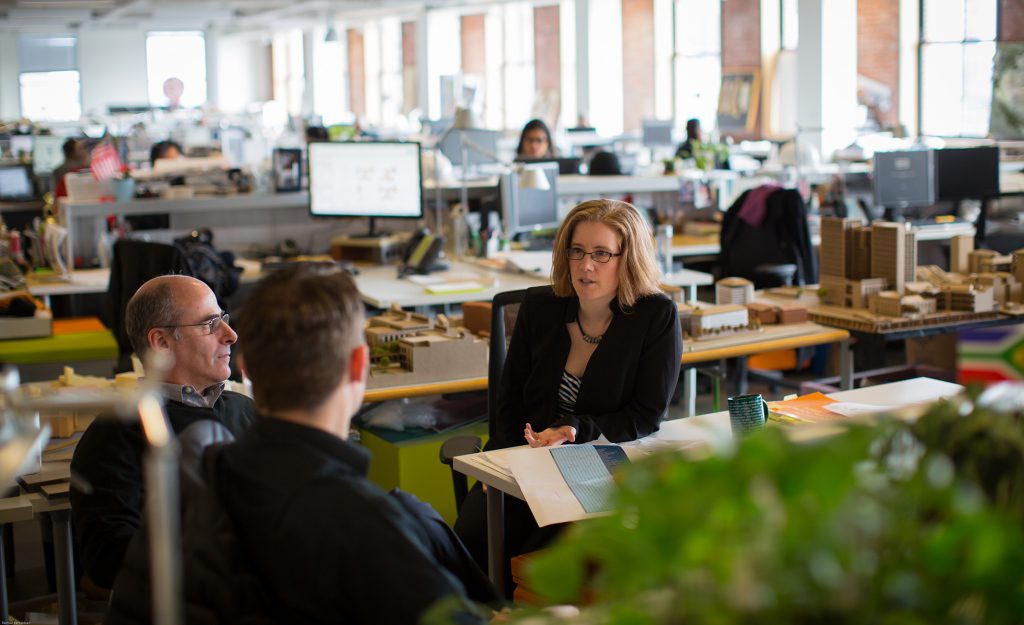 Sarah joined Payette in 2014 after working at Safdie Architects for over 13 years. As Managing Principal, Sarah focuses on firm-wide management and enhancing client relationships, positioning the firm for growth. Internally, she leads the Practice Management Group, overseeing staffing and recruiting, and is the Co-Chair of Payette's Equity, Diversity and Inclusion Committee, acting as a vital mentor to Payette's designers.
Sarah's over 20-year career has been characterized by complex project coordination, team management and client relations. Her project experience ranges from academic science buildings to performing arts centers and libraries. She also has extensive experience leading large intricate projects with ambitious goals and multifaceted programmatic needs.
Sarah has been an active participant in the Women in Design Committee at the Boston Society of Architects, including serving on the Mentoring Sub-Committee, Steering Committee, along with the Women's Leadership Summit for the AIA. She has also served on the BSA Honors and Awards Committee. Sarah is a frequent lecturer on topics of equity, mentoring and firm management, recently presenting at the 2019 AIA Women's Leadership Summit.
EDUCATION
M.Arch., 2000, University of New Mexico
BA, French/English, 1994, Dartmouth College
Teaching & Lectures
"The Path to Change: Advocating for Inclusivity through Management," Women's Leadership Summit, September 2019
"From Master Plan to Materialized Building Renovation: Budget, Scope, and Renovation Strategies," Tradeline's University Science Facilities, May 2018
"Skidmore Center for Integrated Sciences Sustainable Laboratory Design," I2SL Annual Conference, 2017
ABX/Architecture Boston Expo, October 2012
Thesis Advisor, New England School of Art and Design, Suffolk University 05/97
Graduate Assistant, History of Architecture, University of New Mexico 05/00