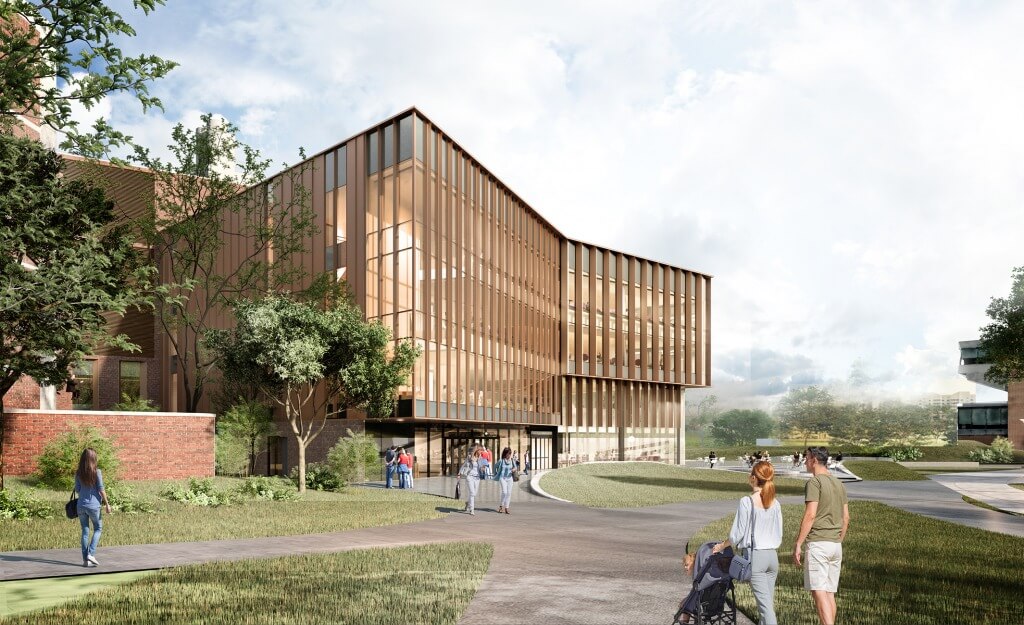 The West Campus precinct will feature two signature open spaces: the West Quad–a formal green space–and the Plaza, defined by the Engineering Collaborative Research & Education Building at the west terminus of the Westgate Crossing. The Plaza strategically concentrates student activity–indoors and outdoors–and building access to strengthen the connection to main campus through Westgate Crossing. Together with the student Hub in the Engineering Collaborative Research & Education Building , the Plaza will become a landmark destination and memorable campus space.
The Pennsylvania State University
Engineering Collaborative Research & Education Building
Project Statistics
LOCATION
University Park, PA / United States
COMPLETED
2023
TOTAL SQUARE FOOTAGE
280,000 GSF
PROGRAM COMPONENTS
Aerospace Engineering, Architectural Engineering, Civil & Environmental Engineering, Mechanical Engineering, Nuclear Engineering, Electrical Engineering & Computer Science, Industrial & Manufacturing Engineering, Engineering Science & Mechanics, Makerspaces, Fabrication, Structural Testing High Bay
LEED STATUS
Tracking LEED Gold
Team
Jeff DeGregorio, AIA, LEED AP
Principal-in-Charge
Leon Drachman, AIA, LEED Green Associate
Design Principal
Mark Oldham, AIA, LEED AP
Managing Principal
Michael Hinchcliffe, AIA, LEED AP
Project Executive
Ryan Murphy, AIA, LEED AP
Project Architect
Philippe Généreux, AIA, LEED AP
Project Manager
Andrea Love, AIA, LEED Fellow
Building Scientist
Tom Simister, AIA LEED AP
Project Planner
Sean Hurley, AIA, LEED AP
Architect
Megan Brown, AIA, LEED AP
Architect
Michael Mandeville, AIA
Architect
Stacy Krieg, AIA
Architect
Carolyn Booth
Designer
Miep Keller, AIA, LEED AP
Architect
Jessica Hoctor, AIA
Architect
PROJECT EUI
68%
reduction in energy use compared to the 2030 baseline
The West 1 building is a 280,000 SF engineering research and teaching engine. The building will accommodate a comprehensive program, including high tech research laboratories and specialized core facilities; next-generation teaching space; a new and expanded learning factory, as well as spaces for faculty, departmental headhouses and administrative office space. Anchoring the building will be the Commons, a dynamic student area that will showcase the social energy of the entire precinct and establish a vibrant new identity for the College. West 1 will create the opportunity to re-align research space into strategic thematic groupings and focus on the shared use of space to increase utilization at a significant scale that will change the culture of the College of Engineering for decades.