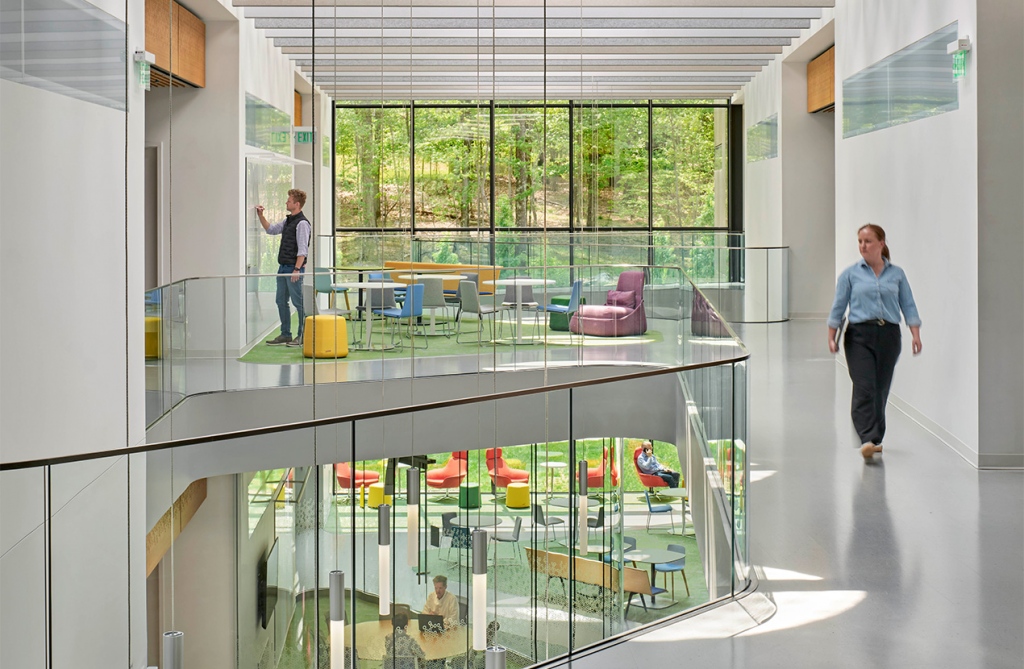 Science 1 Research Center is a three-story, high-intensity academic research building dedicated to the interdisciplinary fields of material science and engineering. Home to the Institute of Materials Science, the signature building will be the centerpiece of the University of Connecticut's new Northwest Science Quad science district, a 22-acre development that transforms a hillside parking lot into a high-performance landscape of green infrastructure. A new parking lot, campus utility tunnel extension and supplemental utility plant (planning by Payette/design by others) complete the development.
University of Connecticut
Science 1 Research Center
Project Statistics
LOCATION
Storrs, CT, MA / United States
COMPLETed
2022
TOTAL SQUARE FOOTAGE
200,000 GSF
PROGRAM COMPONENTS
Material Science and Engineering, Clean Rooms
LEED STATUS
LEED Gold Certified and tracking SITES Certification
PROJECT EUI
74%
reduction in energy use compared to the 2030 baseline
Flexible and interchangeable lab modules
The building will provide an extensive array of research, teaching, administrative, service and special use spaces, including a cleanroom and a range of analytic functions that will serve as the core for subsequent development. To support IMS's mission of materials-related outreach to Connecticut's industries, the building has been conceived around repetitive prototypical laboratory modules, for both experimental and computational research, that are both flexible and interchangeable.
hillside site
The ground floor is partially embedded into a sloping hillside. The building's public functions, including a 200-seat active learning classroom, cafe and suite of undergraduate teaching labs, are located along its northern edge, where a continuous lobby looks out to the "Woodland Walk," a meandering landscaped pedestrian corridor that celebrates the site's natural setting.
Prototypical Configuration for Collaboration
Research is concentrated on the building's upper two floors, where five lab clusters are arrayed along a linear spine. Between each pair of lab blocks, the spine is intersected four times by a continuous, double-height zone of open space—a "neighborhood"—that overlooks the new landscaped quad in front of the building, as well as the undisturbed forest hillside behind it. Each neighborhood provides amenities for social connectivity, collaboration and daylighting. A recessed "front porch" at each lab entry permits access to its respective desk room.