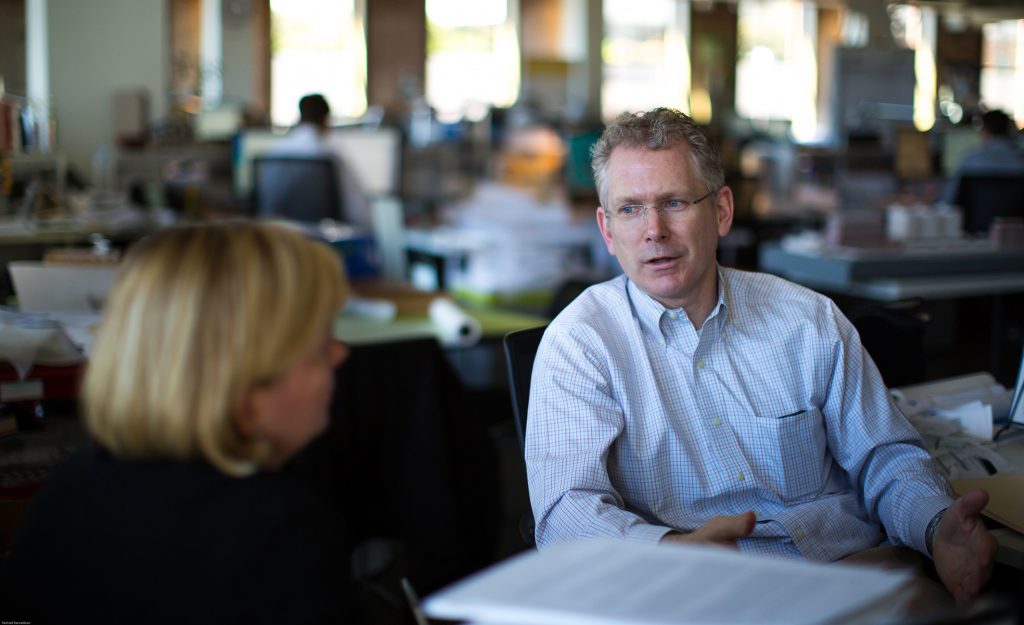 As a generalist architect, Peter's interests lie in leading teams that intelligently conceive, creatively develop and meticulously execute challenging projects. While Peter's approach to design is highly analytical, it is also informed by years of teaching students how to visualize and represent complex three-dimensional spaces.
Peter earned his undergraduate degree in Architecture from the University of Notre Dame in 1990, where he studied urban design in Rome and Chicago. Following several years of working in Italy, he pursued graduate studies at the University of Pennsylvania's School of Design, where he earned his M.Arch in 1996. From 1998 to 2005, Peter was an Associate at KieranTimberlake in Philadelphia and completed major projects at Yale University, Cornell University and Middlebury College. He was the Associate-in-Charge of the Davenport College Renovation at Yale, which won an AIA Honor Award for Interior Architecture. Peter taught courses in drawing and architectural design at the University of Pennsylvania from 1998 to 2005.
At Payette, Peter has been Project Architect for some of the firm's most recently recognized work, including the acclaimed Milken Institute School of Public Health at George Washington University, one of thirteen projects to win both an AIA Institute Honor Award and a COTE Top Ten Award.
EDUCATION
M.Arch., 1996, University of Pennsylvania
B.Arch., Cum Laude, 1990, University of Notre Dame
HONORS & AWARDS
2022
Porcelanosa International Project Award Finalist, University of Hartford Hursey Center
2019
Boston Society of Architects, Honor Award for Excellence, Boston University
2018
AIA College of Fellows
2017
AIA Interior Architecture Award, George Washington University
2017
AIA New England, Citation Award, Boston University
2017
AIA COTE Top Ten Recipient, George Washington University
2016
Boston Society of Architects, Honor Award, George Washington University
2016
AIA New England, Interiors, Merit Award, Columbia University
2016
AIA/NY COTE Honor Award, George Washington University
2016
Boston Society of Architects, Sustainable Design, Citation, George Washington University
2015
AIA New England, Merit Award, George Washington University
2015
USGBC, National Capital Regional, Project of the Year, New Construction, George Washington University
2015
SCUP/AIA-CAE Excellence in Architecture, New Building, Merit Award, George Washington University
2015
IIDA New England, Best Education Building, George Washington University
2014
AIA/Washington DC, Award in Architecture, George Washington University
2010
Boston Society of Architects, Honor Award for Design Excellence, Columbia University
2010
IDID Excellence in Sustainable Design, Merit Award, Columbia University
2009
Boston Society of Architects, Higher Education Honor Award, Columbia University
2009
R&D Magazine, Lab of the Year, Columbia University
2009
SCUP/AIA-CAE Excellence in Architecture: New Building, Merit Award, Columbia University
2009
Boston Society of Architects, AIA/NY & EPA, Sustainable Design Award, Columbia University
2008
AIA Westchester/Mid-Hudson NY, High Honor/First Honor Award, Columbia University
TEACHING & LECTURES
"Design Standard: the Fusion of Design + Performance," AIA Conference, June 2019
Architectural Record Innovation Conference East, 11/16
Tradeline: College and University Science Buildings 10/11
Laboratory Design 02/09
School of Architecture, University of Texas, Austin 11/04
APT Northeast Chapter Symposium & Annual Meeting, Yale University 01/03