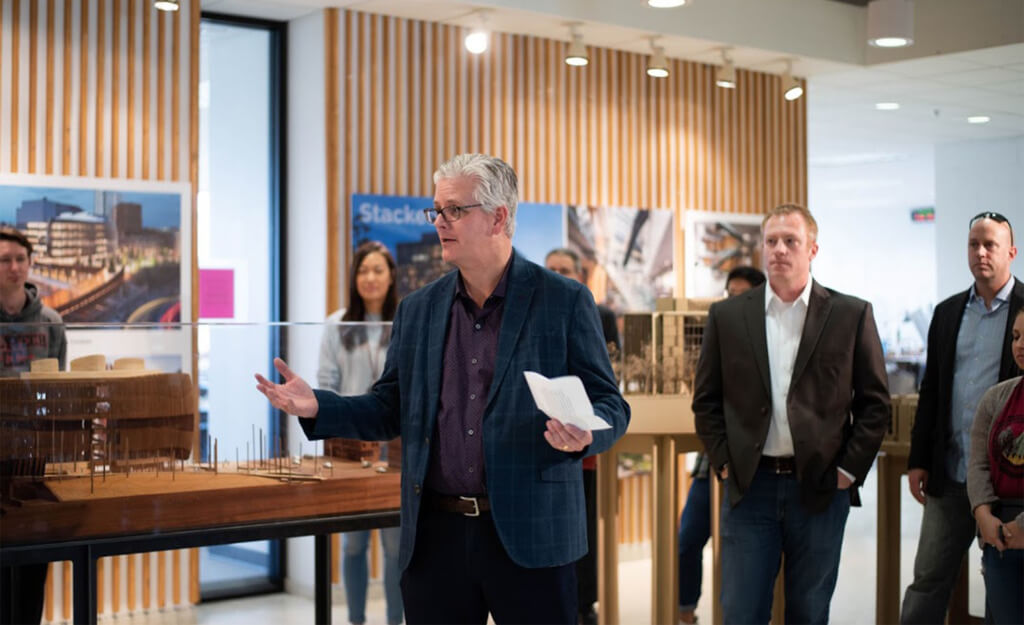 Kevin joined Payette in 1987, became a partner in 1998 and became President in 2014. He provides strategic direction, vision, and intellectual design leadership to the firm.
Kevin believes that the FUSION of Design and Performance are essential for successful high technology buildings. His body of work includes seminal healthcare, science and campus planning projects which have been consistently recognized nationally for their innovative approach to social geometry, detail, and sustainability through transformative landscapes.
Kevin is a Design Critic in Architecture at the Harvard Graduate School of Design and an Adjunct Professor in Practice at the Virginia Tech School of Architecture + Design where he is the Director of the Boston Studio. In 2012, he was elected to the College of Fellows of the American Institute of Architects (FAIA) for his contributions in Design.
EDUCATION
M.Arch., 1994, Harvard University, Graduate School of Design
B.Arch., Magna Cum Laude, 1987, Virginia Polytechnic Institute
European Studies Program, Virginia Polytechnic Institute, College of Architecture, 1986, Lugano, Switzerland
HONORS & AWARDS
2023
AIA New England Design Awards, Merit Award, Land's Sake
2023
AIA New England Design Awards, Honor Award, Boston College 245 Beacon Street
2023
AIA Healthcare Design Awards, Children's Hospital & Vertical Expansion
2022
BSA Healthcare Facilities Award, VA Providence Medical Center Hemodialysis Unit
2022
AIA Education Facility Design Awards, Northeastern University
2022
AIA COTE® Top Ten, Tufts University
2021
American Architecture Award, Northeastern PedX
2021
AIA Regional & Urban Design Award, Northeastern University
2021
AIA Architecture Award, Northeastern University
2021
BSA Sustainable Design Award, Tufts University
2020
Envision Bronze Award, Northeastern PedX
2020
Massachusetts ACEC Engineering Excellence Silver Award, Northeastern PedX
2020
Excellence in the National ACEC Awards, Northeastern PedX
2020
Boston Society of Landscape Architects Honor Award, Northeastern PedX
2020
CMAA New England Project Achievement Award, Northeastern PedX
2020
Boston Society of Civil Engineers Section Sustainability in Civil Engineering Award, Northeastern PedX
2020
BSA Honor Awards for Design Excellence Citation, Northeastern PedX
2020
Boston Society of Landscape Architects Honor Award, Northeastern University
2019
AIA New England, Honor Award, Northeastern University
2019
USGBC Green Building Showcase Market Leader – Health & Wellness, DCAMM Chelsea Soldiers' Home
2019
IIDA New England, Award, Research Laboratory Category, Tufts University
2019
AIA New England, Merit Award, Tufts University
2019
AIA COTE® Top Ten, Northeastern University
2018
SCUP/AIA-CAE Excellence in Architecture: New Building, Merit Award, Northeastern University
2018
Boston Society of Architects, Sustainable Award, Award, Northeastern University
2018
I2SL Go Beyond Award, Buildings Category, Tufts University
2018
Illumination Award for Interior Lighting Design, Northeastern University
2018
BSA Honor Award for Excellence, Citation, Tufts University
2018
American Architecture Award, Northeastern University
2018
Harleston Parker Medal, Northeastern University
2017
AIA New York COTE, Merit Award, Northeastern University
2017
AIA New England, Merit Award, National University of Ireland, Galway
2017
I2SL Go Beyond Award, Buildings Category, Northeastern University
2017
Boston Society of Architects, Honor Award for Excellence, Northeastern University
2017
AN Best of Design: Digital Fabrication, Honorable Mention, Northeastern University
2016
AIA New England, Merit Award, Boston Children's Hospital
2016
SCUP/AIA-CAE Excellence in Planning, Merit Award, Temple University
2016
AIA COTE Top Ten Recipient, National University of Ireland, Galway
2016
Boston Society of Architects, Sustainable Design, Citation Award, National University of Ireland, Galway
2015
Boston Society of Architects, Citation for Campus Planning, Temple University
2015
Boston Society of Architects, Citation for Design, Pennsylvania State University
2015
SCUP/AIA-CAE Excellence in Architecture: New Building, Merit Award, National University of Ireland, Galway
2015
I2SL Go Beyond Award, Buildings Category, National University of Ireland, Galway
2014
Boston Society of Architects, Healthcare Facilities, Award, Penn State Health Milton S. Hershey Medical Center
2014
Boston Society of Architects, Healthcare Facilities, Citation, Boston Children's Hospital
2014
Architizer A+ Special Mention, Health & Wellness, Penn State Health Milton S. Hershey Medical Center
2014
Boston Society of Architects, Honor Award for Design Excellence, Penn State Health Milton S. Hershey Medical Center
2014
Boston Society of Architects, Healthcare Facilities, Citation, Dartmouth-Hitchcock Medical Center
2014
R&D Magazine, Lab of the Year High Honors, Pennsylvania State University
2013
AIA/Modern Healthcare, Award of Excellence, Penn State Health Milton S. Hershey Medical Center
2013
AIA New England, Honor Award, Pennsylvania State University
2012
AIA Pennsylvania, Honor Award, Penn State Health Milton S. Hershey Medical Center
2012
AIA College of Fellows
2011
Boston Society of Architects, Higher Education Award Citation, Brandeis University
2011
SCUP, Honor Award for District Planning, Brandeis University
2011
AIA/Modern Healthcare, Award Citation, Penn State Health Milton S. Hershey Medical Center
2011
AIA New England, Merit Award, Penn State Health Milton S. Hershey Medical Center
2010
Boston Society of Architects, Healthcare Facilities Design Award, Penn State Health Milton S. Hershey Medical Center
2010
CARITAS Project, Generative Space Health Improvement Award, Penn State Health Milton S. Hershey Medical Center
2009
AIA New England, Merit Award, Brandeis University
2009
Boston Society of Architects, Honor Award for Design Excellence, Brandeis University
2007
Boston Society of Architects, Award for Design, University of Pittsburgh School of Medicine
2007
AIA/New England, Merit Award, University of Pittsburgh School of Medicine
2007
R&D Magazine, Lab of the Year Special Mention, University of Pittsburgh School of Medicine
2006
AIA/Pittsburgh, Honor Award, University of Pittsburgh School of Medicine
TEACHING & LECTURES
"Design Standard: the Fusion of Design + Performance," AIA Conference, June 2019
"Interdisciplinary Science at Northeastern University," ABX, November 2016
Tradeline College and University Science and Engineering Facilities 10/16
Tradeline: College & University 04/16
Virginia Tech School of Architecture + Design 09/14
Lab Design 04/14
Tradeline: Academic Medical Centers 11/12
AIA New Jersey Design Awards Juror 01/12
Healthcare Facilities Symposium 09/10
Tradeline Academic Medical Centers 10/08
Virginia Tech School of Architecture + Design 10/07
Tradeline Conference 09/05
Harvard Graduate School of Design: Guest Critic 09/05
Construmental (Metal in Architecture) Conference (Sao Paulo, Brazil) 06/04
Tradeline Conference 09/04
Pennsylvania State University, School of Architecture & Landscape Architecture 03/03
Tradeline Conference 10/03
Rhode Island School of Design: Guest Critic 01/02
Tufts Sackler School of Medicine 04/01