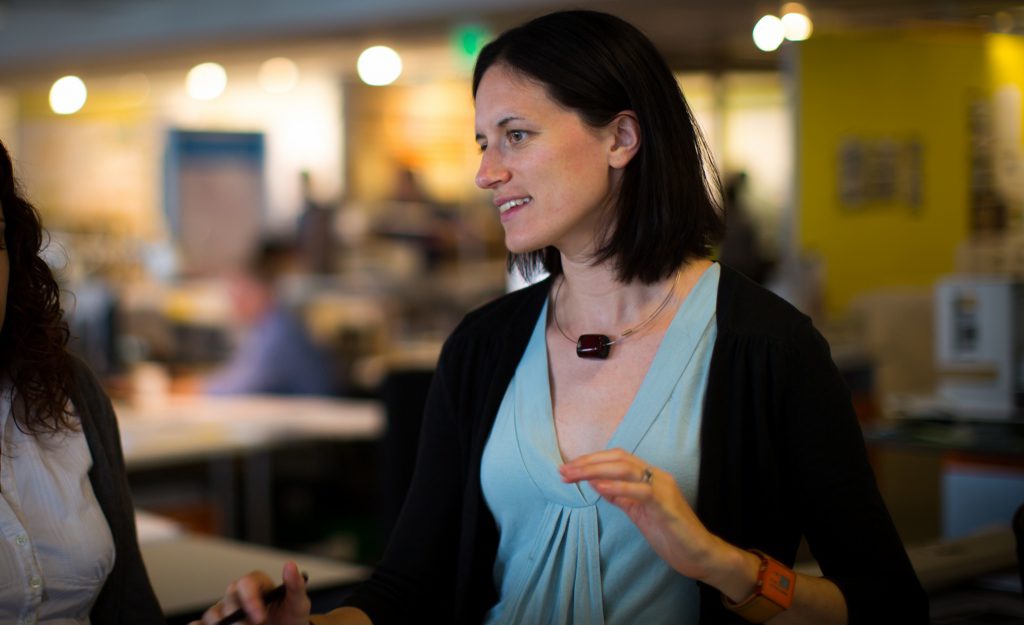 As a Building Scientist, Andrea's interests are in pushing the performance and minimizing the environmental impact of her projects. She also enjoys building the firm's knowledge and intuition about sustainability through research endeavors and project explorations.
At Payette, Andrea works across projects to bring rigor to the performance of projects. She integrates performance modeling tools into Payette's design process at the very beginning to inform and push designs. Additionally, she leads a number of internal research projects, and was the Principal Investigator on the 2012 AIA Upjohn Research Initiative-funded "Thermal Performance of Facades," a research project focused on thermal bridging. She also leads the firm's efforts on the AIA 2030 Commitment, tracking and benchmarking the performance of projects across the firm.
Andrea received a Master of Science in Architecture Studies in Building Technology from the Massachusetts Institute of Technology, where she was the recipient of the Tucker-Voss Award and focused her thesis on the thermal performance of facades. She is also a Lecturer at MIT in the Department of Architecture's Building Technology group where she teaches a class on building envelope performance. She currently serves on the Board of Directors for the USGBC Massachusetts Chapter, as well as the national USGBC Chapter Steering Committee and Education Steering Committee, and is a member of the COTE Advisory Group to the Board. Andrea was elected to the College of Fellows of the American Institute of Architects (FAIA) in 2023.
EDUCATION
MS, Arch. Studies, Building Technology, 2011, Massachusetts Institute of Technology
B.Arch., 2002, Carnegie Mellon University
Research Projects
Reducing HVAC Energy Consumption in Labs
HONORS & AWARDS
2023
AIA College of Fellows
2022
ARCHITECT R+D Award, Kaleidoscope
2022
AIA COTE® Top Ten, Tufts University
2022
Metropolis Positive Planet Award, Education Winner, Lafayette College Rockwell Integrated Sciences Center
2022
AIA Interior Architecture Award, Amherst College
2022
AIA Education Facility Design Awards, Northeastern University
2021
AIA Architecture Award, Northeastern University
2021
BSA Higher Education Design Award, Amherst College
2021
BSA Sustainable Design Award, Tufts University
2021
SCUP/AIA-CAE Excellence in Architecture, Honor Award, Lafayette College Rockwell Integrated Sciences Center
2021
AIA Regional & Urban Design Award, Northeastern University
2021
AIA COTE® Top Ten, Lafayette College Rockwell Integrated Sciences Center
2021
AIA Education Facility Design Awards, Design Excellence Award, Lafayette College Rockwell Integrated Sciences Center
2021
Built Environment Plus Award, Category Leader, Carbon and Energy, Lafayette College Rockwell Integrated Sciences Center
2021
American Architecture Award, Lafayette College Rockwell Integrated Sciences Center
2021
AIA Innovation Award, Kaleidoscope
2020
SCUP/AIA-CAE Excellence in Architecture Merit Award, Amherst College
2020
AIA Education Facility Design Award of Merit, Amherst College
2020
BSA Honor Awards for Design Excellence Award, Amherst College
2020
BSA Sustainable Design Awards Citation, Amherst College
2020
BSA Honor Awards for Design Excellence, Lafayette College Rockwell Integrated Sciences Center
2020
BSA Sustainable Design Awards Citation, Lafayette College Rockwell Integrated Sciences Center
2020
GBCA Best Educational Institution Project, Lafayette College Rockwell Integrated Sciences Center
2020
AIA New England Honor Award, Lafayette College Rockwell Integrated Sciences Center
2020
Boston Society of Landscape Architects Honor Award, Northeastern University
2020
American Architecture Award, Amherst College
2019
AIA New England, Merit Award, Tufts University
2019
AIA COTE Top Ten Recipient, Amherst College
2019
Boston Society of Architects, Honor Award for Excellence, Boston University
2019
AIA New England, Honor Award, Amherst College
2019
USGBC Green Building Showcase Market Leader – Innovation, Amherst College
2019
AIA New England, Honor Award, Northeastern University
2019
AIA COTE® Top Ten, Northeastern University
2019
USGBC Green Building Showcase Market Leader – People's Choice, Amherst College
2019
IIDA New England, Award, Research Laboratory Category, Tufts University
2018
I2SL Go Beyond Award, Buildings Category, Tufts University
2018
BSA Honor Award for Excellence, Citation, Tufts University
2018
Illumination Award for Interior Lighting Design, Northeastern University
2018
SCUP/AIA-CAE Excellence in Architecture: New Building, Merit Award, Northeastern University
2018
American Architecture Award, Northeastern University
2018
Boston Society of Architects, Sustainable Award, Award, Northeastern University
2018
Harleston Parker Medal, Northeastern University
2017
AIA New England, Citation Award, Boston University
2017
AIA COTE Top Ten Recipient, George Washington University
2017
AIA Interior Architecture Award, George Washington University
2017
AIA New England, Merit Award, National University of Ireland, Galway
2017
AIA Young Architects Award
2017
S-Lab, Refurbished Laboratory Award, Cornell University
2017
Boston Society of Architects, Honor Award for Excellence, Northeastern University
2017
AIA New York COTE, Merit Award, Northeastern University
2017
I2SL Go Beyond Award, Buildings Category, Northeastern University
2017
AN Best of Design: Digital Fabrication, Honorable Mention, Northeastern University
2016
I2SL Go Beyond Award, Buildings Category, Harvard University
2016
AIA New England, Merit Award, Boston Children's Hospital
2016
Architizer +Stairs, Special Mention, Alexandria Real Estate Equities
2016
Boston Society of Architects, Honor Award, George Washington University
2016
Boston Society of Architects, Sustainable Design, Citation, George Washington University
2016
AIA/NY COTE Honor Award, George Washington University
2016
AIA New England, Citation Award, Alexandria Real Estate Equities
2016
R&D Magazine, Renovated Lab of the Year, Cornell University
2016
Boston Society of Architects, Sustainable Design, Citation Award, National University of Ireland, Galway
2016
AIA COTE Top Ten Recipient, National University of Ireland, Galway
2015
IIDA New England, Best Education Building, George Washington University
2015
NC Chapter: American Society of Landscape Architects Award, Duke University
2015
SCUP/AIA-CAE Excellence in Architecture: New Building, Merit Award, Duke University
2015
USGBC, National Capital Regional, Project of the Year, New Construction, George Washington University
2015
SCUP/AIA-CAE Excellence in Architecture, New Building, Merit Award, George Washington University
2015
SCUP/AIA-CAE Excellence in Architecture: New Building, Merit Award, National University of Ireland, Galway
2015
I2SL Go Beyond Award, Buildings Category, National University of Ireland, Galway
2015
AIA New England, Merit Award, George Washington University
2014
Boston Society of Architects, Healthcare Facilities, Citation, Boston Children's Hospital
2014
Boston Society of Architects, Honor Award for Design Excellence, Duke University
2014
ABC Excellence in Construction, Merit Award, Duke University
2014
AIA/Washington DC, Award in Architecture, George Washington University
2014
ENR, Best Green Project, Duke University
2013
R&D Magazine, Renovated Lab of the Year Special Mention, Harvard University
2013
USGBC/MA Chapter, Special Recognition for Stellar Energy Performance in a Lab Building, Harvard University
2008
SCUP, Honor Award, Excellence in Planning for a New Campus, Aga Khan University
2008
Boston Society of Architects, Campus Planning Award, Aga Khan University
TEACHING & LECTURES
"Innovation in Envelope Materials," CarbonPositive'19 Summit, September 2019
"Northern Enclosure: Climate-Driven Strategies for High Performing Facades," Facades+AM Minneapolis, July 2019
"Design Standard: the Fusion of Design + Performance," AIA Conference, June 2019
"A Conversation with the 2019 AIA Honors & Awards Recipients (ArchiTalk)," AIA Conference, June 2019
Opening Plenary Panel Discussion, ARCC Conference, May 2019
"Capital Projects and Space Planning for Student Life, Learning Spaces, Utilization, Flexibility, Collaboration," Tradeline University Facilities Conference, May 2019
Keynote Speaker, Symposium on Simulation for Architecture + Urban Design, June 2018
"Bridge the Divide: Envelope and HVAC Design Integration and Comfort," AIA Wisconsin Conference on Architecture, May 2018
"Overcoming the Design Challenges of High Performance Building Envelopes," AIA Conference, June 2018
"Modernist Performance Retrofits," Facades Plus Conference, 2017
Keynote Speaker, Northern New England Chapter Appa Spring Conference, 2017
"AIA 2030 Commitment: Building Energy Literacy," Building Energy Boston Conference + Trade Show
"Building at the Intersection of Innovation, Technology and Efficiency," ULI Boston / New England's Young Leaders Group
"Optimizing Façade Performance: A Deep Dive on Design Decisions," AIA Conference on Architecture, 2017
"Glazing and Winter Comfort Tool," 15th Biennial International Building Simulation Conference
"Leveraging Sustainable Design to Achieve Social Equity," Hubweek, 2017
"Planning and Design Strategies for High Performance STEM Buildings: Two Case Studies and Lessons Learned," Tradeline College & University Science and Engineering Facilities, April 2018
"Agents of Change: When Women Lead (ArchiTalk)," AIA Conference, June 2018
"The Middle," ABX, November 2017
"The Paradigm Shift towards Integrated Façade Design," ABX, November 2017
"Innovative energy saving strategies employed at ISEC Northeastern," I2SL Conference, October 2017
AIA Convention 05/16
AIA Convention 05/2016
BEST Conference Building Enclosure Science & Technology 2015
ASHE PDC Summit 02/16
Laboratory Design 04/16
AIA Convention 05/15
Greenbuilding International Conference & Expo 10/14
ArchitectureBoston Expo 10/14
Quebec Chapter, Canada Green Building Council, LEEDv4 Conference 10/14
Laboratory Design Conference 04/14
NESEA Building Energy Conference 03/14
Healthcare Facilities Design Conference 10/13
Tradeline: Research Facilities Conference 05/13
International Conference on Research Facilities 01/13
SimBuild 01/12
ABX/ArchitectureBoston Expo 11/12
Massachusetts Institute of Technology, Lecturer 01/12 -Present
Northeastern School of Architecture Building Systems Class, Guest Lecture & Review Critic 01/12
MIT School of Architecture Building Technology III, Guest Lecture & Review Critic 01/11
International Concrete Sustainability Conference 01/11
International Concrete Sustainability Conference 01/10
Massachusetts Institute of Technology, Energy Modeling Training Sessions Speaker 01/10